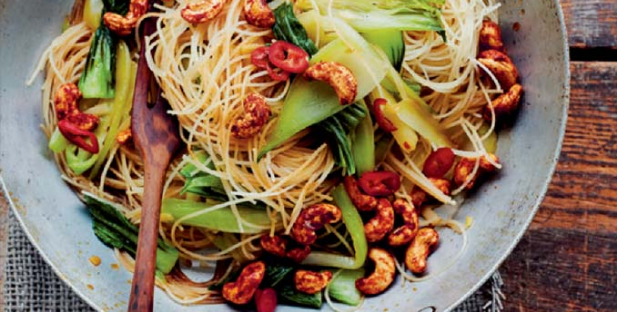 Having a difficult time finding healthy recipes in the sea of options? We have three recipes that are healthy, nutritionally beneficial, and taste good at the same time.
The American Heart Association recommends a diet that incorporates a variety of food groups that are nutrient dense and lower in calories, including three to six servings of vegetables daily and limiting added sugars, sodium, and saturated fats. But you can start simple with incorporating these recipes: a full meal, side dish, and dessert (or snac k).
Need more guidance for a happier, healthier you? See a doctor at TriHealth.
Ingredients
Stir Fry
12 oz. rice noodles
4 heads of bok choy, white stems separated from the greens
2 garlic cloves, chopped
½ red chile, sliced or chopped
1 thumb-sized piece of fresh ginger, peeled and finely chopped
4 Tbs. low-sodium soy sauce
Sweet & Salty Cashews, chopped (see recipe below)
Sweet & Salty Cashews
1 Tbs. maple syrup
1 Tbs. low-sodium soy sauce
1 tsp. garlic powder
1 tsp. smoked paprika (optional)
1½ cups raw cashews
Directions
Stir Fry
Cook the noodles in boiling water following the package instructions. When done, drain then rinse with cold water and let sit.
Chop the white stems of the bok choy and cook them in a wok over high heat with a splash of water, stirring constantly. After 3 to 4 minutes, add the garlic, chile, and ginger and keep stirring. After a minute, add the noodles, bok choy greens, and a splash of water, if needed. Mix well until the noodles are warm (about two minutes), then add the soy sauce. Toss well.
Serve scattered with the chopped cashews. You can also drizzle with some toasted sesame oil, if you like.
Sweet & Salty Cashews
Preheat the oven to 350°F and line a baking sheet with parchment paper.
In a small bowl, mix the maple syrup and soy sauce with the garlic powder and smoked paprika, if using. Place the cashews in a large bowl, pour over the sauce and mix well until thoroughly coated.
Transfer the cashews (leave the excess seasoning in the bowl) to the lined baking sheet, spread out evenly and roast in the oven for 3 minutes.
Remove the sheet, stir the nuts, then return them to the oven and cook for a further 3 to 4 minutes. Keep an eye on them: They should turn lightly golden, but you don't want to burn them.
Remove the nuts from the oven and allow to cool so they become crisp, then serve.
Ingredients
1 lb. fresh asparagus
Vegetable or olive oil
Salt to taste
Directions
Prepare an indoor or outdoor grill for direct cooking over medium heat.
Remove & discard the tough bottom of each asparagus spear by gently bending it until it snaps at its natural point of tenderness (about 2/3 of the way down the spear). Spread the asparagus on a plate. Drizzle the oil over the spears, then sprinkle the salt. Turn the spears until they are evenly coated.
Brush the grill grates clean. Grill the asparagus (perpendicular to the grate) over direct medium heat with the lid closed; for roughly 6-8 minutes, turning occasionally. The asparagus should be browned in spots, but not charred.
Ingredients
2½ cups almonds
2½-3 cups Medjool dates, pitted
1 cup raw cacao
¼ teaspoon sea salt
Directions
Place nuts in a food processor and blend on high until finely ground. Add the cacao and salt. Pulse to combine.
Add your pitted dates one at a time through the feeding tube of the food processor while it's running. After about 2 minutes, you'll end up with a mix that looks like cake crumbs, but that when pressed will easily stick together. (If the mixture does not hold together well, add more dates.)
Press into a parchment paper lined cake pan or mold if you want to cut them into bars (you'll cut them after frozen), otherwise use your hands to roll into small balls. Place in freezer or fridge until ready to serve (it is also easier to cut these when they are very cold/frozen). Store in an airtight container.
Facebook Comments