Happy hours these days are looking mighty different from what we're used to. The coronavirus has everyone rethinking ways to be social, like remote happy hour. Instead of hugs hello, you're left celebrating milestones—or 5 p.m.—virtually at home. Just don't spill on the keyboard while you toast toward the laptop.
To bring a taste of going out in Cincinnati to your kitchen or family room (or curled up in bed), we asked local bartenders to share some of their favorite cocktails.
Don't be alarmed if some of these recipes have an ingredient you are unfamiliar with or don't want to make yourself: Most bartenders provided a simple substitution to keep at-home happy hour as simple as possible. Cent'anni!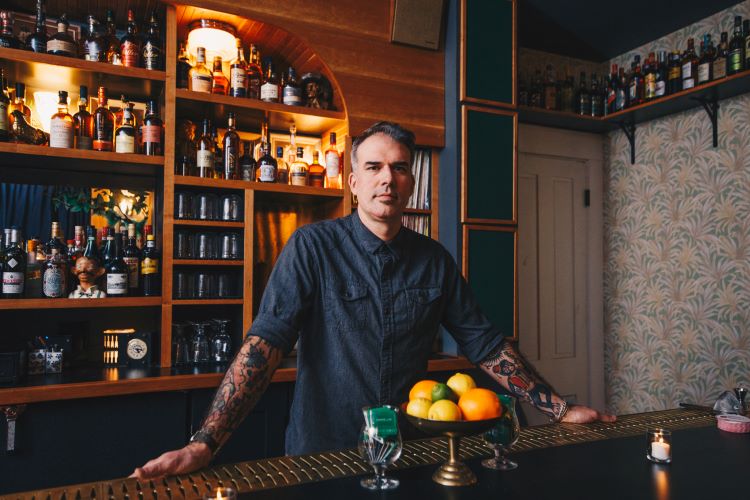 Charlotte Sometimes, from Longfellow
Novice
This drink uses an ingredient called kukicha, also called bōcha, which is a Japanese twig tea. Longfellow owner Mike Stankovich says you can find kukicha online, or you can substitute the ingredient with hōjicha tea, available at Churchill's Fine Teas at Findlay Market, or any other tea you like.
2 ounces London dry gin or vodka
¾ ounce kukicha tea, brewed and chilled
½ ounce fresh lemon juice
½ ounce simple syrup
Lemon twist
Combine first four ingredients in a shaker with ice and shake well. Use a fine strainer to strain into a chilled cocktail glass. Express and garnish with a lemon twist.
---
Dirty Smash, from Wiseguy Lounge
Novice
A twist on the classic Whiskey Smash, this is an easy-sipping cocktail, perfect for spring and summer, says Kevin Rutkowski, brand ambassador for Wiseguy Lounge.
3 to 5 mint leaves, plus 1 for garnish
1 lemon wedge
¾ ounce brown sugar syrup
1 ½ ounces bourbon
To make the syrup: Mix equal parts dark brown sugar and water.
To make the cocktail: Add the mint and lemon wedge to a mixing glass. Muddle. Add syrup, bourbon and ice. Shake, and strain into a rocks glass with ice. Garnish with a mint sprig.
---
As You Like It, from HomeMakers Bar
Novice
HomeMakers Bar has your back during Ohio's stay-at-home order: Throughout the week, the bar is answering questions and posting cocktail tutorials on Instagram, including this fresh spritzer from co-owner and mixologist Catherine Manabat.
1 ½ ounces cucumber-infused dry vermouth
2 ounces sparkling wine
2 ounces seltzer
Cucumber slice
To make the infusion:
1 cucumber, chopped
1 bottle vermouth
Place cucumber in airtight container with vermouth. Store in refrigerator for 24 hours. Strain and pour back into original bottle. Store any open vermouth in the refrigerator. Note: If you don't want to make the infusion, use plain dry vermouth and substitute a flavored seltzer.
To make the cocktail: Build in glass, starting with vermouth, then wine, then seltzer. Give a quick stir to incorporate. Garnish with cucumber slice.
---
Cincy Fizz, from Crown Republic Gastropub
Novice
Starting with a dry shake—without ice—lets the egg white and lemon juice create a foam, says Alex Stevens, beverage director at Crown Republic Gastropub.
1 egg white
1 ounce cachaça or clear rum
1 ounce port wine
¾ ounce lemon juice, pulp strained out
¾ ounce simple syrup
1 egg white
To make the syrup: Mix equal parts boiling water and sugar 5 to 10 minutes. The longer the mixture boils, the thicker it will become. If the mixture starts to brown, you have boiled too long. You can also purchase the syrup premade.
To make the cocktail: Beat the egg white with a beater until it breaks apart and becomes a liquid. Add egg and remaining ingredients to a shaker tin without ice and shake. Add ice and shake again. Strain drink into chilled martini glass or over ice.
---
All About Eve, from HomeMakers Bar
Advanced
Make this cocktail, a low-proof take on the classic tiki drink, the Jungle Bird, along with HomeMakers Bar on Instagram. If you'd rather not make the infusion, Manabat suggests using regular amaro and muddling 2 to 4 strawberries instead.
1 bar spoon black rum
¼ ounce demerara syrup
¾ ounce lime juice
1 ½ ounces pineapple juice
½ ounce Campari
1 ½ ounces strawberry-infused amaro
Lime wheel
Pineapple fronds
To make the syrup: Mix two parts demerara sugar with one part water.
To make the infusion:
1 ¼ cups strawberries, greens removed
1 bottle amaro
Place strawberries in airtight container with amaro. Infuse for 24 hours. Strain, and pour back into original container. Tip: Save the strawberries to make jam.
To make the cocktail: Add all ingredients to a shaker tin. Shake, and strain into a chilled collins glass. Fill with crushed ice. Garnish with lime and pineapple fronds.
---
Roebuck Flip, from Longfellow
Advanced

This cocktail from Longfellow's Stankovich uses a homemade ginger-honey syrup, which will last up to two weeks in the refrigerator. He also notes that if you don't love the taste of amaro, you can substitute the amount with just ¼ ounce.
1 ½ ounces rye whiskey
½ ounce amaro
½ ounce ginger-honey syrup
½ ounce fresh lemon juice
1 whole egg
Nutmeg
To make the syrup:
1 cup honey
¾ cup water
¾ cup ginger root, peeled and diced
Combine ingredients in a medium saucepan. Stir over medium heat until honey incorporates. Reduce heat, and simmer for 15 to 20 minutes. Strain, transfer syrup to a container and chill thoroughly.
To make the cocktail: Add first five ingredients to a shaker and shake well. Strain out. Dispose of ice and pour cocktail back into shaker. Shake without ice, and strain into chilled glass. Dust with nutmeg.
Facebook Comments