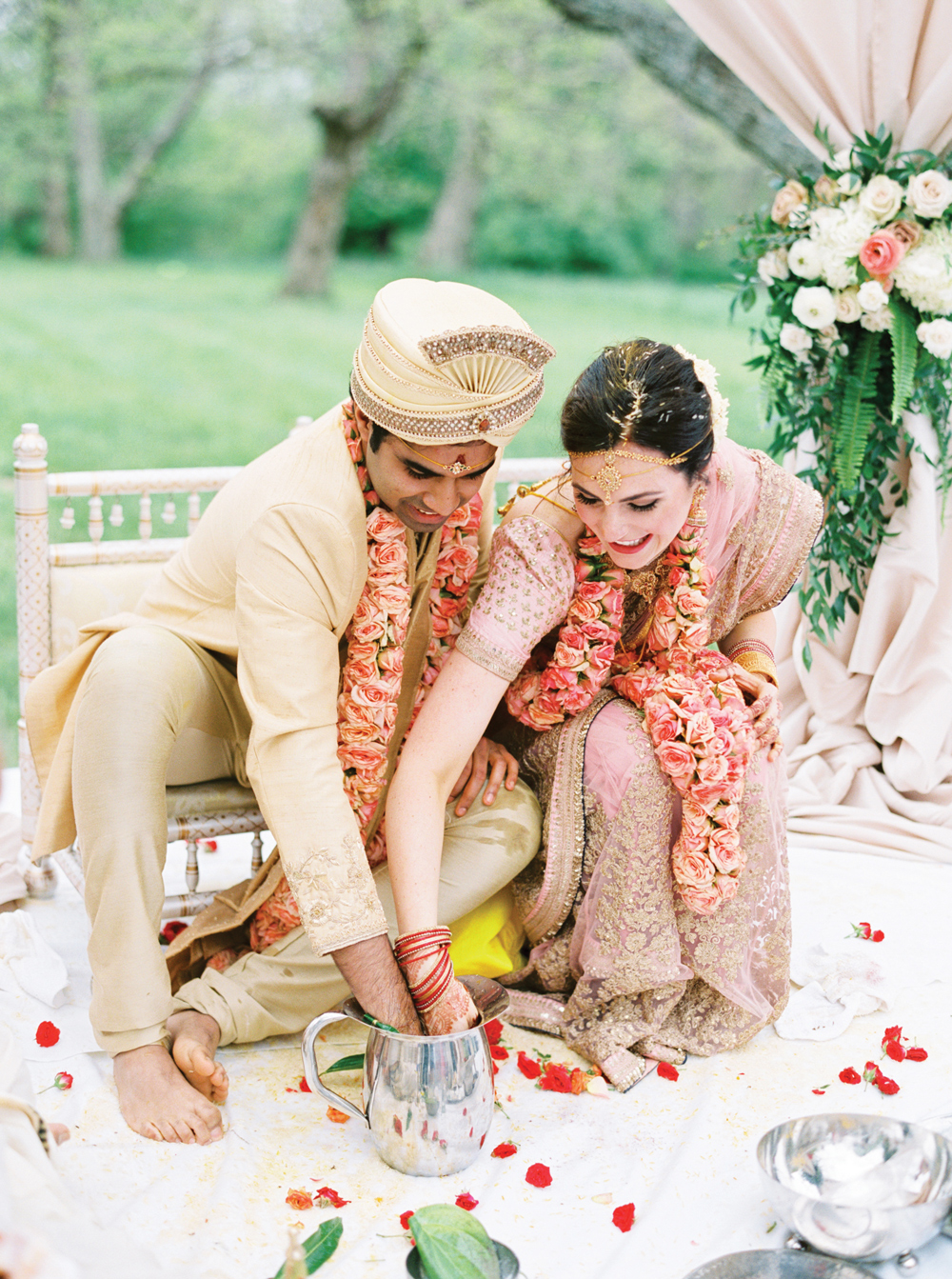 American weddings and Indian weddings don't have much in common. That didn't stop Akash and Hannah Muppidi from creating a wedding day that equally merged their two histories.
"I wanted it to be a marriage of both cultures while respecting both backgrounds," Hannah says. "It was this whole idea of creating a beautiful balance between his Indian heritage and my Catholic heritage and honoring both in a way that felt cohesive and true to my own personal style."
First was the Indian ceremony (May 5, 2018) which included about 120 guests. Hannah, Akash, and their bridal party wore traditional Indian wedding clothing in a palette of golds and pastels, which set the color tone for the entire day. Following the ceremony was a casual chaat bar (South Indian street food).
After, 250 guests huddled under umbrellas for a quick and drizzly mass, then funneled into Pinecroft's outdoor tent for a stuffed chicken breast and crusted hali-but dinner. Paying homage to both cultures through her reception attire, Hannah wore a white dress, along with Indian jewelry from Akash's mother, grandmother, and great-grandmother. A decadent dessert table included bite-size delicacies and Indian-inspired coconut treats, as well as a regal cake with gold Indian embellishments. A trunk-up floral elephant (an Indian symbol representing good luck) also graced the dessert table.
When guests needed a break from dancing, they took refuge at the cigar and bourbon bar, placed just off the dance floor. "It was a really cool space for connection," Hannah says.
Click through our gallery more to see more images from Hannah and Akash's wedding:
Facebook Comments