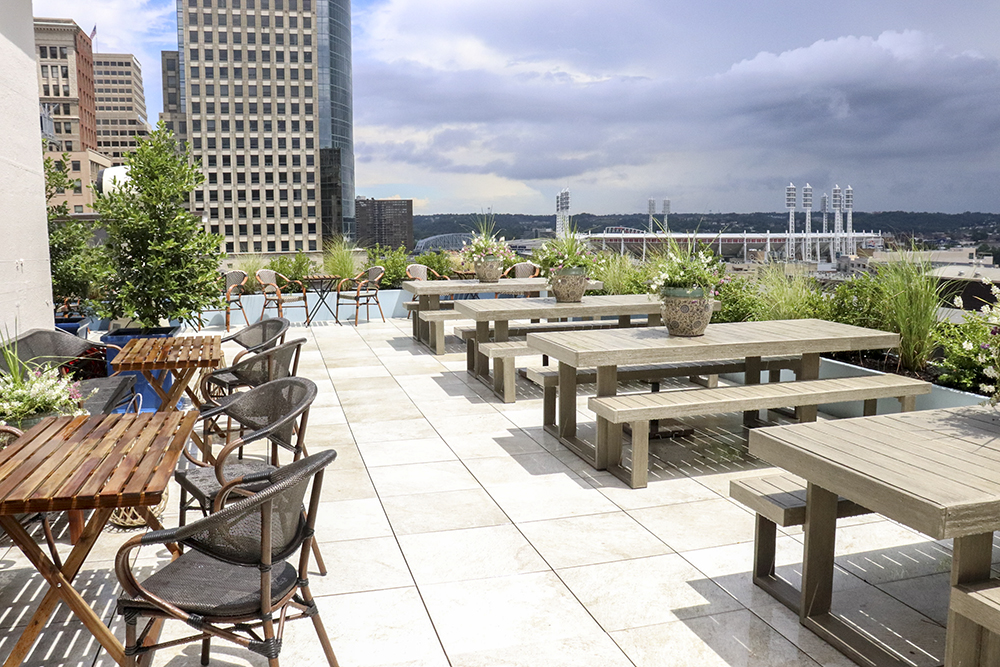 The View at Shires' Garden celebrated its grand opening Friday, bringing casual fine dining to a historically rich space that was previously dormant for decades. Restaurateur Juan Imeroni of recently founded Ignite Entertainment (the hospitality group behind Lola's, The Birdcage, Ché, and Butcher and Barrell, and more) leased the 10th floor of the City Club apartment building on the corner of Vine and Third streets after seeing the view for himself. He wasn't planning on opening his ninth establishment in six years, but the massive windows overlooking The Banks swayed him to begin resurrecting the historic gem last September.
The restaurant/bar's namesake William Shires purchased the property and opened the area's first "amusement resort" in 1842, complete with exotic gardens and a public theater. A fire destroyed Shires' Gardens six years later, and the 10th floor remained empty until Imeroni revived it.
The new development will echo Shires's original vision for the space with "exquisite food and drink offerings in a relaxed setting." Two rooms make up the 10th floor, both of which connect to the panoramic rooftop space overlooking Cincinnati's riverfront and the John A. Roebling Suspension Bridge. The decor pays homage to the historically famous guests of The Burnet Hotel, which formerly occupied the space below, with a wall full of portraits, including one of Abraham Lincoln, who stayed there twice.
The dinner menu is a seasonally driven "extension of the physical space," says Executive Chef Dave Bever, a Jean-Robert de Cavel–restaurant veteran and graduate of Cincinnati State's Midwest Culinary Institute (MCI). Flavor combinations and dish temperatures will ebb and flow as the seasons change. The front of house, bar program, and wine selection is headed by Sean Garner, previously sommelier and maître d' of Orchids at Palm Court. He hand-selected wines to complement Bever's menu and crafted a cocktail menu featuring both classics and fresh summery signatures to satisfy all tastes.
While it's rich in history and teeming with the allure of fine dining, The View at Shires' Garden was created with a wide audience in mind. Those celebrating special occasions and folks fresh out of a Reds game in search of a cocktail can both find what they're looking for with a complimentary view of the Ohio River and more than a century's worth of Cincinnati history.
The View at Shires' Garden, 309 Vine St., 10th Floor, downtown, theviewatshiresgarden.com
Click through our gallery to view more photos of the restaurant/bar:
Facebook Comments