The voice is hauntingly familiar. "My father continuously reminded me of the importance of remembering our past and telling it to others. It is in his memory that I decided to translate his legacy to you and the generations yet to come." The unhurried, deliberate pace, the gently rolled r, the th sound that comes out more like a d, and the methodical enunciation molded from decades of teaching Hebrew and Torah to English-speaking schoolchildren in the Midwest.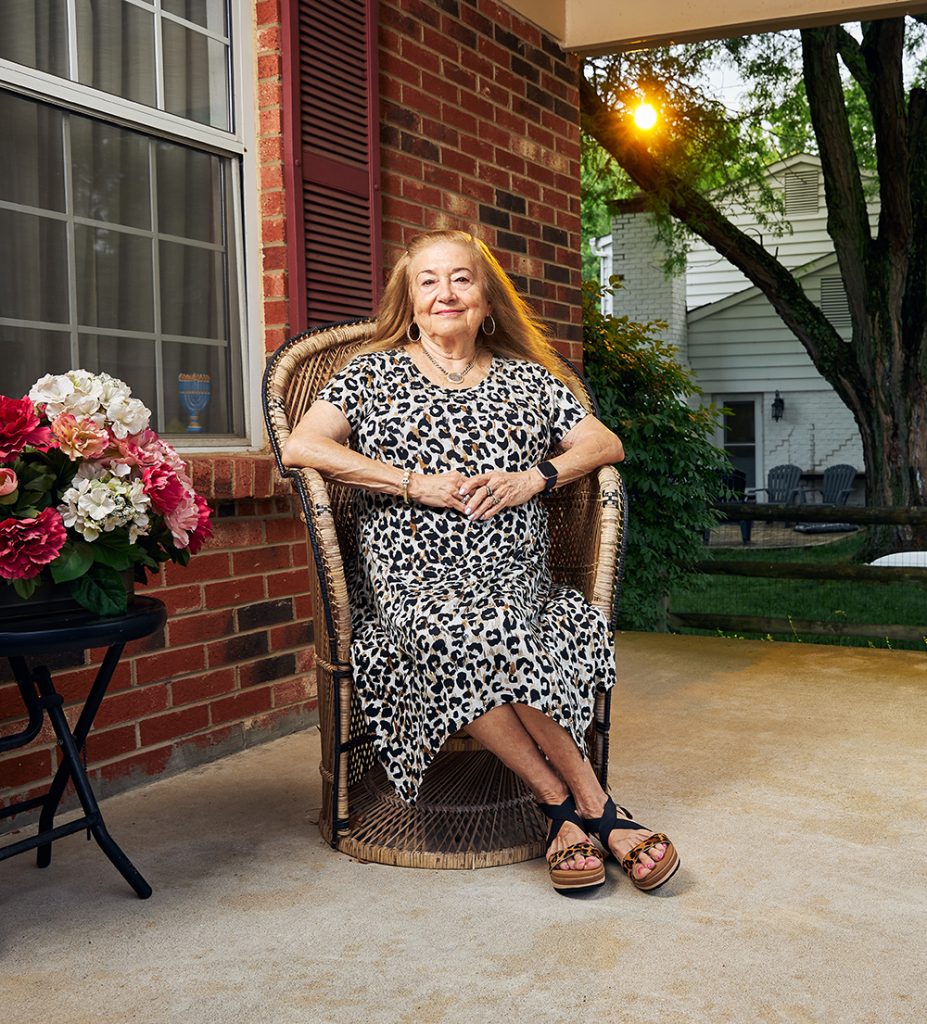 The last time I last sat across from Zahava Rendler, more than 40 years ago, I was a boy at Yavneh Day School (now Rockwern Academy). But as she flipped the laminated, typed pages of the well-worn script holding her story of surviving the Holocaust as a child, I was instantly transported to a time when her familiar accent was a daily, comforting reminder of my Argentinian/Israeli parents' unique approach to English. Like many in the Jewish diaspora, especially in the Midwest, our families had found each other. The adults clung to scraps of memory from the homes they'd left behind by getting together to laugh and share traditional meals accompanied by hummus, olives, and warm pita from our favorite bakery.
What I didn't know then, and found out only last year, is that Rendler, 79, is among the youngest Holocaust survivors in the U.S., born just two years after Adolf Hitler signed the German-Soviet Nonaggression Pact in 1939. From what I can recall, she never told us her story in class, but in the decades since she's proudly shared it with audiences all over Ohio. Until March, when the COVID-19 pandemic temporarily took away her voice again.
Rendler is one of more than 70 local Holocaust survivors whose stories are featured at the Nancy & David Wolf Holocaust and Humanity Center (HHC) at Union Terminal. But given their advanced age and vulnerability, it's likely that the coronavirus will have a serious impact on those left to tell their stories. Combine that with a rise in anti-Semitic incidents across the U.S. in 2019, the most since the Anti- Defamation League began tracking such incidents in 1979, and the HHC's state-mandated shutdown created a void that will be difficult to refill later.
---
There's a cruel irony in visiting the Cincinnati Museum Center on a muggy afternoon at the start of what should be summer vacation for local students. I walk from the barren parking lot into eerily hollow silence in the majestic rotunda, which would normally buzz with the high-pitched echoes of revved-up, snack-packed schoolkids. Like Rendler, they've been silenced by the coronavirus.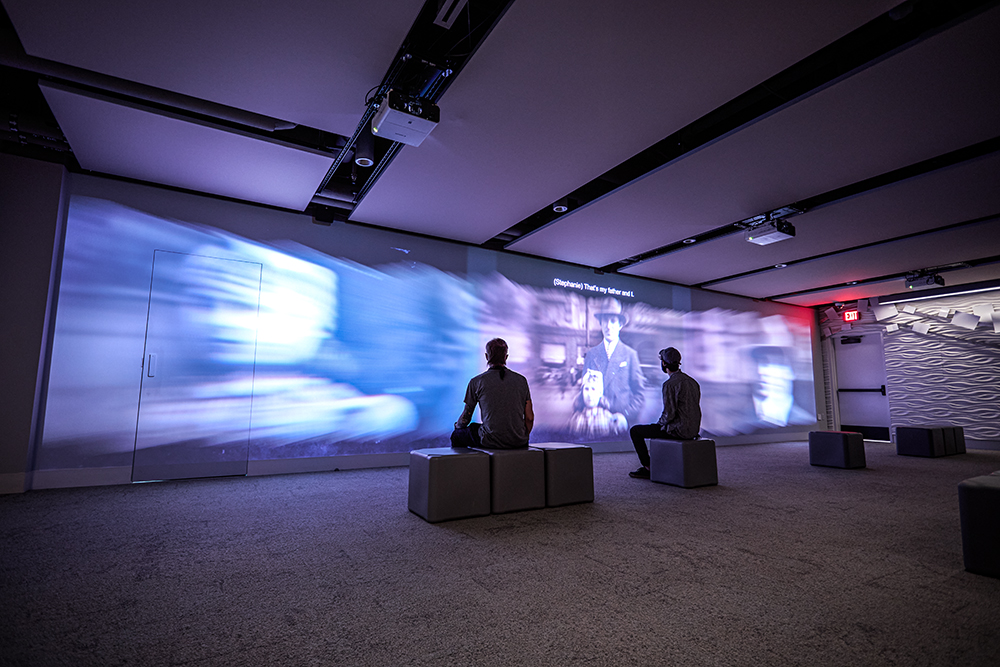 Dressed in a dark suit jacket and pants, with a black and white mask featuring a wavy pattern, Sarah Weiss, executive director of the HHC, strikes an upbeat, defiant tone when describing the summer that should have been. "We worked with the survivors on display in here, and their optimistic message was incredible: We are resilient," she says as we descend the stairs to the abandoned-looking museum, passing the blown-up reproductions of visas, manifests, and birth certificates of some of the Holocaust survivors who traveled through and settled in Cincinnati. "This is something we can learn from, their resilience and the human ability to adapt."
After celebrating the first anniversary of the HHC's move to the Museum Center in January, Weiss's team was planning a lavish fund-raising gala in March—an elaborate version of the annual Liberation Ball events local survivors have been holding off and on for nearly 60 years—as well as a series of programs that would expand the HHC's already impressive reach into the local community. "I think the next two years will reshape what we do here beyond the pandemic," says Weiss, a Youngstown native who's been working at the HHC ever since graduating from UC in 2004.
HHC was forced to close its doors on March 14 as the nation ground to a halt, with Weiss and her team meeting remotely to game out ways to advance their work through a combination of virtual tours, digital book clubs, and online guest lectures. It's the same action plan countless institutions scrambled to devise in the wake of COVID-19.
The unexpected pivot was especially jarring for a museum where the raison d'être is pointedly about experiencing and witnessing the horrors of the "Final Solution" in person. In a year marking the 75th anniversary of the liberation of the Nazi death camps, the HHC was a place that encouraged visitors to listen to local survivors' stories and get close to artifacts from their time in hiding and transit to their new lives. It took you on a journey to freedom via interactive, sliding displays depicting the brutality of Hitler's plan, as well as the inspiring stories of escape, survival, and rebirth that unfolded when the war ended. (The HHC finally reopened to the public on July 17.)
Powered down on this day, the space is darkened by an invisible menace that suddenly forced us all to hide in our homes and robbed us of the ability to touch and gather with our loved ones. It all sounds familiar, but not exactly in the way you think.
---
The problem most people have with analogies is to think of the things as being equivalent," says Michael Berenbaum, the unofficial dean of American Holocaust museums, about whether the world's COVID-19 quarantine is not unlike Jews and other Nazi victims hiding in plain sight from the Third Reich, as some have suggested. "No one is equivalent to Hitler, and no event is the exact equivalent to the Holocaust.… Analogies are fine provided you understand they're just analogies."
The professor/rabbi/writer/lecturer has studied the Holocaust for most of his adult life and served as the project director of the U.S. Holocaust Memorial Museum in Washington, D.C.; CEO of Cincinnati-born Steven Spielberg's USC Shoah Foundation (formerly known as Survivors of the Shoah Visual History Foundation); and one of the HHC's key consultants before its move to the Museum Center. For him, there's a difference between hiding from something for an unknown duration when you fear the entire world is bent on your destruction, and the advice we received about COVID-19 that our safety is dependent on voluntary physical distancing and working from home.
"There's a great phrase by [Jewish poet] Hayim Nahman Bialik, who said, Reading a poem in translation is like kissing [your new bride] through a veil," Berenbaum says in an inviting, wizened smile of a voice that comes through the phone from his home in Los Angeles. It's his way of explaining that an essential element is removed when we're stuck inside and can't experience the HHC in person. Using a rhetorical method familiar to any Hebrew school student, Berenbaum asks what the difference is between a museum and a movie. Before there's time to fully consider the question, though, he kindly offers up the not-so-easy answer. "Film is one of the most effective ways of telling a story in the modern world," he says. "A captive audience and moving imagery. But we lose something when we don't have the collective experience of a film, which is when everyone is scared or cries at the same time."
The difference in a museum, according to Berenbaum, is that you have captive imagery and a moving audience. "You want the audience to move in order to grasp the story, and the difference from a film, again, is everyone sees the museum differently," he says. "The Holocaust as a narrative has this enormous power to raise all of the issues that are prevalent within a society, and people will see it differently depending on what the narrative of their society is at this moment."
Berenbaum ticks off a list of topics addressed by the HHC that are even more relevant right now, a few of which, yes, might feel analogous: the nation's suddenly strict, restrictive policy on immigration; the fragility of our democracy and polarization in the hands of a norm-breaking leader; and economic scarcity and depression caused by record-high unemployment. The Center's designers probably never imagined these issues would be relevant again when they dreamed up the space. "But [they're all] part of the Holocaust story and part of what makes it a paradigmatic evil," says Berenbaum.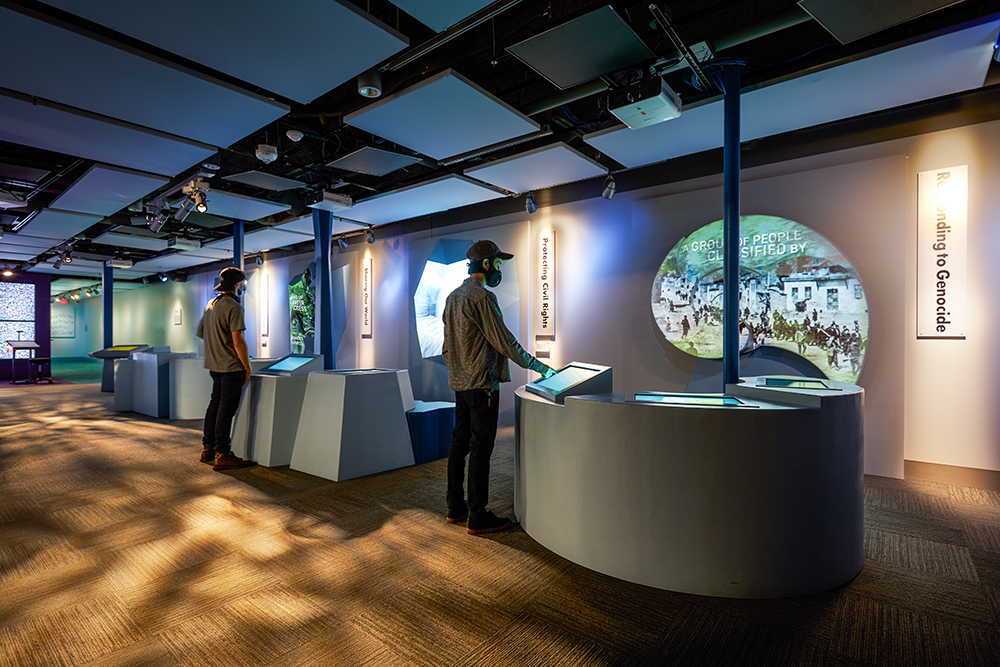 Of course, if you add on the historic economic collapse caused by COVID-19, the rending racial divide ignited with the killing of George Floyd by white Minneapolis police officers, and the rise of anti-Semitism over the past few years, we're facing a strange, toxic brew this summer. How, Berenbaum wonders, will the HHC's audience be different when they return to the museum space? "I think they're going to ask a new series of questions," he says, including, "How do you rebuild after all of this?"
---
Sitting on the front porch of her Blue Ash home on a sunny afternoon in early June, Rendler shifts forward in her high-backed wicker chair as she contemplates how she'll be changed and how the telling of her story will transform when life returns to a "new normal." With a cartoon-decked mask resting on her right knee and a small blue menorah peeking out from the window between us, Rendler sounds exactly like the worried great-grandmother she is.
Watching the sporadic violence and looting amid the many peaceful protests after Floyd's death, Rendler says she trembled and shivered at footage of burning buildings and shattered glass. Like Berenbaum says, they're not quite analogies, but nonetheless she had to pinch herself to make sure she wasn't dreaming of another time. "Is it really happening?" she asks in a gentle, quizzical voice. Rendler was shaken by what she saw, but careful to remind herself that she was indeed here, here to stay, with so much to celebrate—reminded once again that "Hitler did not succeed."
The lifelong educator asks me if it's OK to present her story as she would during one of her lectures about the Holocaust, and she begins reading from her laminated script. She was born Golda Feuerberg in Stryi, Poland, on March 30, 1941. Her father owned a successful leather goods factory, which was taken away when Germans occupied their town. A loyal factory employee urged the family to go into hiding in an underground bunker, where Rendler and her sister were the only children among 26 adults. Given sleeping pills to keep her from crying so as not to give them away, Rendler escaped with falsified papers to live with a Polish woman in a nearby city under a new name: Olga Pachulchak.
After nearly two years with the woman, she then spent just as long in a Catholic convent with other Jewish children amid rumors of a German advance, at which point her parents lost track of their daughter. When the war ended in 1945, Rendler's father, Mendel Feuerberg, exited the bunker and asked the nuns where she was, only to have them deny she was staying in their care. After returning daily to look for his daughter, Feuerberg met a child who knew of Zahava, and he proceeded to bribe one of the nuns with a kielbasa sausage to give up her location. Spotting his daughter on a playground, he grabbed her and ran off with a plan to emigrate to Palestine along with other European Jews. Their boat was caught by British troops, who sent them to a displaced persons camp in Cyprus, as was the custom before the State of Israel was established in 1948.
They eventually made it to Israel, where Golda changed her name to Zahava (Hebrew for "gold"), then immigrated to Cincinnati in 1963. She never saw a Nazi and has no memories of their atrocities, but our long afternoon together includes several stories of anti-Semitism she's encountered— while getting her teaching degree, on an airplane, from children who asked questions that would be impertinent coming from an adult—all of which touched on familiar hateful tropes, Holocaust denial, and cutting insults. In each case she politely deflected the attempt to bait her, but says knowing what she knows now she might react differently, with a healthy dose of what Jews refer to as "chutzpah."
Tapping into the Passover story, she looks at the currently incurable virus as an "11th plague," though safe in the knowledge that she can sit on her porch without fear that someone is going to drop a bomb on her neighborhood or take her family away because she's Jewish.
Rendler says even at her age she doesn't fear the coronavirus as much as she fears the hiding. Tapping into the Passover story, she looks at the currently incurable virus as an "11th plague," though safe in the knowledge that she can sit on her porch without fear that someone is going to drop a bomb on her neighborhood or take her family away because she's Jewish. "I'm not afraid," she says. "The corona? It's not the same fear. In a way, it brought some people together and shows us if we don't come together even worse things can happen."
And then she fast-forwards from her story to the present again, drawing an invisible line between the 70-plus-year gap. "Now at my age, I still have to be sad and afraid? What is this nonsense? All these riots? Does the color of our skin really matter?" Rendler says, her kind, liquid brown eyes softening as she laments the unrest convulsing the nation and her hometown in the wake of Floyd's killing. "Is it the shape of our eyes that matter? Didn't we learn from history what really happened to us?"
---
Housed in the sprawling, historic Art Deco treasure that tells the human story from the prehistoric ice age to the founding of the nation, the Industrial Revolution, and our VR present, one thing that makes the HHC's Union Terminal home unique is its direct tie to the place where history took hold. The HHC, named in honor of the couple who've played a major philanthropic role in the Jewish and larger Cincinnati communities, is what Weiss calls the only "positive space" of its kind in the U.S.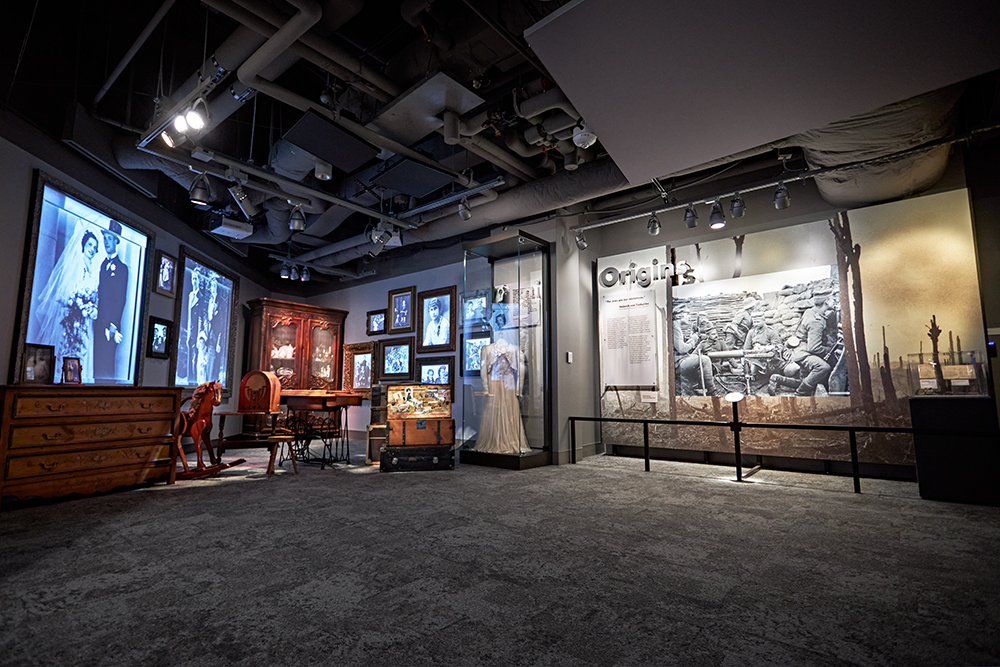 It marks the arrival or transfer spot of more than 1,000 Holocaust survivors who first laid eyes on Union Terminal after disembarking from one of the trains that used to steam through the once-bustling rail hub. Rendler vividly recalls landing at Union Terminal by train on August 30, 1963. That's why there's a hole cut into one of the exhibits allowing visitors to peek out into the freight train yard behind the Museum Center. Weiss says this authentic, one-of-a-kind connection to its larger home makes the HHC unique among the dozens of Holocaust museums and research centers across the country.
Since its move to the Museum Center, the 7,500-square-foot HHC has drawn visitors from nearly every state, with an estimated 80 percent not identifying as Jewish. A place that houses trains—in yet another analogy of sorts, the enduring symbol of the vehicles that transported Jews and other Nazi victims to death camps—has been turned on its head, serving as a means to transport the genocide's history.
The key to keeping the HHC's mission as vital as possible, Weiss says, is continued outreach to a new generation. That's why hundreds of area schools engage with the HHC through visits, traveling exhibits, or the Coppel Speakers Bureau. After hosting 150 events in its first year in Union Terminal— including a twice-weekly Holocaust Speaker Series—those sessions went digital during the pandemic, reaching thousands of viewers via Zoom. There were also panels on anti-Semitism and the pandemic, Q&A sessions with the museum's curator, and special guest lectures that drew virtual visits and viewer questions from California to Germany and Israel. Partaking in the new COVID-19 custom, several local Holocaust survivors were also the guests of honor at drive-by parades in June, in an effort to have some face time with the group, who are mostly in their 80s and 90s.
Taking a page from the stories of perseverance told on the walls around her, Weiss says that this moment of challenge and change is a chance for the HHC to consider new opportunities. A new look outward has led to creative efforts that might not have otherwise been taken. "To me the saddest part is the school groups not coming," she says, surveying the darkened theater that first greets guests as they enter. One corner is stacked with dozens of gray cube-shaped stools that would normally fill the space. As the film featuring survivor stories, including Rendler's, unspools, the 10 remaining seats at appropriately distanced intervals seem small in the now cavernous-feeling room.
The HHC was in the midst of yet another makeover as summer dawned, with Weiss and her team redesigning the interactive kiosks to move away from touch surfaces and buttons to manipulation with styluses. As sheets of plastic sneeze-guards await placement, Weiss says she's been talking to other museums about how they're handling the counterintuitive switch from encouraging participation and active listening to literally erecting barriers to keep visitors apart and switching to self-guided audio tours.
---
Rendler's father always told her not to be afraid to tell her story. He wanted her to keep describing what she and other Holocaust victims went through, as often as she could, wherever she could. "On the other hand, I'm looking and nothing has changed," she says of the frightening images of fire and fury on the TV news, stopping to smile as a small deer materializes just feet away from the porch and squealing children ride by on their not-so-spaced-out bikes. "It's fear, it's anger, it's sadness. It's not appreciating again life. Why can't we live in peace? We must work together. We must make it a better life to live."
So, like the HHC, Rendler will keep telling her story. It might look different—for a little while longer anyway—but the story will be told. "In my sense I always think, You cannot escape from evil. Maybe we'll never be able to escape from evil, and that's why we have to work together," she says, happy that she's bound to her comfortable home and not a dark, cramped hiding space.
The key is to keep moving forward, to learn whatever lessons we can about brutality inflicted on a minority group whose only crime was trying to survive and thrive. "I don't have to keep sharing my story," says Rendler, clearly pained to say goodbye from a distance. "But humanity is my job."
Facebook Comments