Few visitors to Spring Grove Cemetery fail to admire the stately yet threadbare Dexter Mausoleum, monument to one of Cincinnati's dominant whiskey dynasties. So focused are visitors on the grandly decaying sandstone edifice, tantalizingly enclosed by rusting iron gates and adorned by nesting birds, that they may be forgiven for ignoring the headstones scattered among the encroaching trees and shrubs.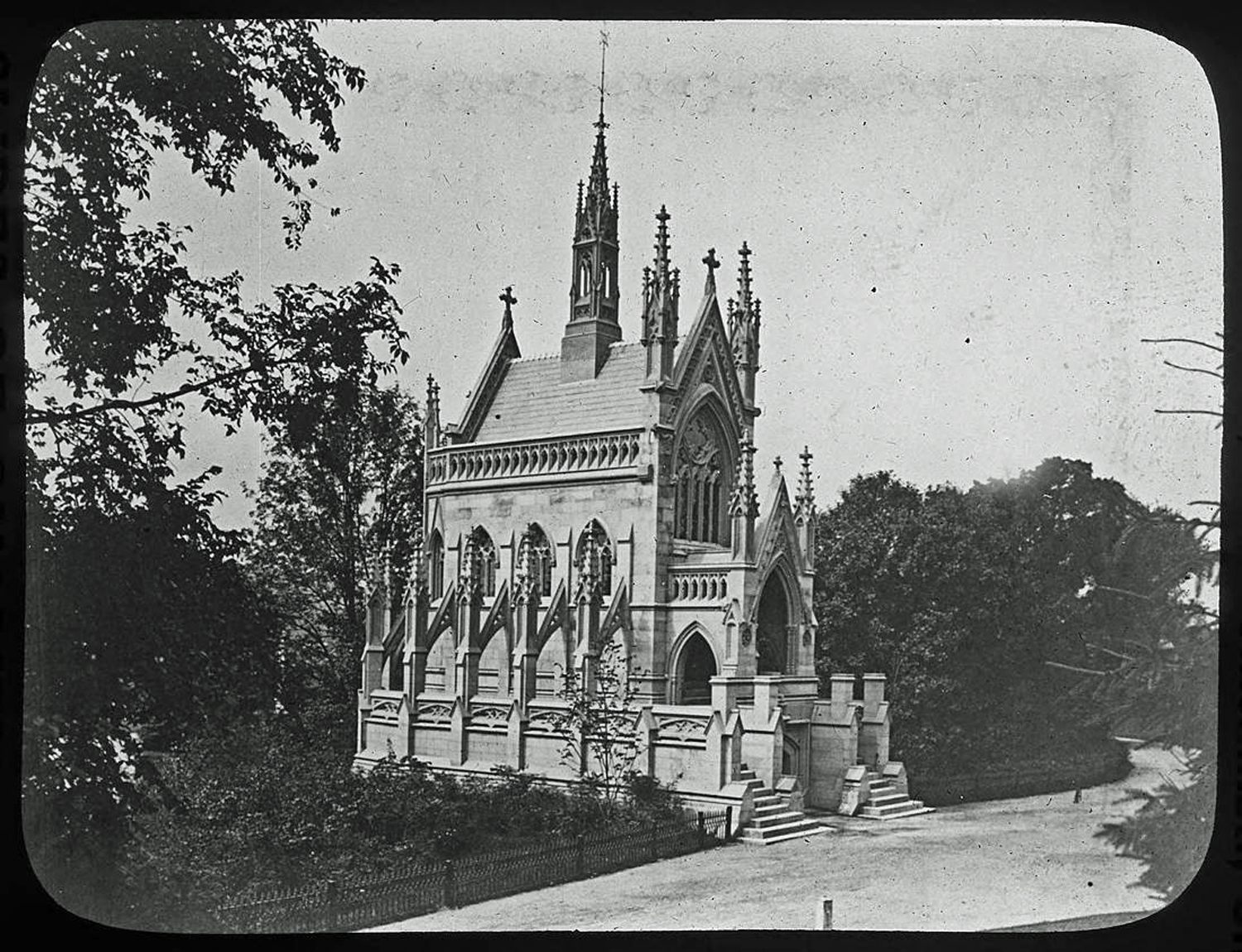 One headstone, in particular, implores further investigation. This modest marker, lying flat to the ground, reads in its entirety:
CHARLES DEXTER
born
CARROLL DEXTER WALKER
1906–1960
Charles Dexter, aka Carroll Dexter Walker, was the great-grandson of Edmund Dexter Sr., patriarch of the Cincinnati clan. Born in England, Edmund arrived in Cincinnati around 1830 and, after a very brief stint as a grocer, opened the liquor distribution company that generated his fortune. Edmund died in 1862 at age 61 and became the first interment in his new Dexter Mausoleum.
Edmund left behind five sons, with three remaining in Cincinnati and retaining some connection to the family business. His son Charles, though initially involved in the business, suffered a series of infirmities and spent most of his life in the library of his Walnut Hills estate. He died in 1893, leaving a substantial inheritance to his three daughters, Annie, Mary, and Alice.
Alice was the only daughter to marry. Mary died young, and Annie, a quite eccentric character, lived most of her life in France, refusing to speak English. Alice married Paul F. Walker, a professor of Spanish at the University of Cincinnati. Alice's only child was Carroll Dexter Walker. Well, he was Carroll Dexter Walker until his Aunt Annie died in Quebec in 1916.
When Annie's will was read in Hamilton County Probate Court, it was discovered to contain the following bequest: "I give, devise and bequeath to my nephew, Dexter Walker, the sum of twenty thousand dollars ($20,000) to be held for him in trust by my executor, the income therefrom to be paid him quarterly, for the use and benefit of my nephew's education, until he shall reach the age of twenty one years, when said amount shall be paid over to him for his own property, provided, he be willing to assume by law, the name of Charles Dexter, instead of Dexter Walker as he is now known."
Annie intended to maintain her father's legacy. Since Charles Dexter had no sons and since two of his daughters had no children, Carroll was the only candidate to continue the Dexter line, but only if he changed his surname to Dexter. Should Carroll decline to comply with her request, the $20,000 would be redirected to the University of Cincinnati to create an endowment fund in her father's name.
Annie's sister Alice went apoplectic at her sister's maneuver. From Alice's perspective, Annie's scheme was nothing short of a brazen attempt to steal her only son. From the grave, Annie communicated her utter disregard for Alice's feelings. The very next clause in her will reads: "To my Sister, Alice Dexter Walker, I leave nothing, for she has never shown me any affection."
If Annie intended to piss off Alice, it worked. Alice spent the remaining 28 years of her life working to destroy all of Annie's post-mortem intentions.
Alice mounted a full-scale assault on Annie's will, trying every method she and her team of lawyers could imagine to get it thrown out. Alice claimed the will was void because Annie was not a resident of Hamilton County, that she was of unsound mind, that her requests were illegal, and so on. None of Alice's objections survived legal scrutiny, and there is some evidence that the court found her to be a dreadful pain.
Carroll, meanwhile, took his time complying with his aunt's demand. He was only 10 when Annie died. He turned 21 in 1927 and, when he did not immediately change his name, the University of Cincinnati pounced, claiming the $20,000. UC won the first round but, on appeal, the court ruled that Carroll's aunt had not set time limit for changing his name. UC appealed that decision. The Ohio Supreme Court, however, determined that Carroll could change his name whenever he damn well pleased. He promptly did so, collected $20,000, and lived the remainder of his life as Charles Dexter. His friends called him "Dex."
Another item in Annie Dexter's will created a quandary for the executors. It read: "I give and bequeath to the Spring Grove Cemetery Association, the sum of five thousand dollars ($5,000) and direct that the income therefrom be used for keeping in good repair the Dexter Mausoleum in Spring Grove Cemetery."
That appears to be a simple matter, cut and dried, and who would refuse $5,000? Spring Grove Cemetery did. Seven years after Annie's death, executor Burton P. Hollister was still trying to get Spring Grove to accept the gift, but they steadfastly refused to accept the money, even though Hollister himself sat on the cemetery's board of directors.
According to Spring Grove historian Phil Nuxhall, on October 9, 1924, the Spring Grove directors deferred action on a request by Alice Dexter Walker to demolish the Dexter Mausoleum entirely, referring the matter to—of all people—Burton P. Hollister for analysis.
As if she needed the money, Alice charged into court claiming the $5,000 rejected by Spring Grove. She found Harvard University ahead of her in line. Annie's will named Harvard the beneficiary of any "residue" or assets not otherwise specifically bequeathed to an individual or organization. Harvard said the refused funds had become part of the residue. Alice claimed they returned to the estate and were therefore hers as Annie's only living relative—despite having been personally and unmistakably disinherited. Harvard won that round, pocketing an endowment while the Dexter Mausoleum deteriorated.
Alice Dexter Walker laid down her earthly burdens in 1944, leaving her entire estate to her son, no matter what name he answered to at the time. You can tell from the language of Alice's will that she was still fuming: "Throughout this instrument I have referred to my son by his baptismal name of Carroll Dexter Walker, realizing that he assumed by law the name Charles Dexter and is now known as such. I hereby direct that the benefits of this instrument shall inure to my son whether he be described by his baptismal name of Carroll Dexter Walker or by his assumed name of Charles Dexter."
Facebook Comments