SPCA Cincinnati never turns an animal away. This no-kill, open-admission shelter takes in thousands of animals each year to support its mission "to rescue, heal, and advocate for sick, injured, abused, and homeless animals" in Hamilton County. Says SPCA Public Information Officer Nyketa Gaffney: "Their response to human interaction can be a telltale sign that they've been alone out there for a long time, trying to survive."
Getting animals out of harm's way is a community effort: SPCA is notified of a stray and dispatches staff "humane agents"—no dog catchers here—to locate the animal. That person determines, based on the animal's appearance and behavior, if it's a true homeless stray.
SPCA does an intake evaluation and gives emergency medical care, and after a mandatory 72-hour "stray hold" (to give potential owners a chance to claim the animal), provides necessary treatments like vaccines. They then put the animal up for adoption on their site and promote via local and social media.
A trained staff and more than 700 volunteers keep basic services running, like walking and grooming animals. A special group of volunteers also fosters special needs animals, such as those suffering from disabilities or terminal illnesses. "There are plenty of people out there who have a heart for special needs pets," Gaffney says.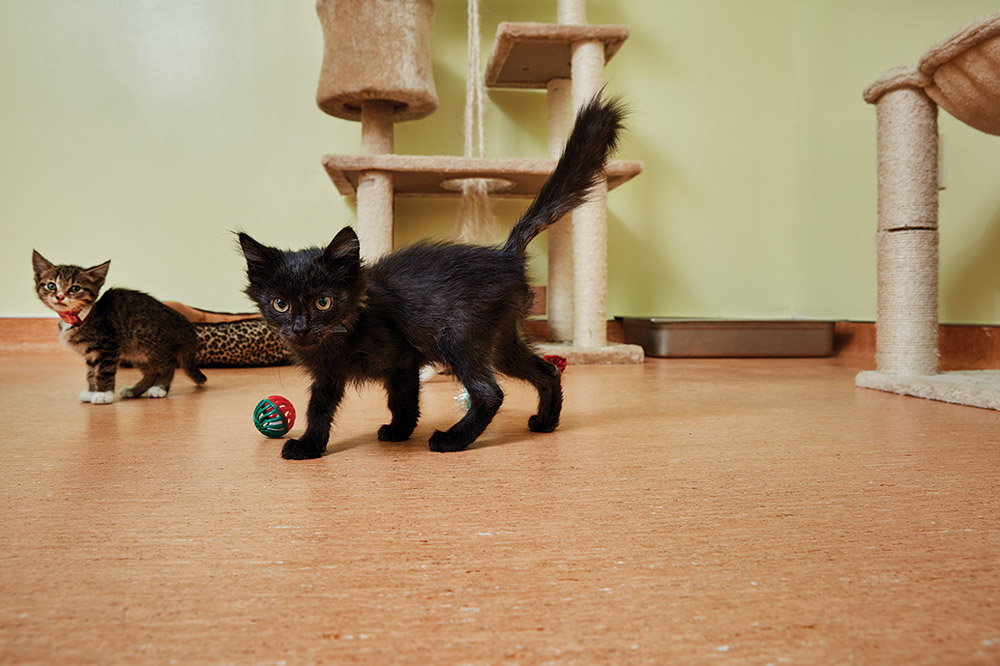 New this year: The Joanie Bernard Cat Center, complete with a dedicated kitten nursery equipped with filtered air to prevent respiratory illnesses.
Facebook Comments