It started with a handwritten note. Jenni Button, a Chicago art dealer who had just relocated to the Springboro area, where she'd grown up, used the old-fashioned communication method to offer a helping hand. Would Bruce Metzger, owner of the 20th Century Cincinnati trade show, like some assistance in promoting it on social media?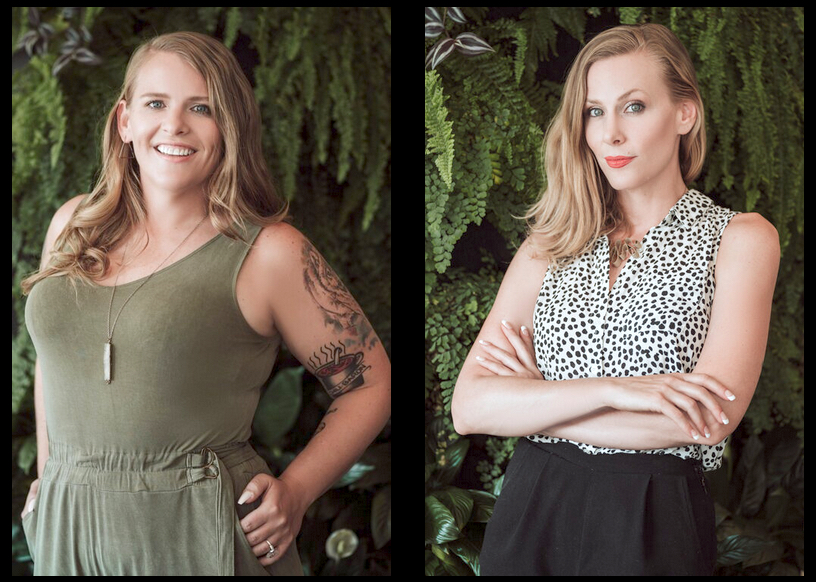 Button, 39, and her sister Jess, 36, run the marketing company Vine Collaborative and are longtime fans of the annual February event, which is the Midwest's largest gathering of dealers of the last century's furniture, décor, housewares, and ephemera. The emphasis is on Mid-Century Modern design, but everything from turn-of-the-century Arts and Crafts to 1980s postmodern items are also on offer.
Metzger, 71, had been wanting to retire and made a counterproposal: Would the sisters want to take over the entire show? Well, why not? And so, mere months before the event, which takes place February 25-26 at the Sharonville Convention Center, they've received a crash course in ticketing, pipe and drape, and booth allocation.
Jess Button has a background in event production, which helps, and the sisters' savvy with digital branding and promotion has already pole-vaulted the show's presence online, undoubtedly reaching a younger audience. "We're brainstorming," says Jenni, who is putting out feelers to design-minded organizations to partner with on future shows. "And we're toying with the idea of satellite events throughout the year."
Still, the Buttons' aim is less to retool the event than to amplify in measured paces what has made it one of the nation's premier vintage shows—in short, to continue Metzger's 28-year legacy of attracting top-quality dealers with unique merchandise and packing the space with excited customers. "Bruce has been very careful to make sure there's diversity in the range of dealers and approachability in terms of price," says Jenni.
Another show element that's remaining in place is the capsule exhibit, free to the public, that highlights a different aspect of design each year. The 2023 spotlight falls on Edgard Sforzina, an Art Deco pioneer who, as of this writing, hasn't even merited an entry in Wikipedia. But the French expat, who settled in New York in the 1920s and was soon designing apartments for society notables such as George Gershwin, created art moderne interiors and objects a full two years before the 1925 Paris Exhibition that catapulted the aesthetic worldwide.
Sforzina has a special relationship with Cincinnati. He designed much of the original furnishings for the interior of Union Terminal, which regularly figures on lists of "best Deco buildings" worldwide. His touch can be seen in decorative metal work, hidden lighting, and elegant, sleek lines. It is, in a word, dramatic.
Coincidentally, Art Deco was the focus of the early incarnation of the 20th Century Cincinnati show. Metzger laughs when he recalls people asking him, incredulously, "Are you going to let people put 1950s stuff in the show?" This was before "Mid-Century Modern" was a commonly used phrase. By the time his smaller events graduated to Union Terminal, Metzger had observed the shifting tides and formalized the name 20th Century Cincinnati in the mid-1990s, encompassing offerings from the entire century. Items from the '70s and '80s wouldn't appear until later when they, too, had time-warped back into vogue.
The show's Union Terminal home was brief. The Sharonville Convention Center, purpose-built for trade shows, was a better fit and has hosted 20th Century Cincinnati for years. And while vintage shows such as this are dying out nationally—Miami, New York, and Detroit have all lost theirs—Cincinnati's chugs along, now powered by fresh blood. "We're the original recyclers," says Mark Fisk of Mainly Art, a boutique in Oakley that regularly participates in 20th Century Cincinnati. "Young people are aware of that." This new generation, he adds, is moving up from Ikea furniture to their first investment furnishings.
Louis Rub, an independent dealer who's shown at Metzger's show since the late 1980s, remembers Art Deco being more popular than mid-century furniture in those early days. As the trade show has crested each macro- and micro-trend in the business—right now, think teak by Danish designers—the event has remained on the cutting edge. Says Rub, "Over years it went from being 'That little show in Cincinnati' to now one of the nation's premiere shows."
Facebook Comments