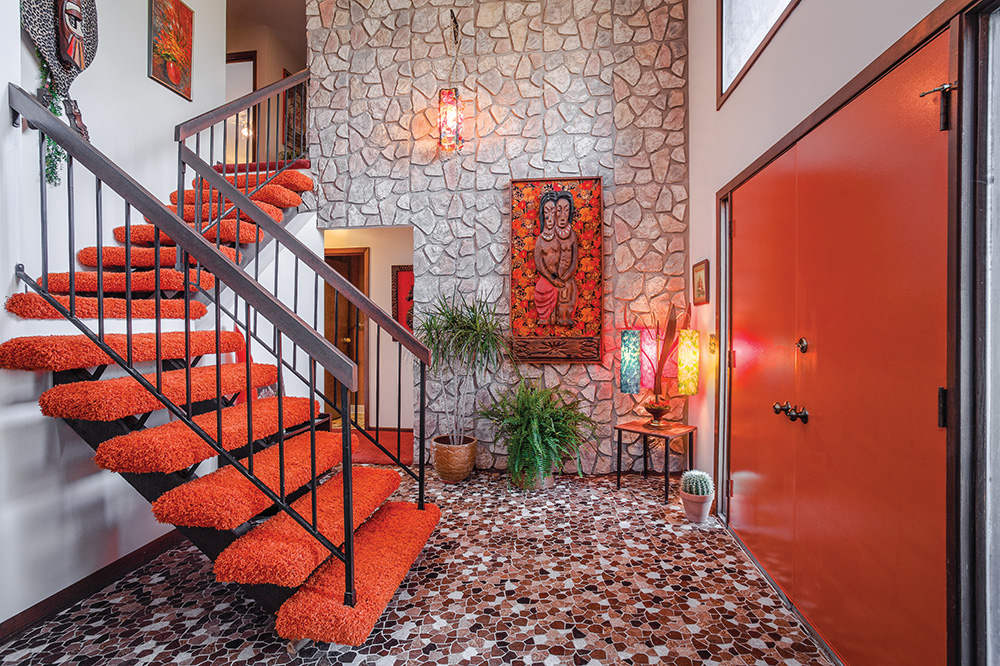 When the original owners' family sold this 1974 Springfield Township home last December, we featured it, wondering what a buyer might do with such a perfectly preserved time capsule. Enter Emily (a lifelong collector of all things vintage) and Matt Stansell, Indianapolis residents who'd been scouring Midwest real estate listings for just such a gem. What came next was some major period-appropriate redecorating, involving everything from orange shag carpet to a huge tiki-style fountain, avocado green paint, and macramé plant hangers. Below, the backstory on this Very Brady project.
Have you ever lived in a period house before?
ES: Not of this magnitude. Our last home was built in '63 but it was just very run of the mill. There was nothing special, really, about it.
Was this your first stint with vintage decor?
ES: This has been going on since I was a kid. My first [retro] purchase was an old dinette. It was pink and black, from the '50s.
We love that you moved to Cincinnati for this home. Tell us the story.
ES: When this house came up, we had an appointment to see it. But the real estate agent called three days early and said, We have multiple offers—you have until noon today. I didn't even have time to think. I just came down.
MS: I was working. She's like, You're gonna love it. I'm putting an offer in.
ES: It wasn't too hard a decision.
The previous owners actually built the house. What's original here that you were excited to have?
ES: Things that would be impossible to find now: all the tile, original doors, the wood paneling, that kitchen wallpaper. The previous owner [also] saved the blueprints and all the appliance brochures.
What was the toughest DIY project you did here?
MS: The overwhelming thing was the rock wall [in the foyer], 'cause I had never done anything like that. But once I finally started locking everything together, Emily said, Just stand back. Can you see it? And [then] it was like, It's coming together.
View more images of this home in our gallery below:
Facebook Comments