Byron Williams, who published the exhaustive 1913 history of Clermont and Brown counties in Ohio, spares not a single word in his two-volume epic for the gold rush of 1868. Perhaps this is understandable.
Compared to the renowned California Gold Rush of 1849, the Clermont County gold rush of 1868 was hardly noticeable outside a handful of incurable optimists. Oh, there was gold in the creeks east of Cincinnati, it is true. There's still gold there and it is easily found. The problem is, it takes a lot more time, money, and effort to get that gold out than it is commercially worth—even at the lofty prices gold has claimed since it was deregulated in 1975. The economic futility of Ohio gold was summarized as early as 1873 in the report of Ohio State Geologist Edward Orton:
"From what has already been said, it will be seen that Clermont County has no monopoly of the gold-bearing formation of Ohio. This formation should be named the 'Drift gold field,' rather than the 'Clermont County gold field.' All of the counties of southwestern Ohio certainly share in its treasures, and without doubt one locality is as good as another, where gravels are found that have been washed from the bowlder clay. The best results thus far known to have been obtained in gold-mining in Ohio are reported for Warren county, where in one day gold to the value of six dollars was obtained – by an outlay of ten dollars; a half-dozen days' work being also thrown in."
Nevertheless, there are some folks for whom the gold fever never subsides, and Clermont County has been subjected to hard-working miners and unscrupulous fraudsters in approximately equal measures ever since. According to the Spring 1985 newsletter of the Ohio Geological Survey:
"Gold was first discovered in Clermont County on the farm of Robert Wood, near Elk Lick, on the banks of the East Fork of the Little Miami River. This site is now located on the north shore of William H. Harsha Lake at East Fork State Park."
It is almost certain that any discovery of gold will attract equal numbers of hard-working miners and shady flim-flam men. Several stock companies were set up to finance gold-digging operations in Clermont County, but few paid dividends. The newspapers were full of breathless proclamations of easy riches. "Professor" J.W. Glass announced in the Ohio Statesman [21 September 1868]:
"I believe that were we supplied with an abundance of water for hydraulic purposes, our hills would pay equally well as those of California."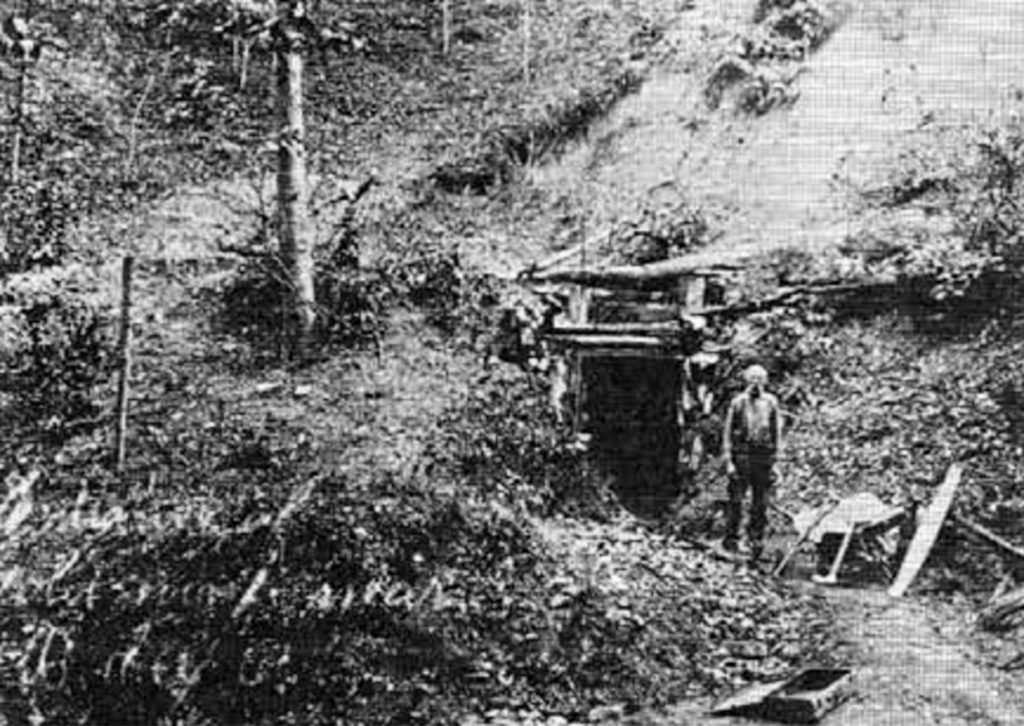 Glass estimated that hand-panning would yield no more than fifty to seventy-five cents worth of gold in a day, while hydraulic mining could generate anywhere from twelve to fifteen dollars a day. A correspondent signing himself M. Jamieson informed the Cincinnati Gazette [31 August 1868]:
"Old California miners have prospected over a good portion of this field, and report gold in almost any ravine where they tried their luck. Those miners seem sanguine, and say they found no better diggings in California."
Alas, such wishful appraisals never, shall we say, "panned out." The Cincinnati Post [22 Januray 1897] echoed State Geologist Orton while taking an honest look at the situation:
"Every year or so some newspaper correspondent in Clermont County, Ohio, or some contiguous county sends a report of the discovery of gold and of mining enterprises for its recovery. These reports of gold in these counties are true. It has not been found to be minable, because it costs about $5 – in money and labor—to get out $1 in gold."
That judgement didn't prevent the Post from printing, just eight years later, a small feature on Clermont miner John Allen, who had dug a 200-foot tunnel into a hillside along Cabin Run Creek in an area known as Bear Hollow. Allen called his mine Paradise Gulch and worked it without ever striking the mother lode into the 1920s. His mine shaft is now collapsed.
Allen failed to find the source of the gold flakes extracted from nearby creeks because he misunderstood the local geology. Unlike California, where seams of gold up in the hills erode into flakes of placer gold in the streams, Ohio has only placer gold. The mother lode for Ohio's gold is somewhere up in Canada and all the gold found here was dragged south by the glaciers that once blanketed our state.
Gold fever revived in the 1930s when the regulated value of the precious metal was boosted to $35 an ounce and so many men were out of work due to the Great Depression. A farmer named Robert Titus found a few gold flakes in a creek that ran through his farm and set up a company to exploit the find. Titus built a gasoline powered sluice that could sift a cubic yard of gravel and sand in less than an hour. According to the Ohio Geological Survey:
"Considerable excitement was created by this venture and Titus was reportedly offered financial backing and outright purchase of his 40-acre farm for $1,500 per acre. No commercial quantities of gold were ever produced from this deposit and most of the metal recovered was sold for souvenirs."
Today, Clermont County prospectors are almost exclusively hobbyists. The Cincinnati Mineral Society has led occasional field trips to a tributary of Stonelick Creek since the 1960s, as has the Cincinnati Museum of Natural History and Science.
Still, the lure of gold fires the imagination. Michael Hansen of the Ohio Geological Survey recalled the heady days of gold speculation in the 1980s:
"In early 1980, when gold prices skyrocketed to more than $800 per ounce, the survey received up to 600 letters each week after newspaper articles across the state identified the Survey as the organization responsible for such matters in Ohio."
Facebook Comments