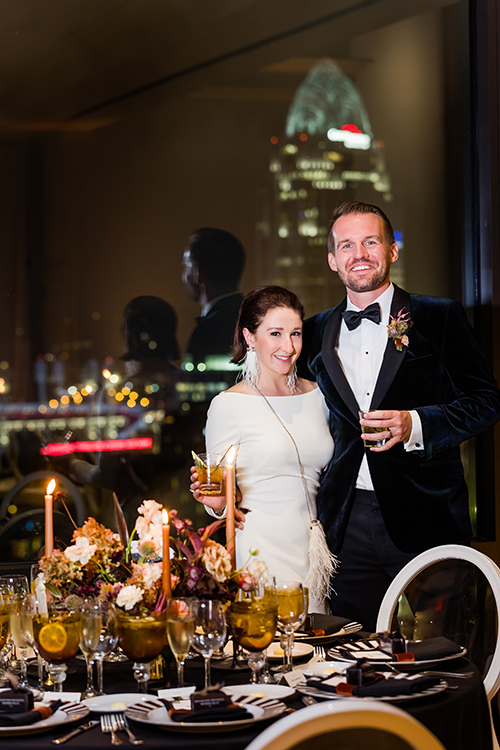 When Suzanne Applebaum's friend Molly invited her to ring in 2014 in Marblehead, Ohio, Suzanne was initially reluctant. When she learned that Molly had invited another friend, David Richards, Suzanne was not enthusiastic. "Who the hell's David?" Suzanne remembers thinking. Nevertheless, she headed north.
Suzanne, David, and the two other couples with them headed off to the Port Clinton Walleye Drop, a New Year's Eve tradition wherein a giant neon-green Walleye descends from a crane on a pier next to Lake Erie to count in the New Year. As you might expect, between the low temperatures and the wind off the lake, it's a bitterly cold experience.
"I remember him trying to keep me warm," Suzanne says. "We actually had our first kiss in the cab on the way back."
Once the couple were headed toward the altar, Suzanne and David thought The View at Mt. Adams would be the perfect spot to host their big day. They just didn't realize that it would actually take place on October 21, 2021. All the emotion came out during their first look. "He was positioned so his back was facing towards me. And then he turned around," Suzanne says. "He was a little emotional. He even shed a couple of tears, as did I."
The weather was misty as well, with the view of downtown shrouded by fog, but David and Suzanne looked at it as a blessing. "It actually made it pretty," David says. "And it's good luck!" Suzanne adds.
Photography: Laura Leppert Photography | Venue: The View at Mt. Adams | Flowers: The Budding Florist | Cake: The BonBonerie | Catering: Funky's Catering Events | Rentals: All Occasions Event Rental | Music: TOAD Entertainment and Production | Favor Bags: Leslie Applebaum & Suzanne Applebaum | Makeup: BRIDEface | Hair: Jordan Mize
Facebook Comments