"I would venture to say most people aren't the same person at the age of 25 that they were when they were 15," says Rayshun Holt, sitting in a glass-walled conference room at Nehemiah Manufacturing's new 184,000-square-foot West End facility. At 40, he most definitely would know. Meet him now—jeans, black down vest, short-cropped hair—and you see a successful businessman working for a private manufacturer of cleaning and personal care products. You might assume you understand his path or know something about where he went to school or worked before this. Most likely you would be wrong.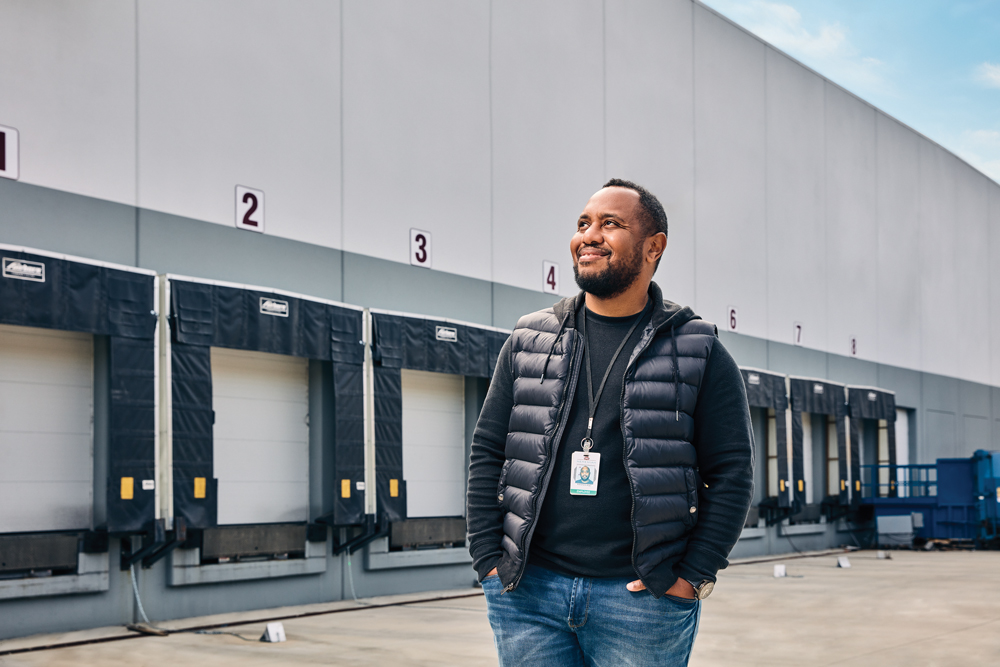 Holt grew up in Evanston in "a nice, working-class household with a loving mother, a loving father, and one sibling, my sister," he says. He attended both Seven Hills and Walnut Hills schools. But somewhere along the line, "I started to veer off the path," and got involved with gangs and drugs. He ended up in a juvenile home after a felony drug conviction. And then, at age 15, Holt shot and killed a 14-year-old friend in what he describes today a "tragic" and "unfortunate" event. He wound up in prison: 18 years to life.
His story could have ended there, but it didn't. During those years in prison, Holt grew up. He came to terms with his past and consciously decided to change his trajectory. He worked hard to help others change their paths, too. And he built a rock-solid foundation for an entirely different life, outside of prison, that would eventually lead to Nehemiah Manufacturing. Along the way, he taught countless others that change is always possible, and one bad decision does not remotely define who you can become.
---
Prison "wasn't the ideal place" to grow up, says Holt, "but you survive." About a decade into his sentence, though, "my character started to develop into who I was gonna be for the long haul." Part of that, he notes, was realizing "exactly what me getting into that situation was putting [my family] through. And I knew I had to figure out how I was gonna make good of that. Like, that's my mom, my daddy, my sister. I owe it to them to be the best person I can be."
That realization, paired with unwavering family support and a rekindling of his faith, helped Holt understand there was still value to his life, "regardless of my situation." He took skilled trades classes. He took college-level courses, and "amassed a nice quantity of credits." But he didn't stop there. "I learned early on that I had an ability to connect with people from all different corners of society," says Holt; using that ability, he set out to help other inmates find the same value in life he'd found. Soon, he became an unofficial mentor, helping his peers rethink their own life choices and avoid the kinds of mistakes he'd made moving forward. Not through any formal program, mind you. "Just my program," says Holt. "God's program."
Meanwhile, he went up for parole twice and received three-year continuances both times; the third time, though, "after having 21 years in, the parole board decided to give me a shot at it," says Holt. "Excited, scared," and having "never been an adult in the world," Holt was released in 2016 and returned home to live with his mother. "I was 36 years old, probably in the best shape of my life. I was ambitious, driven, anxious. I thought I was good. It wasn't enough."
Despite applying for dozens of jobs online and at "every storefront I walked in, I just kept striking out," says Holt. "Jobs would get offered to me and then later rescinded, even after disclosing my past in an interview." He could have lost hope, but "I stayed the course. I guess in my heart I just accepted the notion that nobody owed it to me to look at me the way I felt I should be looked at."
Instead, he turned back to mentoring and volunteered with Cincinnati Works's Phoenix Program, working to help eliminate gun violence in Cincinnati. He found his own mentor—a relationship Holt says was important as he began to grow—and began speaking publicly about his life for criminal justice classes at UC and Xavier, and "to wayward youth at some of the high schools in Cincinnati." When he finally landed paying jobs, first at Raising Cane's in Clifton Heights, then for Cincinnati Parks and 3CDC, "I felt valued, and like I had a purpose," he says. Still, he hadn't quite found a career that fit, and his options moving forward were limited. Eventually, though, Holt heard about Nehemiah, and how they hired people with felonies. Skeptical, he noted that lots of companies have people with criminal records on staff. But people kept telling him, This place is different.
---
Turns out, Nehemiah Manufacturing—a $59.4 million company founded in 2010 by consumer product industry veterans Dan Meyer and Richard Palmer (and named for the Old Testament figure whose faithfulness led him back to Jerusalem, where he rebuilt the city's walls and prayed for the restoration of the city's faith)—is what's known as a "second chance" company. Eighty percent of its almost 200 employees have criminal records. Seventy percent of them have been involved with drugs. But one of the company's main goals is to give people with challenging backgrounds a second chance at work and life.
The company is so good at what it does, in fact, it has a substantially lower annual turnover rate than consumer products companies that don't hire second chance workers (15 percent versus the 38.5 percent industry average, per The Wall Street Journal). The secret? A lengthy hiring and phase-in process, a raft of in-house support for employees (social services; legal aid; assistance with transportation, housing, credit restoration, and more), and the understanding that "there is no cookie-cutter solution to all the world's woes," says Holt.
Intrigued, he arranged an interview for a job on the company's production line. He met with the company's social services team. They introduced him to the company's CEO, COO, and president. The group was impressed; instead of a job on the production line, they offered him "a leadership role as the second shift supervisor," says Holt, with a $19-an-hour starting salary. "I came for silver and left with gold," he says. "And that's when things really started to change in my life."
Almost immediately, Holt realized the job was about so much more than just keeping production lines moving. Supervising dozens of employees on the floor taught him how the business operated, but working alongside people with backgrounds like his removed stigmas he might have encountered elsewhere and gave him the opportunity to work, mentor, and be mentored, all in one place.
I went away when I was 15 years old. In essence, I was a child. This is my first chance at having a legitimate shot at being successful.
"I thought I was strong," says Holt. "And then I realized I'm nothing when I got a young lady on my shift—a single mother to five children under the age of 12—trying to figure out child care and still work 40-plus hours a week to make ends meet. That's strength." Ditto, he says, for coworkers who had nowhere to live when they were first released from prison but somehow made it through. Or the "young man working the line [who's] in recovery from heroin," and whose every moment "is literally a life and death struggle to stay clean. They [all] serve as my beacon of hope. Every opportunity I got, I made sure I reminded them of that."
In spring 2019, Holt was promoted to his current position, commercialization coordinator, where he manages all of Nehemiah's new product development. He has his own cubicle in the company's business offices, but still stays in close contact with people on the production line floor. His life has changed in countless other ways, too. He's engaged to be married, and lives in Hyde Park. Together, he and his fiancée have an 8-month-old daughter who's "on the move fast," says Holt. The day after this interview, all three of them flew to Boston, where he spoke to Harvard Business School students and faculty about his life's journey thus far.
Nehemiah has played a huge role in his transformation, but so has Holt—through his attitude, his perseverance, and his personal strength. "I went away when I was 15 years old," he says. "In essence, I was a child. This is my first chance at having a legitimate shot at being successful."
Facebook Comments