Occupation: Logistics manager and part-time Drag King
Style: All his own
You're a logistics manager at a local e-commerce company and a part-time drag king. When'd you get into drag?
I started drag in December 2012. I didn't really have a whole lot [of local] people to look to in terms of kinging. Giovanni Lives and Jayden Icyee were probably the two that were most prominent in the city.… I had been friends with a lot of [local] drag queens since college, so I made a habit of going to shows. A couple of performers asked why I didn't do it, and I was like, Well, I never really thought about it; I've never been on stage in any capacity like that. I already wore menswear and I also really like to dance, so it kind of all went hand-in-hand. I tried it just kind of as a joke. I did an open stage [at the Diamond Palace] and ended up winning. I was booked for a paid gig there that next Saturday, and it hasn't really stopped since.
You call yourself a male illusionist.
There are different styles of drag. All play with the idea of gender and what that looks like. I personally call myself a male illusionist because I don't play too much with femininity within masculinity. When I'm on stage, [I'm trying] to get you to forget that I'm a woman. I want to look and present as male as possible. That's just my own personal preference; that has nothing to do with the validity of what I think anyone is doing. It's all art, and that's just the way I choose to express it.
You also do draglesque. What's that?
It's burlesque in drag. It wasn't something I had seen a whole lot.… Drag kings Flare and Maximum Capacity were the first two that I ever saw do that, but I was friends with a lot of the ladies from Cin City Burlesque, so I started doing burlesque with them in 2017.
Tell me about your draglesque duets with your wife, Ginger LeSnapps from Cin City Burlesque.
We performed individually up until 2018. We both had solo careers and we still maintain those, but we started doing duets quite frequently, so we combined our last names [to create our stage name], The LeCamerons. She is a traditional burlesque dancer, so we do a weird drag and burlesque mash-up. It's cool. It's not something that you see too much in terms of people doing duets, and we also add the element of we're married. We have our individual talents and careers, but we come together and do something fun.
What inspires your drag style?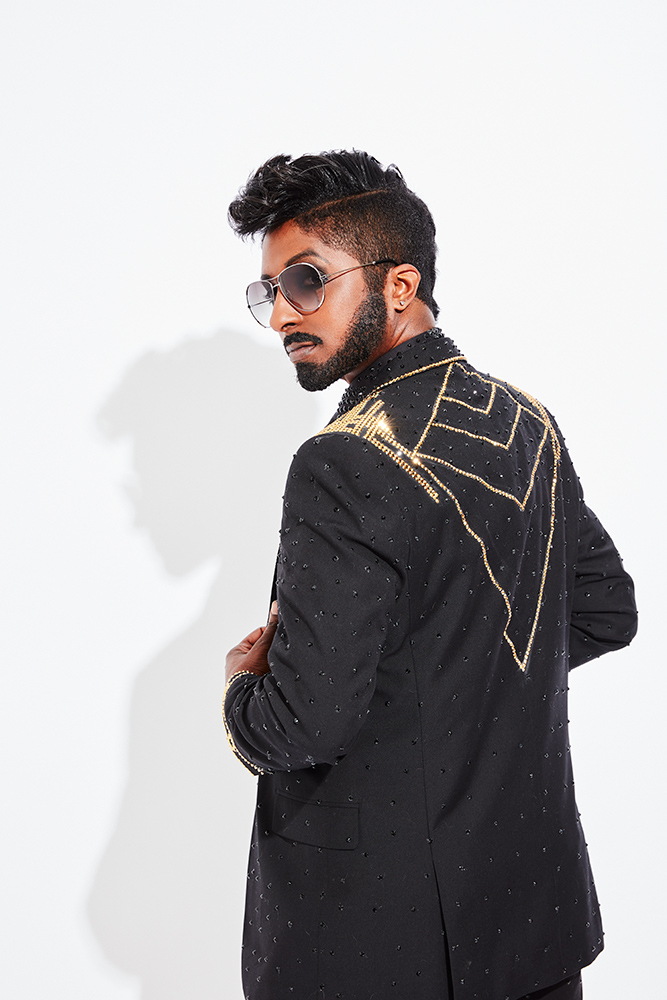 When I first started doing drag, it was very much based on what I actually liked to wear, so my first couple costumes were literally out of my closet. You see a lot of suits on stage; I wear suits in real life. So it's just my own style but embellished to fit the stage.
How do you make an outfit stage-worthy?
In both drag and burlesque, to make something stage-worthy, you want a little bit more sparkle, [something] more attention grabbing. So some of the things I wear in draglesque are maybe a little more eye-catching in terms of color palettes, but also adding rhinestones, glitter, and things of that nature definitely make [costumes] more stage-worthy.
What's your day-to-day style like?
I tend to dress in menswear almost exclusively. It fits my body type better than any women's clothing I've ever worn, but I also like the aesthetic of menswear more than ladies wear. So it translated pretty easily going into drag and then burlesque.
How do you express yourself through drag?
If you know me personally, you know that I'm painfully introverted. When I first got on stage and it became a thing that I was doing, a lot of my friends were like, Where did this come from? because I am typically pretty quiet unless we're really comfortable with each other. But it allows me to express my extroverted side—if there was one hidden in there somewhere. Typically when I get off stage, I'm quiet again and back to my introverted self. It's almost like a release of energy that I don't typically express day-to-day.
How has Cincinnati's drag scene grown since 2012?
When I first started, drag was pretty exclusively in LGBTQ clubs. It was the Diamond Palace, The Dock, The Cabaret, and Below Zero, but as my career has gone on, drag is more accepted in a lot of different places. We've done drag shows at museums, restaurants, and "straight" bars. I think [people are] far more open to seeing different forms of entertainment, which is fantastic.
How could Cincinnati be more accepting of the LGBTQ+ community?
As Cincinnati has progressed in the past 10 years, I think there is definitely more opportunity for acceptance. As far as working toward that, there are a lot of programs pushing those boundaries, and I think once people get to know the people behind the spectacle, that's the best way to gain acceptance. I don't really love the word acceptance. I don't think that there's anything unacceptable about who we are as people. But just in terms of the conservatism of the city, there's definitely further to go.
How do you want people to get to know you?
Honestly, just come and have a conversation with me. Outside of the fact that I get on stage and I portray this character, that is not necessarily who I am. I'm a very average human. There's nothing terribly extraordinary about me as a person. It's just that I happen to sometimes on the weekends get on stage and dance and perform and lip sync to songs. We all kind of do that at home—let's be honest. Some of us do it on stage and some of us don't.
Could the exposure for drag kings be improved?
There are a lot of platforms for drag queens to showcase their art. In the beginning, it was RuPaul's Drag Race. If you knew what a drag queen was, you knew who RuPaul was. As drag expands, kings are getting more recognition, but we're still behind the eight ball a little bit. But I don't know that I'd need to put a definition on what drag is and isn't. Essentially, we're all playing with gender and even outside of the binary. I personally happen to be an androgynous king and into male illusion, but I know folks that identify as drag kings but are blurring the line of what is masculine and feminine. I think as that becomes more prevalent and people are more accepting of seeing that and those folks start getting booked in shows that are traditionally just queens, people will come to an understanding of what drag can be, not just what people have said that it is.
Facebook Comments