During the COVID-19 era, most of us have become better acquainted with takeout and the various things that can go wrong with it: the fraught moment when you sort out which dish belongs to who, what part of the order didn't go through, what sides and sauces get put where, and what has, inevitably, gotten spilled or smushed on the way home.
I mention this because the dinners at Nada are by far the best packaged food I have ever received. Every container is labeled with a printed sticker, and every sauce is labeled not only with its own name, but with the name of the dish to which it belongs. Each dish comes in the exact right container: a circular dish that perfectly fits the jalapeño cornbread, a rather grand golden platter for the Peruvian chicken, paper bags for the fries and tortillas (so they don't self-steam and get soggy), and a separate bottle for the Nadarita, with instructions to serve it over ice at home.
Before eating a bite, I knew that anyone paying this much attention to detail is working too hard for the food inside to be anything but good. And it turned out to be better than just good. The new Nada, which launched a fresh menu and a new online ordering system in September, is doing extraordinary work in difficult times.
I always thought of Nada as an afterthought to Chef/Owner David Falk's other ventures, Sotto and Boca. Falk acknowledges that, with local diners increasingly savvy about the cuisine, he knew the restaurant needed a refresh—and for that, he knew he needed a real chef. He found what he was looking for in Culinary Director/COO Jonathan Rohland and Chef Johnny Curiel, who has roots in Los Angeles and Mexico and was passionate about the cuisine of his native country. The new Nada is going a lot deeper into the cuisine than many of us are used to.
The cochinita pibil cazuela, for example, comes with xni pec, sikil, and black beans. Xni pec, which means "dog's nose" in Mayan (because it makes your nose run like a dog's, apparently), is a blistering hot onion and habanero salsa, and sikil is a sauce that takes its creamy quality from ground pumpkin seeds. Put together on a tortilla, there is a layering of different flavors—creamy, sharp, and spicy, with a deep earthiness in the spiced shredded pork—that makes the whole dish magical.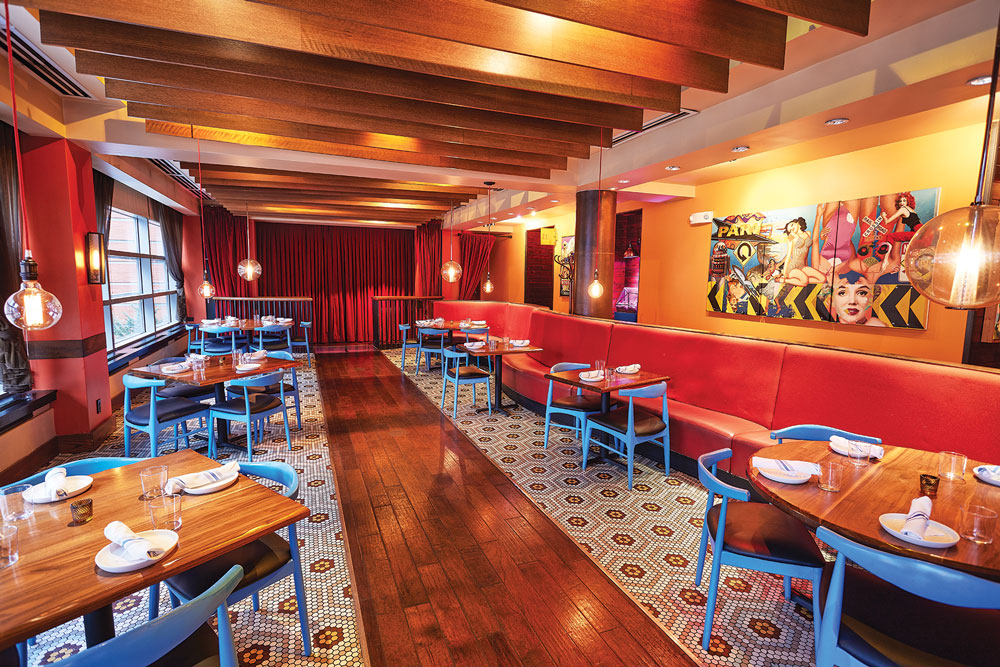 Nada, under the leadership of Curiel, is willing to be more unfamiliar, intense, and varied than its previous iteration—and this catapults Nada into the same league as Falk's other restaurants. The chile relleno was the clearest sign, to me, that something surprising and wonderful was afoot. It's a fairly familiar dish— a small cheesy meat-stuffed pepper—but along with the spicy charred smokiness from the jalapeño pepper (most restaurants use milder varieties), the kitchen had scattered a handful of gently broken coriander seeds on top. This added much-needed texture to an otherwise gooey dish, each bite releasing a burst of citrusy flavor, giving the dish a character that it rarely has when simply using powdered spices. There is a lot of daring in decisions like this, and a confidence that local diners have come far enough to appreciate it.
The focus on texture and variety is apparent throughout the menu, from the crispy pickled shallots with the roasted beets, layered over a yogurt base, to the crunchy candied pepitas (pumpkin seeds) on the Brussels sprouts, which come with their own fascinating sweet-and-spicy pumpkin cream. For those of us used to eating Mexican food that swims in cheese, there is a refreshing lightness and balance. Falk mentioned that he wanted the new Nada to be mostly small plates, and for diners to leave without the traditional need-new-pants Tex-Mex feeling.
You can see this restraint in the jalapeño cornbread, with its refreshing bite, which adds just a bit of cheese and whole corn to make it satisfyingly rich. The same good sense is applied to the desserts. The kitchen realizes that you only need a bit of the moist tres leches cake—the key is balancing it with lots of tart, macerated fruit and a crispy toasted almond crumble. And the churros are modest with a hint of orange zest that gives them another lighter dimension.
Nada occasionally leaves its Mexican wheelhouse, with Argentine and Peruvian dishes, but all of the offerings have real character. Peruvian cuisine, for example, tends to be have its own milder, creamier qualities—and the Peruvian chicken is still interesting and moist, enlivened by a gently tart ají verde. Even the fries in this dish, nicely dusted with rosemary, come with ají panca—a mild fruity pepper traditionally used in Peruvian cuisine—that makes an addictive, fascinating substitute for ketchup.
Everyone involved at the new Nada deserves praise for the reinvention of the restaurant. In the middle of what seems like an endless pandemic slog, it's a real gift to the city. Whether in person or at home in their beautifully packed carryout, you owe it to yourself to try it.
Nada, 600 Walnut St., downtown, (513) 721-6232
Facebook Comments