With 70 different wines on the menu, LouVino offers an almost infinite variety of flights. You can order by the glass or the bottle, but most choose wines grouped into flights of three two-ounce pours. With names like the Bootsy Collins ("French red wines that bring the funk"), LouVino brings some of the variety and whimsy of the microbrewery scene into the world of wine. Traditionalists might complain that you can't tell much about a group of wines from a description like "headliners you just can't miss" (the Cincinnati Music Hall flight), but our servers were good at giving us a sense of what we were going to get.
Everything about LouVino, from wine to food, is social. The five-location regional chain was founded in Louisville; the Cincinnati outpost opened last August. Specializing in Southern-inspired small plates, the establishment is designed with groups in mind. Each week seems to feature a different event (I had to specify one evening that I was not there for the Game of Thrones dinner), and much of the menu consists of elegant versions of finger foods that might be served at a party, from bacon-wrapped dates to loaded tater tots. This is crowd-pleasing comfort food, but LouVino does it with skill and some ingenuity. From the blistering slices of raw jalapeño in the lettuce wrap to the bright pesto in the bison stuffed peppers, there is usually some hint of surprise in each dish.
The scallops served on fried green tomatoes are LouVino at its best. The Southern classic is topped with seared scallops, then drizzled with a maple-mustard sauce. The combination hits every note of flavor and texture: the silkiness of the scallops with the tart and almost meaty tomatoes, the crunchy breading, and the sweetness and pungency of the sauce are all in perfect balance.
As this wonderful dish shows, the key to making good comfort food is less about piling things on and more about knowing when to stop. The kitchen (and Tavis Rockwell, the chain's culinary director) has a fine sense of restraint and portion size. Occasionally I ordered a dish like the chocolate chip cookie dough beignet and thought, This is going to be too much. But with a not-too-sweet crème anglaise and an oozy bite of chocolate ganache, one beignet for each person at the table was satisfying and just right.
LouVino's ideas are consistently good but are occasionally marred by execution. Its most popular dish, for example, is the roasted Brussels sprout salad. If a sprout is totally cored, though, it tends to fall apart, and the rest simply soaks up oil as it roasts. When the dish came to our table, it was a mess of greasy brown leaves. The lime-cilantro dressing was too far in the background to overcome the general sense of oiliness, but I could tell that the dish could be good if prepared properly. The charred octopus, with a nice Meyer lemon puree and quinoa, was another good idea that went awry during preparation: The spice and blackening rub was so thick on the octopus that the dish was almost gritty and too salty, especially given the accompanying fried capers.
The menu has two halves: a page of favorites that are the same across all locations and a rotating seasonal menu unique to each (the Cincinnati menu is developed by Chef Sarah Rockwell). Kudos to LouVino for not simply repeating itself—and for its genuine commitment to local ingredients. This is true across both menus, even in dishes like the risotto (from the Classics side), which could have been ordinary but is rendered intensely flavorful by fresh mushrooms from local Carter Mushrooms.
This seasonal menu, though, lacks the consistency of the other half. Some dishes, like the Bibb salad, take exceptional ingredients and assemble them in a way that doesn't seem completely thought out. Lettuce comes scattered with unseasoned, slightly undercooked black-eyed peas and halved grapes, with dollops of Urban Stead quark cheese. I was confused about how to eat this dish, and when I tasted it, confused by how the grainy beans were supposed to be working with the cheese and the grapes. Still, such issues are rare, and I suspect the seasonal menu will improve as the kitchen gets a sense of what's working and what isn't.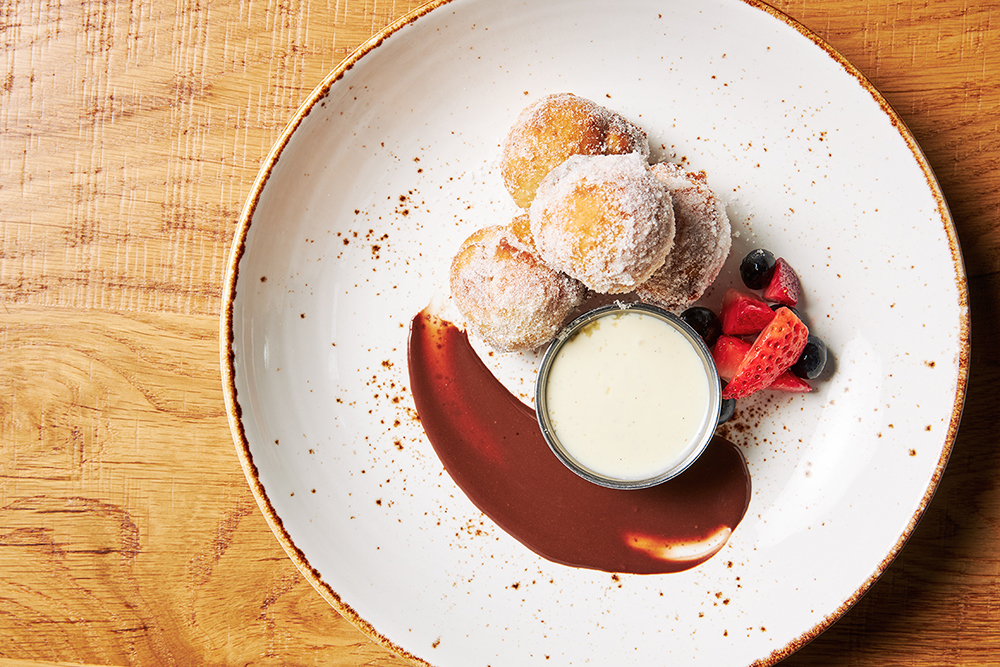 I do have one suggestion, unrelated to food or drink: LouVino needs to relax. There is a faint air of tension surrounding the whole operation. They take reservations, for example, but insist on a credit card in advance—which no one else in the city does, with exception of large party reservations—and threaten to charge $25 per diner if a party fails to show up or is late. (We did not test them to see if they were bluffing.) Service on two nights felt knowledgeable but rushed, with high-speed recitations of flights, which were impossible to follow, and plates that were never replaced between courses. The restaurant was slow one night and busy the other, but the server always gave the impression of needing to be somewhere else.
Wine is a slow kind of drink. It sits for years and even needs some time to mellow in the glass. The process of serving it should be an easygoing affair. LouVino is already good and has its own useful niche. If it can loosen up a little, it will be even better.
LouVino, 1142 Main St., Over-the-Rhine, (513) 813-3350
Facebook Comments