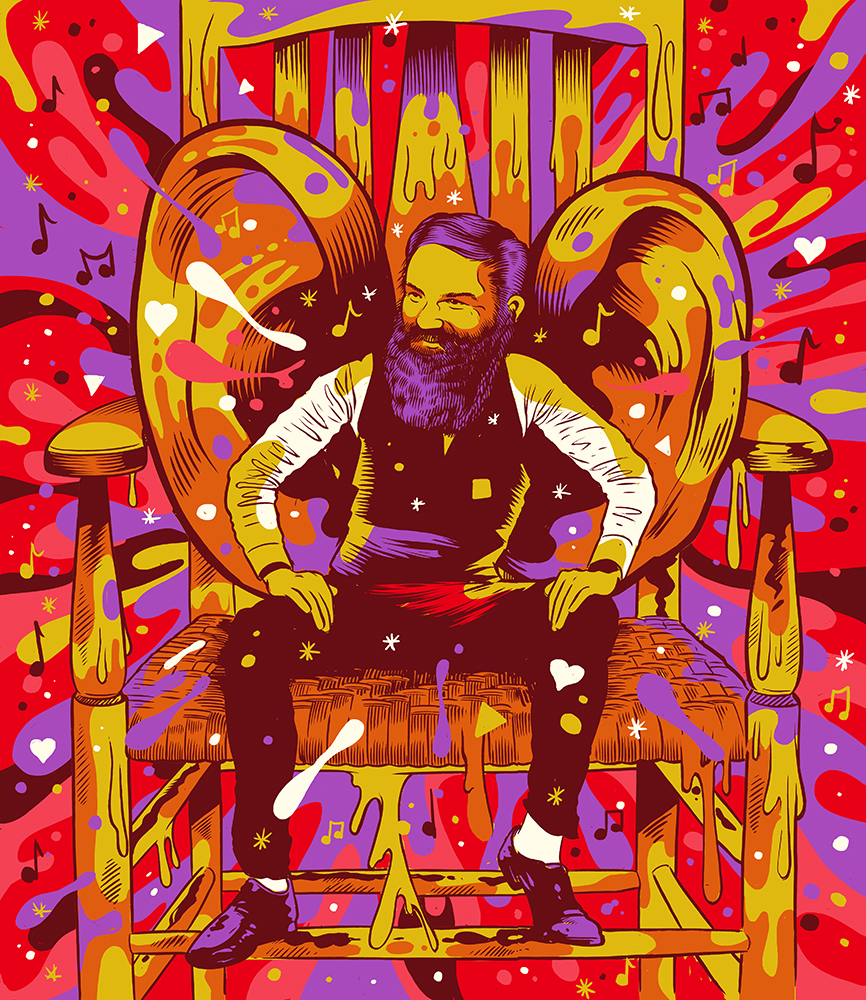 It was April 1969, and Carole Winters of Ft. Thomas wanted to see Tim Buckley, a rising folk singer-songwriter, perform in Dayton. But she was 18 and didn't want to drive by herself. Back in those days, she could just request a ride via WEBN, the new FM rock music station that regarded itself and the music it played as progressive. She ended up getting a ride offer from Jim Tarbell, who at age 26 had already made a name for himself by bringing San Francisco's top psychedelic band, the Grateful Dead, to the Hyde Park Teen Center while serving as its founding director.
A friendship developed between Winters and Tarbell, who told her about his plan to open a rock club that could serve as a citywide community center for youth, just like the Avalon and the Fillmore ballrooms in San Francisco. And he even had a site in mind—an old auto repair garage at 346 Ludlow Ave. in Clifton.
Impressed, Winters volunteered to join the crew of "kids" helping him get the site ready during the summer. It was like "cleaning the Augean Stables," she says today, given all the old, caked auto grease. But no matter, it became a mission. "It was a time when so much was going on everywhere," says Winters. "We wanted a scene in Cincinnati, which felt like this backwater. And for a short time, Ludlow Garage was it."
If you came of age in the '60s and equate the city's cultural history with the concerts you've seen, the brief, shining era of Tarbell's Ludlow Garage was Cincinnati's equivalent of Camelot. It lasted just 17 months after its formal opening on September 19, 1969; the first headlining act was then-hot Grand Funk Railroad.
Tarbell, now one of the city's civic elders and the subject of a tribute mural in Over-the-Rhine, remembers his motivation. "A scene was emerging and wasn't going to stop anytime soon," he says. "I also sensed that things were a bit confusing. Kids weren't communicating so well with their parents. They needed a place or places where they could compare notes on life, and that needed to be in the urban city. I was all about focal points."
The still-striking photo collage poster for that Grand Funk show announced the venue in an artful, avant-garde way that underscored the Garage's cultural radicalism. Designed by the graphic arts firm Sontag, Bottoni and Levy, it featured a naked man, backside to the viewer and hands extended upward, positioned between two giant earlobes. Combined, the images look like a butterfly. A transformation, a metamorphosis, was just beginning.
---
Many clubs featuring national rock acts have come and gone since the Ludlow Garage closed in January 1971. (The current owners of the Garage space have no business connection to Tarbell.) But his iteration remains special, having hosted such now-fabled rock musicians as the Allman Brothers, NRBQ, Dr. John, Santana, Alice Cooper, Taj Mahal, and Iggy Pop when they were still new and developing talents.
You can't really do justice to its impact, though, simply by citing the acts that ultimately went on to stardom. In the wake of The Beatles' landmark Sgt. Pepper's Lonely Hearts Club Band and the August 1969 Woodstock festival, there was an unending abundance of new "progressive rock" musicians trying to make album-length artworks and social statements. It was a major event to see each of them at the Ludlow Garage, even if they're not considered "legends" today—acts like The Flock, Sons of Champlin, Mother Earth, New York Rock & Roll Ensemble, Martha Veléz, Incredible Spring Band, Ten Years After, or Hampton Grease Band. For a while, at least, the Garage packed in capacity crowds for them as well.
And there was more. Tarbell had an expansive, inclusive enthusiasm for all music, so he also introduced his young audiences to important soul, jazz, and blues icons like B.B. King, Bo Diddley, the Staple Singers, Roland Kirk, and James Cotton. When a somewhat-faded British Invasion group like The Kinks was ready to re-conquer America, he eagerly supported their return. And he included regional acts like the Lemon Pipers, Whalefeathers, Lonnie Mack, Screaming Gypsy Bandits, and Sandy Nassan on his bills.
As an emcee and all-around exuberant presence at the Garage, Tarbell—with his long hair and reddish beard (yes, really)—was not some faceless promoter. He was a dynamic part of the Garage action, its biggest celebrity.
Terry Adams, a leader of then-new band NRBQ, which played the Garage several times (he still fronts a version of the group), once described the club as unlike any other place they ever played. "In the traditional sense, fans are far out and club owners are businessmen," he told me in a 2014 interview. "I would say Jim Tarbell was farther out than any band that ever played there, except for us. He was as creative a free spirit as anybody I ever met, and that's why we felt so at ease there and played several times. They also had a great crew there that recorded that stuff." (In 2006, NRBQ released a wildly joyful live album, Ludlow Garage 1970, from concert tapes made by the resident sound crew.)
The Garage also had a distinct visual look. With 10,000 square feet on each of two floors, it was an early example of what's come to be known as adaptive reuse. Tarbell kept the two interior auto ramps at the front entrance. One went down, below the concert area, to a ticket-taking station, concession area with macrobiotic food, offices, and a dressing room. From there, patrons took steps up to see shows on the main floor. When the night was over, they opened two oversize doors to walk down the upper ramp and out.
The concert space was more psychedelic than post-industrial. There were pyramid-shaped plywood pieces that could be used for seating, and jute reproductions of Persian rugs on the floor. There were also six oversize chairs and rockers designed by the owners of a Mt. Adams head shop called The Blown Mind.
---
Considering how fondly Ludlow Garage is remembered today, it's a bit surprising how hard it was to get it open in the first place. But considering how the emerging youth culture scared adults of the day—sex, drugs, rock and roll, and all that—maybe it should have been expected.
Tarbell wanted to locate in Clifton's Gaslight District to avoid the area around UC, where bars along Calhoun and McMillan streets mixed party rock with alcohol. He thought that would limit teen attendance and encourage disrespectful listening.
Ironically, after the Ludlow Garage's automotive business closed in 1966, the building had been purchased by one of those very Calhoun Street venues, the Varsity Mug Club. But the Clifton Town Meeting neighborhood association opposed its liquor license request.
Factions in Clifton fought Tarbell as well, and city officials gave him a difficult time. He credits his lawyer, S. Arthur Spiegel (who subsequently served as a federal judge), with help in navigating the opposition. Community concern eventually subsided, though complaints were occasionally raised. Tarbell remembers one incident when the MC5—a loud, brash Detroit band—was on stage. "A police officer came to the front door with his hand on his holster and said, 'Turn it down or I'll put a hole in the speaker.'"
Business started to slow down by the second year. Progressive rock had become so big so fast that bands were capable of playing much bigger venues, and there was increased competition to book them. Tarbell himself sponsored a few such shows, including Neil Young and the Mothers of Invention (separately) at Music Hall.
Tracy Nelson, lead singer of Mother Earth, a dynamic blues and rock band, remembers problems with the last of several gigs they played at the Garage, in May 1970. "What I particularly remember was the last time we played there, Tarbell was pretty much going out of business," she says. "At the end of the show, he just couldn't pay us. So we took everything we could find that we wanted out of the dressing room in lieu of pay. I remember there were a couple of Oriental rugs I had for a very long time."
The end came on the weekend of January 19 and 20, 1971, with one of the Garage's best shows, a double bill featuring the experimental blues-rock group Captain Beefheart and the Magic Band with slide guitar virtuoso Ry Cooder opening.
The current Ludlow Garage is scheduled to reopen this month after a renovation and expansion, and one of its first shows will feature Dweezil Zappa, the guitarist son of Mothers of Invention leader Frank Zappa. Dweezil will play his dad's classic 1969 Hot Rats album in concert.
Meanwhile, the old recorded concerts keep finding their way to the public and there's an active collector's circle devoted to Garage memorabilia. Bill Soudrette has amassed show posters as well as distinctive flyers featuring names of upcoming acts inside a Persian-rug-styled decorative border. He picked up some of those as a patron 50 years ago. "That's one thing just about everybody relates to, the bands you saw in your adolescence," says Soudrette. "People just light up and say, 'I went to that show.' Or they wish they had."
Facebook Comments