With a festive ceremony, Cincinnati Parks last August opened a fully accessible playground at Mount Auburn's Inwood Park built upon ideas generated by local children. It was some good news for the historic park, which in recent years has needed some good news.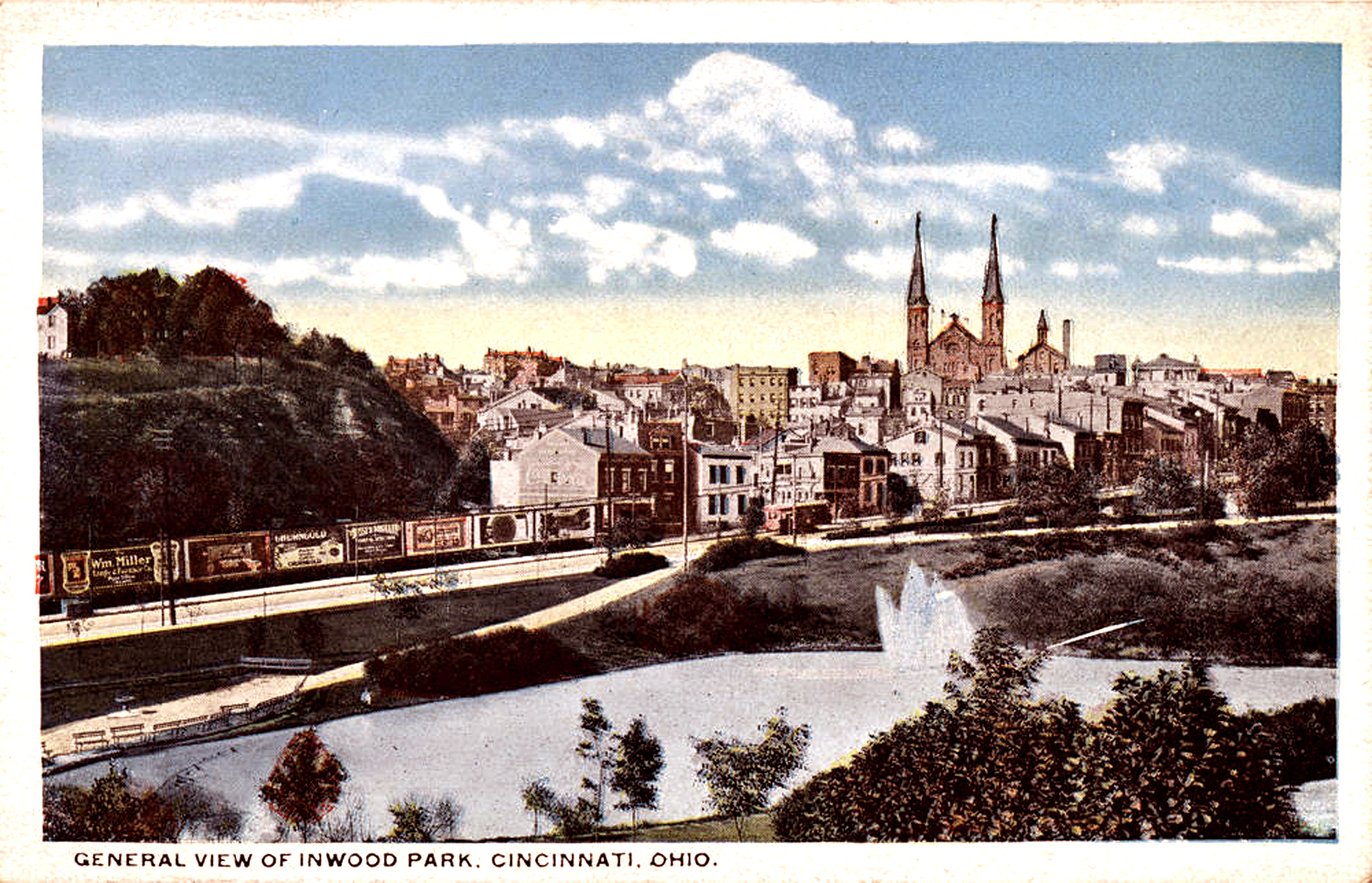 Over the years, Inwood Park has been associated with some major figures in Cincinnati history. The land that's now the park was for many years a quarry, the source of the limestone used in many Cincinnati walls and foundations. At some point around 1840, George K. Shoenberger, an ironmonger and foundry operator, acquired the old quarry atop Vine Street Hill. It was probably Shoenberger who began calling the property Inwood. He lived in an eccentric yet ostentatious mansion on Broadway near Third Street, where the Queen City Club is located today; Inwood was his summer estate and his deer hunting lodge.
In 1867, Shoenberger built the magnificent Scarlet Oaks mansion in Clifton. After relocating to his new estate, he no longer needed his deer lodge, so he sold off several parcels and leased the remaining wooded area to Henry Reibel, proprietor of the Lookout House atop Mt. Auburn. Reibel and a couple of his successors operated Inwood Park as a private picnic ground for more than 30 years.
During its years as a for-hire venue, Inwood hosted some very large events. A popular guidebook to Cincinnati reported that the park was used for picnics, balls, conventions, and pleasure parties. According to one guide, the grounds were fitted with dancing floors, shelter houses, swings, and a lake, able to accommodate as many as 20,000 people in one day.
The city of Cincinnati began the process of acquiring Inwood in the early 1900s, which is when our next major figure emerges. August Herrmann, better known as Garry, did not own Inwood Park, but he enjoyed gazing upon it from his back yard.
To Herrmann's dismay, real estate investor A.J. Henkel and his partner, Frank Kirchner, purchased Inwood Park in 1905 from George Shoenberger's estate and announced plans for a major housing development. It would be called Henkelville and was intended to revolutionize urban housing. None of the hundreds of houses would be sold, only rented. A central heating plant would provide comfort, and a central power plant would provide lighting, making Henkelville an almost independent municipality as far as utilities were concerned.
Lots of people were impressed, but Herrmann was not one of them. He lived at 47 East Hollister Street, a lot now occupied by a medical office building. He really enjoyed the view of Inwood Park from his back porch, the site of many parties and social gatherings, and he intended to stop Henkelville in its tracks.
Herrmann had the power to put the kibosh on this project because he was one of Boss Cox's two most trusted lieutenants. The other was Rudolph (or Rud) Hynicka. From the mid-1880s until his death in 1916, George Barnsdale Cox controlled the politics of Cincinnati. He decided who would be elected, bought the votes needed to elect them, and distributed money collected from taxes or graft. Hynicka mostly held positions in the Republican Party machine until he parlayed some graft money into a chain of burlesque theaters. Herrmann held the munificent position of chairman of the waterworks, and he also owned the Cincinnati Reds. As such, he helped organize the first World Series and installed lights at Crosley Field to allow night games. As Cox's minion, he had the power to make sure that nobody would approve a single building permit for Henkelville.
As head of the waterworks, Herrmann decided who got the contracts for projects such as excavating the reservoirs in Eden Park, digging trenches for water mains, and such. Henkel and Kirchner were often the successful bidders. Herrmann would have been quite familiar with both of them, because all three of the men were Elks and Herrmann was elected Grand Exalter Ruler of all the Elks in the U.S.
Curiously, Herrmann's most powerful enemy in the battle over Henkelville was the Mayor of Cincinnati, Julius Fleischman, who was a faithful servant of the Cox machine. But he'd been elected on a promise to build parkways throughout the city as a way to beautify the area and to reduce traffic congestion just as automobiles began to appear in town. Fleischman needed a new source of taxes to pay for his parkways, and Henkelville was a project just dripping with potential taxes (and payoffs).
Herrmann was able to put the brakes on Henkelville, but the city couldn't just steal the land. They had to buy it back from Henkel and Kirchner, who wanted $100,000. The loss of taxes and the re-purchase price doomed Fleischman's parkway plans. The Hermann-Fleischman fight became very public, and the newspapers began referring to Inwood Park as Herrmann's Backyard Park. Mayors eventually have to stand for re-election, and eventually the baton passed to another mayor more compliant with Herrmann's demands.
In the end, Garry Herrmann got his way. The city bought Inwood Park for a little over $100,000, and it became a model hilltop park as the Cox Machine, losing influence by the day, tried appealing for public support by pumping money into improved recreational facilities throughout the city. By 1925, the sad remnants of Cox's empire were all roundly tossed out of power as the Charter movement inspired Cincinnati voters.
Another notable figure connected to Inwood Park is Philip Morton, although he is hardly more than a footnote. Morton was a truly innovative advertising man, and he basically invented billboards. His idea was that advertisements were kind of like public art, and he made sure all of his billboards had visible frames, just like museum paintings. While Henry Reibel and his successors were running Inwood Park as a private resort, they leased all the fences to Morton, who covered them with billboard advertisements.
As city workers began cleaning up the park, they tore down more than 500 feet of Morton's billboards. He sued. He lost, and park employees attacked the billboards with saws and axes one day in 1907. Morton got his revenge, renting space on the other side of Vine Street and erecting a wall of billboards aimed at the new park.
Facebook Comments