We're all feeling a little disjointed these days cut off from our workplace, our schools, our friends, and the community at large. When you have some downtime, read up on these interesting Cincinnati people we profiled in Cincinnati Magazine over the past year or so—and feel slightly more connected.
Terence Hammonds Is Cincinnati's Printmaker to the Stars
His artwork is spreading out into the world in new ways lately, beyond the private Hollywood collection of actress Jamie Lee Curtis, who bought all of the remaining pieces of his work in a 2017 show at the Weston Art Gallery downtown. Terence Hammonds was invited to be the artist in residence at the Ifö Center in Sweden, which is dedicated to culture, tourism, and the arts. The center's director, Teresa Holmberg, says he "was our obvious choice."
---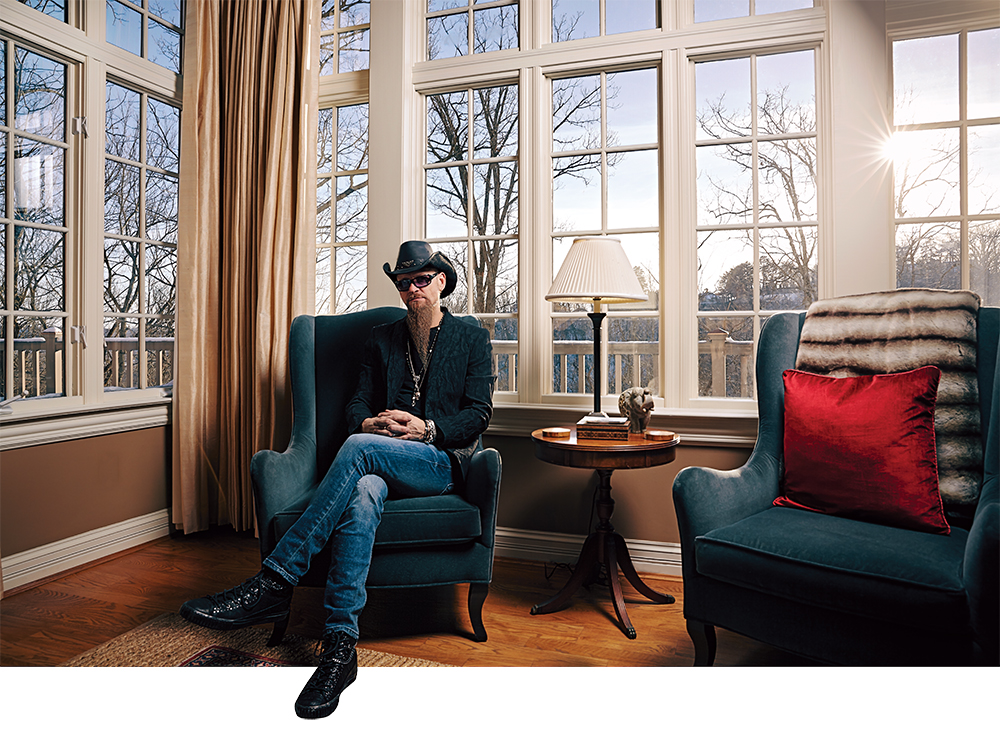 Dudley Taft Jr. Is Not Your Great-Great-Grandfather's Taft
The sideways grin on Dudley Taft Jr.'s face says it all. He's still getting away with something most only dream of—chasing his heart's true desire without looking back or, more crucially, worrying about the next paycheck. He moves through space with the same low-key swagger that's taken him from twentysomething major label recording artist to a super-chill, still scrappy middle-aged blues guitarist searching for his third act. For someone descended from one of Cincinnati's most prominent clans, his homecoming has offered plenty of familiar faces as well as a fresh start.
---
Dean's Mediterranean Imports Owner Kate Zaidan Builds Community One New Friend at a Time
As far back as she can remember, Kate Zaidan thought one day she would run Dean's. She hadn't guessed it would be at age 37. She'd created a life in Philadelphia as a community organizer, and then, in 2010, her father was diagnosed with brain cancer. Kate returned to Cincinnati to be near him but also to make sure the store stayed open, because it was more than a store—it was her heritage. With an energy her two sisters liken to the Energizer bunny, Kate committed herself to Dean's.
---
Rise of the Makers in Cincinnati
A renewed maker culture across the region is churning out furniture, packaged food, snow skis, beard oil, jewelry, metal signage, pottery, home goods, and mascot costumes—plus hundreds of other handmade products—while a strong support network helps them sell, grow, and interact. Learn what is means to be "made in Cincinnati."
---
What You Don't Know About Leah Stewart
The head of UC's Department of English and director of the esteemed Sewanee Writers' Conference, Leah Stewart is an active novelist whose most recent work, What You Don't Know About Charlie Outlaw, was released in paperback in June after receiving glowing reviews, including from The New York Times. No doubt about it, she is a force. The word gets thrown around a lot—driving force, force of nature, tour de force, force for good—but she's all of that and more, according to those who know her best.
---
Cincinnati Used to Be Wine Country, and Kate MacDonald Is Trying to Bring It Back
While studying the history of American winemaking, Kate MacDonald was amazed to discover that the industry was actually born in her hometown, thanks to Nicholas Longworth and his famous Catawba Sparkling Wine. And so, in 2016, she returned to Cincinnati and founded The Skeleton Root winery in Over-the-Rhine. The name is a playful reminder of a largely forgotten history and the possibility that these vines might bear fruit again.
---
The Evolution of Cecil Jackson Jr., Cincinnati's Elephant Man
The kind of close physical contact that zoo elephant keepers, let alone the public, enjoyed for more than a century is no more. Cecil Jackson Jr., like his father before him, used to go into their cells to feed, bathe, and work with them. Now he keeps a short distance. He refers to the past as "the cowboy days," as if they occurred in a remote yesteryear. In fact, the new thinking is quite new—about three years—and the adjustment to it hasn't been easy.
---
The Sole Bros Are High School Kids Trying to Make a Difference
Four friends collect new and slightly worn sneakers to distribute to kids in need in Cincinnati and overseas. They wrote a children's book about their work, which is now their main source of fund-raising. They won a Martin Luther King Jr. "Keep the Dream Alive" award from Bond Hill's Church of the Resurrection. And they studied hard, held down summer jobs, overcame fears of public speaking, stayed active in high school sports, too, and were featured on The Kelly Clarkson Show. More than 5,000 pairs of donated shoes later, they've grown from boys with vision to young men with heart.
Facebook Comments