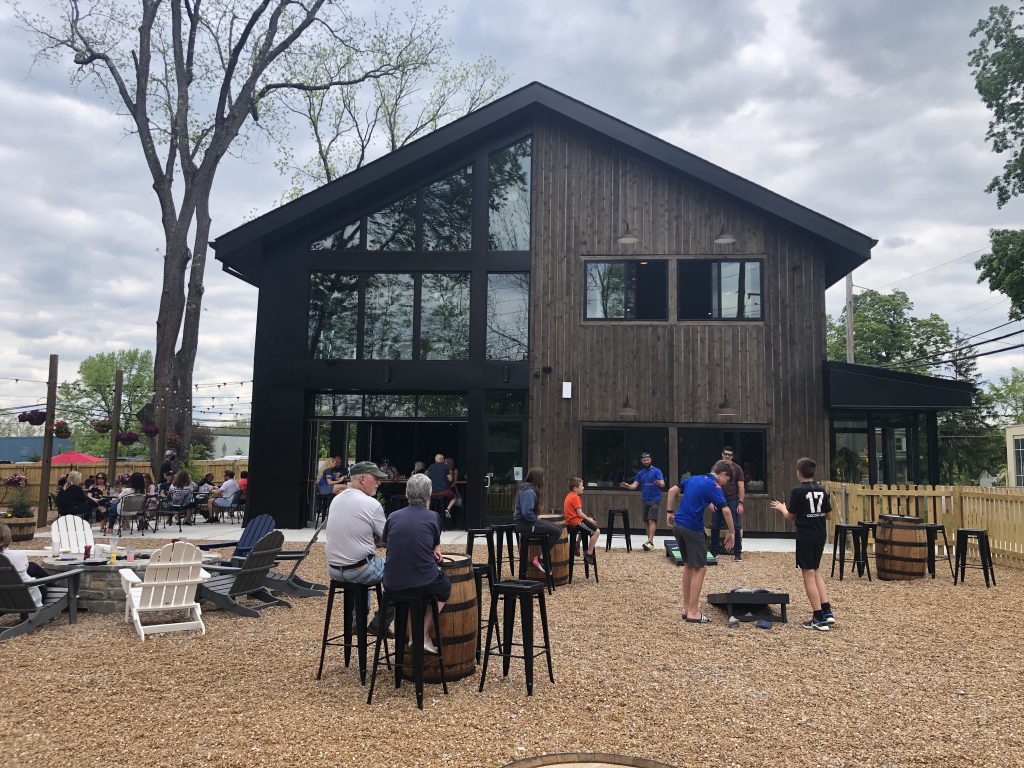 The Little Miami Scenic Trail is just one of many recreational opportunities available in southern Ohio. As the fourth longest paved trail in the U.S., it offers something to hikers, bikers, and in-line skaters of all experience levels. Recently, the trail has become even more attractive for those looking for a day out as restaurants and breweries have opened along its borders. Here are seven eateries and breweries to check out along the bike path.
Fifty West Brewing Company
Located near the historic village of Mariemont, Fifty West Brewing Company has everything you need to refuel on the bike trail. With 15 beers on tap and a menu that's guaranteed to please burger lovers, it offers a scenic getaway from city life with minimal drive/ride time. With a fantastic outdoor space that includes a sand volleyball court, Fifty West's charming ambience feels miles away from urban life. 7668 Wooster Pike, Mariemont, (513) 834-8789
Little Miami Brewing Company
Little Miami Brewing Company offers a rotating selection of craft beer along with a crowd-pleasing hand-tossed pizza. With a picturesque view of the river, it's no wonder this Milford gem doubles as an event venue. Whether you're an experienced rider looking to break up a long trip or a casual user of the bike path who wants to explore something new, the Little Miami Brewery offers something for everyone. 208 Mill St., Milford, (513) 713-1121
Miamiville Trailyard
The Miamiville Trailyard offers a unique experience right off the beaten path, so to speak.  It boasts an extensive menu, from gourmet burgers to salads, along with an impressive beer list. In addition to many of their own brews, they also carry cider from March First. They also have an event loft that's perfect for small gatherings. 368 Center St., Montgomery, (513) 248-9200
Ramsey's Trailside
Ramsey's Trailside offers an extensive menu well beyond traditional brewery fare. From seafood to homemade salsa, Ramsey's has everything you need to make your day on the trail feel like a true vacation. Its location in historic downtown Loveland makes it an easy choice for those looking to explore the area around the bike path and get a taste of Americana from days gone by. 200 W. Loveland Ave., Loveland, (513) 444-4763
Kirby's Tavern
The slogan for Kirby's Tavern is "a place to be appreciated." Visitors will find plenty to appreciate on this menu, from traditional pub fare to their special "lunchtime dinners." With more than 20 beers on tap, Kirby's offers something for every palate. 378 Bridge St., Symmes Twp., (513) 239-8890
Monkey Bar and Grill
The Monkey Bar and Grill's selection of liquor, wine, and cocktails stands out on this list. More of a bar than a brewery, it offers a wide range of bourbon, wine, and cocktails. For anyone looking to get the party started right, the Hawaiian Hammer Fishbowl is a sure bet. An array of food trucks, live entertainment, and special events sets Monkey Bar apart from its competition. It's truly an entertainment destination and far more than just a stop off the bike trail. 7837 Old 3C Highway, Kings Mills, (513) 781-4246
Cartridge Brewing Co.
Located in the restored Peters Cartridge Factory, Cartridge Brewing Co. offers a broad menu of beer, wine, and cocktails in a beautiful historic setting. It hosts several regular events, including Singo (a musical variation on Bingo), live music, and a fitness class on Saturdays. Well worth a trip this far north on the bike path, Cartridge Brewing offers culture and community to all who visit. 1411 Grandin Rd., Kings Mills, (513) 697-3434
Facebook Comments