A flash of lightning briefly stabs the river valley's ink-black darkness, and for only a moment, your brain has a Pavlovian response. You knew it was there. It's been there for a century. But, somehow, at night as you cross the winding bridge over the Little Miami River, the imposing brick tower that looks down on the remains of the Peters Cartridge Factory brings you back to those Saturday matinees where indiscriminate killers with "mother issues" roamed. As the crow flies, the old factory stands only a couple of miles from I-71 and Kings Island. Go the other direction for a few miles and you can play 18 on a TPC golf course. Yet, when you're there, it's like being in the middle of nowhere. There's a meandering river, the Little Miami Bike Trail, a quaint traffic-slowing bridge, hills all around, and a sea of trees.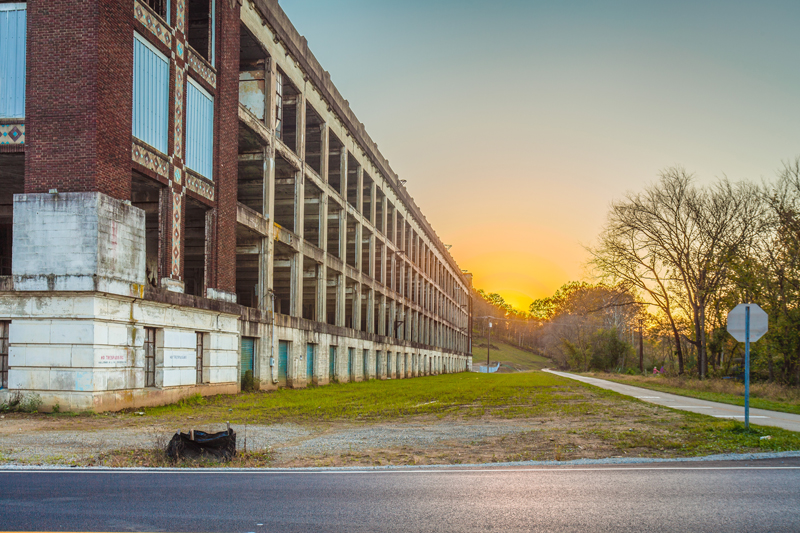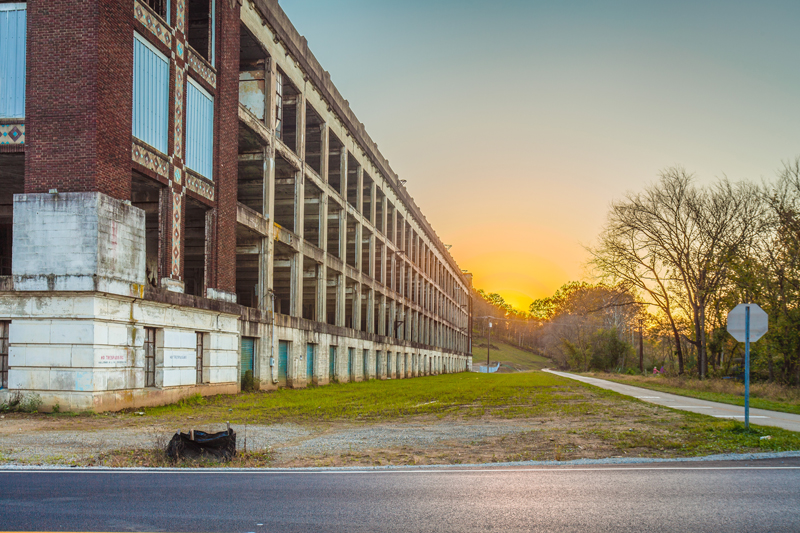 ---
Some also see potential. That's what developer Ken Schon has steadfastly maintained for more than a decade as he and his partner, Steve Bloomfield, have worked to turn this 15-acre monument to a shattered past into a future for young couples, outdoors lovers, empty nesters, and free enterprise. "This place has good bones," Schon says as he stands in a vast courtyard of broken concrete, gravel, struggling weeds, and scattered piles of post-industrial junk. "You have to have a vision for this place, and Steve and I do."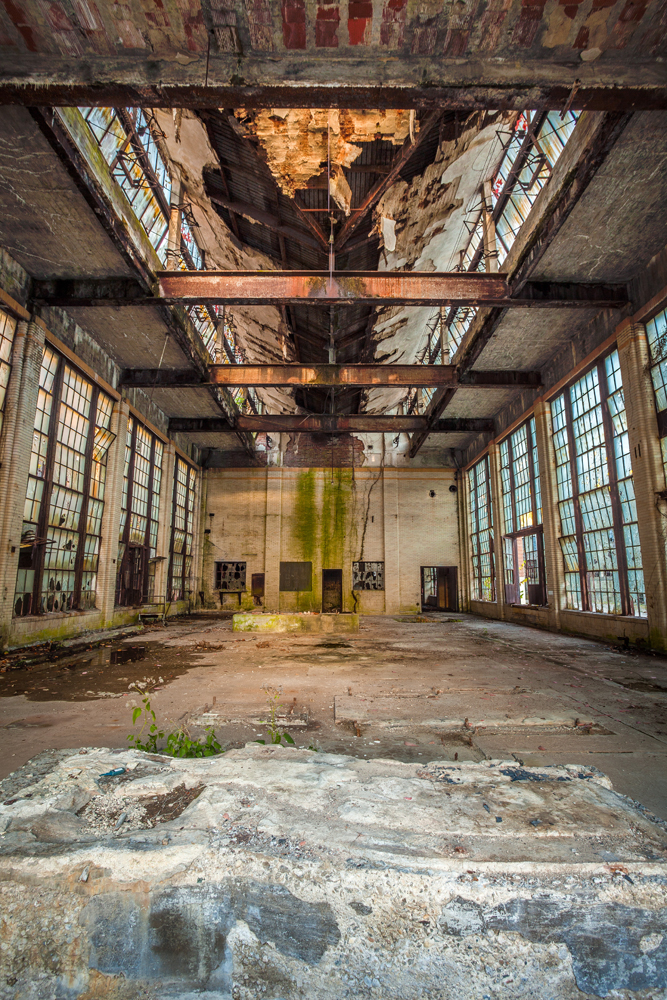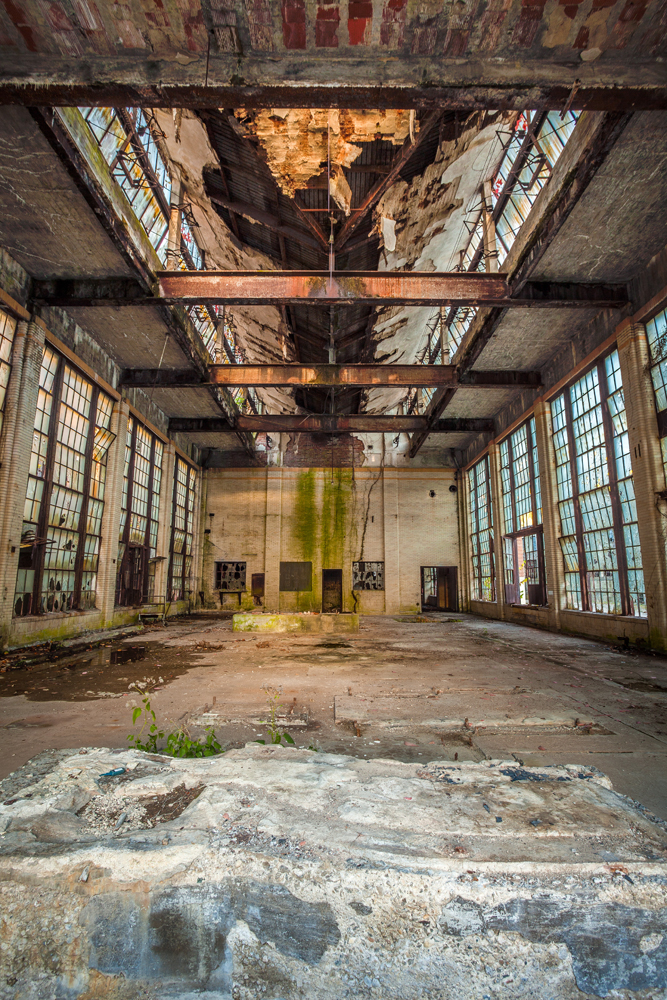 ---
That vision would be transformative for this little pocket of rural Warren County and is reminiscent of the redevelopment game plan common to downtown and Over-the-Rhine. Where today the wind whistles through six abandoned buildings, Schon sees up to 130 high-end loft-style apartments, some with indoor parking. The seven-story shot tower, essential in creating smooth-bore shot more than 100 years ago, will be topped with the site's signature residence, a three-story luxury penthouse with an elevator and stunning views of the river and surrounding landscape. His plans include a large lobby, meeting and banquet space, a workout center, and a bicycle storage facility, along with dreams of a vibrant commercial area on the ground floors populated by restaurants, a bar, and maybe even an ice cream shop. "I see this as place where people will want to live, play, and relax," Schon says.
---
Ray Warrick is excited too, and he's confident Schon and Bloomfield are going to make this project happen. As Hamilton Township administrator, Warrick has seen the steady march of urbanization begin to nibble at his borders. It won't be official until the 2020 census, but Warrick says the developers already know that the township has broken through a population checkpoint that designates them in development parlance as "hot." Which clearly is more a feeling than a technical designation, but it carries weight.
"As soon as the developers decided we'd hit the 25,000 roof threshold, they started coming in here," he says. "We don't have to seek them out anymore. I have no doubt the Peters property is going to be a destination attraction. I know it's in an odd location, but that's what's going to make it unique."
---
In its day, the Peters Cartridge Factory's location wasn't considered unique or odd. It was logical.
As settlers flooded into the Ohio Valley after the War of 1812, they found hundreds of thousands of black willow trees lining the banks and hills surrounding the Little Miami River. It turns out that willow trees, when burned, make excellent charcoal—a key ingredient in gunpowder. The first powder factory was located near Xenia, but when a saw mill in the downstream town of Gainesboro went on the market in 1877, an enterprising uncle and nephew team by the name of J.W. and Ahimaaz King bought the mill and converted it. An experienced gunpowder manufacturer, J.W. built his Great Western Powder Company complex on the west side of the river and successfully fended off competitors. His gunpowder was considered top-quality, he had good customer relationships, a loyal workforce, and access to the railroad. He thrived.
But, really, what's gunpowder without ammo? J.W. had admired his daughter's husband, Gershom Peters, both for his faith as a Baptist minister and also for his ability to tinker. He had a clever mind that J.W. reasoned would be good for business. Trouble was, Gershom and Mary Peters and their two young daughters lived in Buffalo, New York. So he made Gershom an offer he couldn't refuse: join him as vice president of the powder factory.
"At some point J.W. said to Gershom, 'You're an inventor; invent a cartridge loading machine,' " explains Karen Dinsmore, a retired University of Nebraska professor and the unofficial historian for southern Warren County, who has led the effort to erect a historical marker on the Peters site (which will be dedicated next June). According to Dinsmore, J.W.'s son-in-law "was a genius and a perfectionist." He secured 39 patents in his lifetime, impacting a number of enterprises, none more than the ammunition industry. His cartridge-loading machine mechanized the production of shotgun shells, greatly reducing their cost.
King's powder operation became vertically integrated as Gershom organized the Peters Cartridge Company in 1887, and with his brother Orrin, built a munitions factory on the east side of the Little Miami River. They also built a company town around the new factory, laying out five streets, a 250-room hotel, and dozens of houses for employees. Gainesboro was rechristened Kings Mill. "There was a real emotional attachment to the factory," Dinsmore says. "There really was no other place to work. It was a company town where people worked together, socialized together, and went to church together."
And died together. Munitions-making was a perilous occupation. There was a reason why the powder factory complex was so large; buildings were typically separated so that accidents could be isolated. "You didn't want one spark to ignite the whole place," Dinsmore said.
But despite such precautions, the cartridge factory was laid out in a tighter space. On the afternoon of July 15, 1890, a freight train slammed hard into two boxcars filled with 1,600 kegs of blasting powder. The explosion killed 12 people, including the brakeman, who The Cincinnati Enquirer reported as "blown to atoms." The nearest Peters building was engulfed in flames, trapping and killing several workers and children. Homes, businesses, and all of the buildings on the Peters property were burned or wrecked and glass was blown out of windows a dozen miles away.
"It's hard to imagine how terrible it was," Dinsmore says. "Everyone knew each other so every loss was personal." Dozens were injured, many seriously; the Enquirer wasn't exaggerating when it proclaimed that the explosion had the effect of "wiping the King's Mills from the Earth's face." (Headlines proclaimed "Every House and Residence Reduced to Splinters" and "A Threatened Fiery Holocaust Lends Terror to the Scene.")
That could have been the end of the line for Peters, who was known as a benevolent employer. But it wasn't. He sued the railroad, won, and used those proceeds to help pay for a new cartridge factory—one that was more brick and less wood. While the new factory supplied ammunition for the short-lived Spanish-American War, business really took off with World War I. The Peters product had become well-known internationally for its quality; when war broke out in Europe in 1914, both the British and the Russians contracted with Peters to supply their armies with ammunition. By the time the U.S. entered the war, Dinsmore says, more than 3,000 people labored at the factory around the clock. The workers, many of whom were women, helped produce and ship 1.5 million .30-caliber cartridges every day. Kings Mill was so overrun that it was not uncommon for two or three employees share a bed and sleep in shifts.
Gershom Peters died right after the war ended but the plant stayed in the family until it was sold to Remington Arms in 1934, which a year earlier had ceded 60 percent of its stock to E.I. du Pont de Nemours & Co. The plant went back into wartime production during World War II, producing millions of bullets, including an incendiary shell that could bring down an aircraft and machine gun cartridges that added a layer of lethal power unimagined in the previous war. Remington sent the Peters "brain trust" all around the country, setting up ammo factories and training workers. But with the fall of the Axis powers, Remington decided to consolidate its manufacturing operations and leave Kings Mill behind. "It came as a terrible shock," says Dinsmore. "People not only lost their jobs, they also lost their homes, because those belonged to the company."
---
Since the late 1940s, the Peters plant has served many purposes: It was home to a Columbia Records vinyl pressing and storage operation for a time; provided a roof over thousands of gallons of whiskey made by Seagram's distillers; served as a manufacturing facility for industrial lenses; and housed a variety of artist studios, whistle makers, junk processors, and even a motorcycle repair shop. Still, time has not been kind to the six structures that remain intact. Hundreds of shattered windows sit tenuously in their rusted frames. Water drips from the ceilings where dozens of pigeons perch on exposed rebar. Large pieces of crumbling brick and concrete litter the floors and the courtyard. There is a smudged white board in one building with a work schedule for people long gone. Graffiti is everywhere, including several disturbing swastikas spray-painted on outside walls and doors. It even smells old.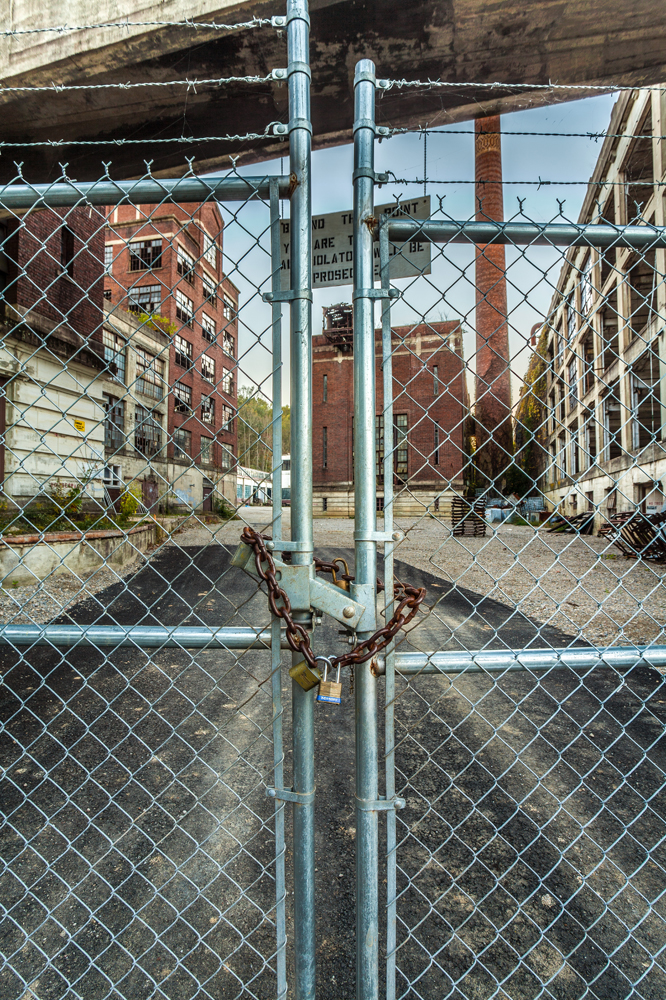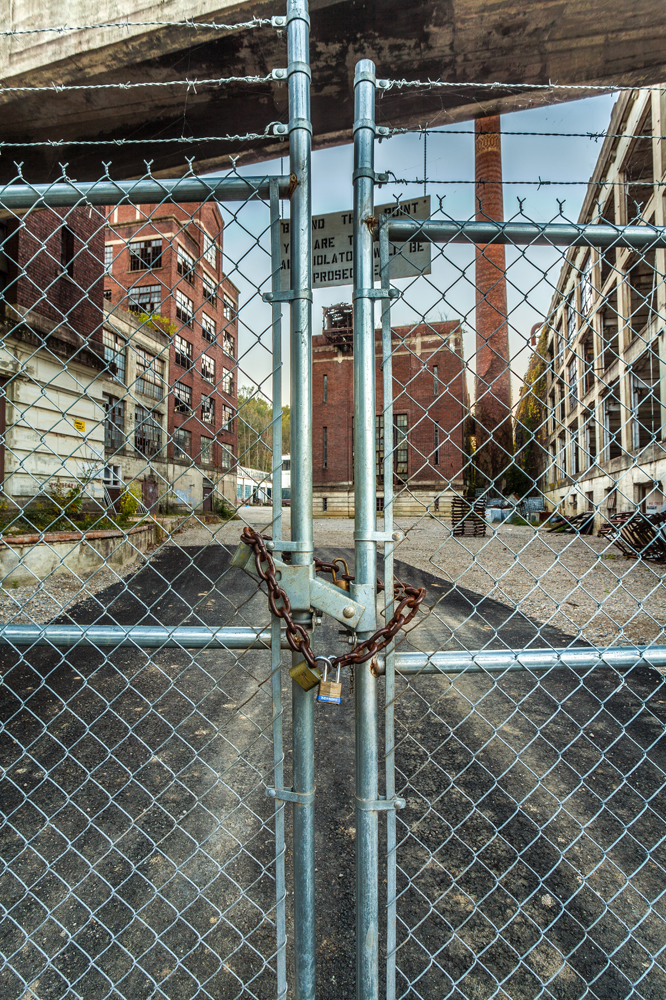 ---
Ken Schon is nonplussed. "We look for properties that people who go by them stop and say: 'You know, somebody should fix this place up,' " he told me, peering at the old powerhouse and the sandy brown and white-tiled smokestack towering into the clear morning sky as we walked the site.
"The Peters company didn't just make the best cartridges," notes Dinsmore. "They did it in style and had an eye for the beautiful. Their advertising was stylized and a cut above their competitors. It shows in their buildings too."
Their trademark "P" tops both the powerhouse smokestack and the shot tower—which rises from the roof of the main building alongside Grandin Road in a shape that resembles the Washington Monument. It's not safe to go to the top right now, but Schon thinks it won't be hard to market. Shot towers used gravity to make bullets. Workers hauled molten lead to the top of the tower, then dropped it from about seven stories through a series of mesh sieves that formed lead droplets. G-forces formed the droplets into balls, which fell into a water vat below and solidified. Someday, that former water vat might be someone's garage and the pouring room a fortunate couple's breakfast nook.
---
Transforming this neglected piece of history challenges the imagination, but for Schon and Steve Bloomfield, it's nothing they haven't faced before. In 2003, they saved the old Ford Motor Company plant in Walnut Hills, restoring it to feature 100,000 square feet of commercial space. In Northside, they turned the abandoned American Can Company building into 110 market-rate apartments, and are finishing up the conversion of the old Kirby School into 40 new apartments. "These are challenging projects because they don't present you with a blank slate," Schon says. "We need to use what we have, like it or not. So we look at each of them and ask ourselves, What will work here and how can we fit it into the market? I am absolutely confident we will make this work."
Schon sees the commercial/residential mix as tempting to the burgeoning consumer group in nearby Mason and West Chester who may be growing tired of suburban sprawl and craving nature. "This is the kind of space you'd think would only exist in an urban environment but…here it is," he smiles, hand outstretched like a magician's. "We're going to offer a cool urban-like setting for your home with a feel of being out in the country."
---
The developers are anxious to start but have had to wait for one important piece of business to conclude. The topsoil on an adjacent property—where Peters manufactured, stored, and tested lead shot—exceeds federal standards for lead, mercury, and arsenic and was declared a Superfund site in 2012. DuPont, as the responsible party, has already removed up to four feet of topsoil, and under the EPA's supervision, stored it in a lined and capped landfill. After backfilling with clean topsoil and seeding, DuPont will plant several hundred trees and the reclaimed greenspace will be turned over to Hamilton Township. The Delaware-based company will periodically monitor maintenance of the property and sample groundwater on the site.
Schon can't wait until they're done. His plan is to start rehabbing the factory structures in the first quarter of 2017 and complete the project in 14 months. Meanwhile, he will work with local authorities on possible tax incentives, and with Warren County's water department on tap fees. While Schon appreciates the history of the old decrepit factory, he doesn't plan on featuring anything in his development that, in his words, "glorifies guns." But the historical marker won't gloss over the past. The plaque commemorates the building's history and lauds Peters Cartridge for being "a company that was once the leader in the field of ammunition."
"This company was significant to this area, and for a while, the whole country," says Dinsmore, who is working with the state to finalize the marker. "People shouldn't have to drive by and wonder what it was and why it's here."
Facebook Comments