Come Sunday, 879 days will have passed since FC Cincinnati broke ground on what recently became designated TQL Stadium. FCC receives a grand audience for its stadium reveal, with fans back in the stands for an Orange and Blue game for the first time since September 29, 2019, and a national television audience joining for the 4 p.m. start vs. Inter Miami.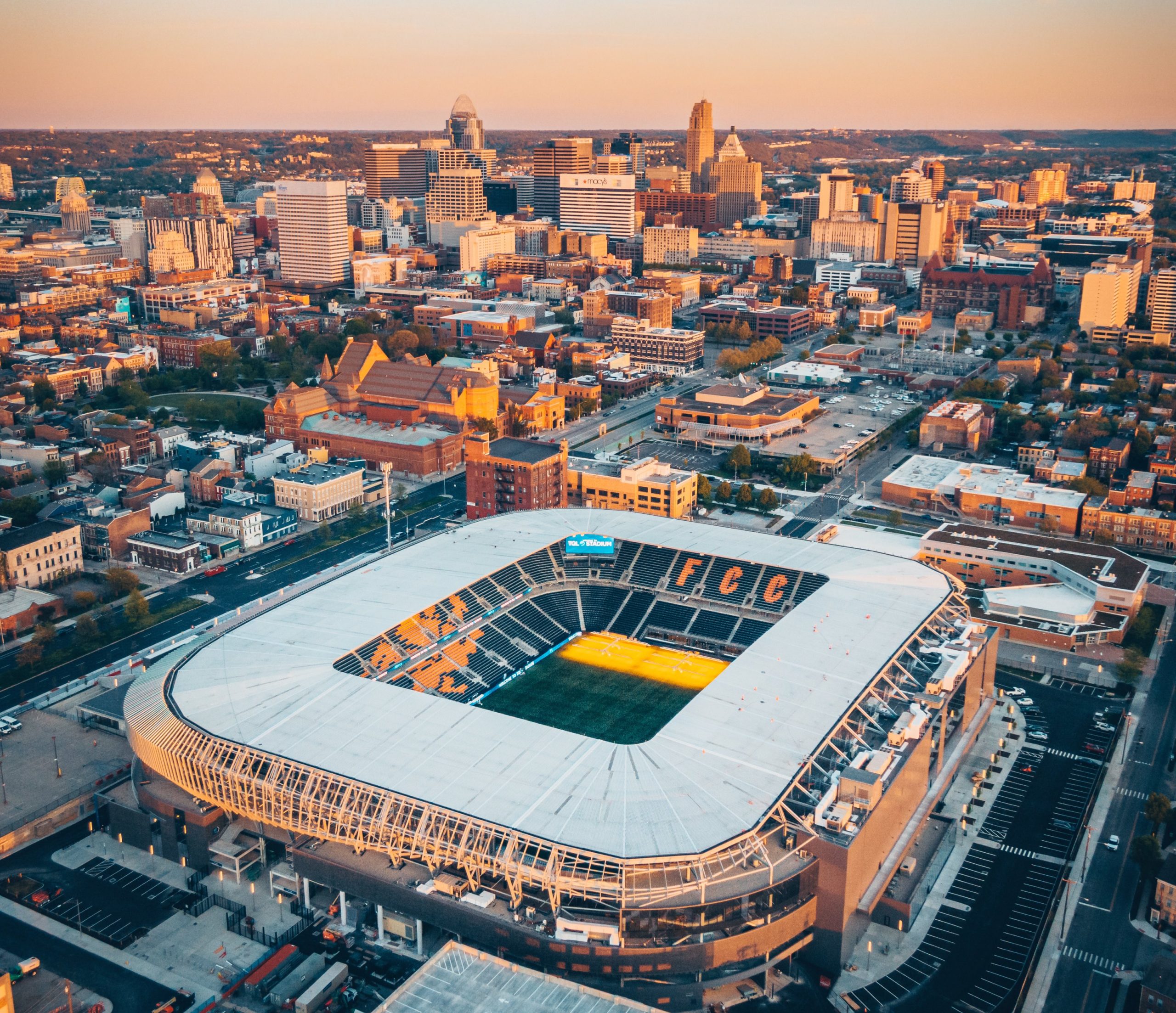 Though the players have struggled mightily on the field since entering MLS in 2019, FC Cincinnati has consistently received plaudits for its attendance numbers and in-game atmosphere since its founding in 2015 and first United Soccer League campaign in 2016. It will be fascinating to see if those two traits continue in 2021 with pandemic-limited attendance and the club's on-field performance inspiring virtually no confidence through three matches this year.
As for the stadium opening, FC Cincinnati has endured ample twists and turns en route to this historic day for the city of Cincinnati, which has one of its professional sports franchises opening its own home venue not located along the Ohio River for the first time since the Reds debuted Redland Field (later Crosley Field) in 1912. The Cincinnati Gardens opened in 1949 but served multiple tenants, including the NBA's Cincinnati Royals, and the Bengals played at UC's Nippert Stadium during their first two seasons in 1968–1969.
Here are key events you may have missed or forgotten on FC Cincinnati's road to erecting TQL Stadium in the West End:
April 2016: Barely into its first season of USL play, FC Cincinnati begins to lay the groundwork for a move up to Major League Soccer, which has four slots available in its next phase of expansion.
November 2016: MLS Commissioner Don Garber visits Cincinnati a month after FCC breaks the single-game and USL playoff attendance record at Nippert (30,187). A new stadium or securing a new stadium deal is an unspoken requirement for potential MLS expansion sides, as evidenced by the recent trend of expansion teams building new stadiums (Orlando, Minnesota, LAFC) or sharing new stadiums with another tenant (Atlanta). But with fervent ongoing opposition to the stadium deal the Bengals and the Reds struck with Hamilton County to build Great American Ball Park and Paul Brown Stadium, FCC ownership knows they'll have to finance a new stadium primarily by themselves.
May 2017: FC Cincinnati reportedly narrows its list of stadium site contenders to three neighborhoods: Oakley, Newport, and the West End.
April 2018: After nearly a year of posturing, Cincinnati City Council approves infrastructure support and Cincinnati Public Schools agrees to a land swap with FCC, permitting the team to build on the site of Stargel Stadium at Taft Information Technology High School. FCC will rebuild Stargel at a nearby location and submit $25 million in payments. Less than a week later, West End representatives approve a community benefits agreement with the team. Years later, it's clear that while FCC did due diligence on Oakley and Newport, those two locations would have never panned out, particularly Newport. (Each of the team's owners ran Cincinnati-based businesses at the time, and methinks they weren't too keen on taking their investment across the Ohio River.)
May 2018: The West End Community Council and Greater Cincinnati Redevelopment Authority hash out an amended community benefits agreement between FCC and the West End. City Council approves it, and the runway is cleared for FCC's MLS bid. On May 29, MLS announces that FC Cincinnati will be its 26th franchise and begin play in 2019.
June 2018: FC Cincinnati announces plans to build a training complex in Milford, and the project is completed before the 2020 season.
March 2019: FCC begins MLS play, losing its first game 4–1 at Seattle but triumphing in its home opener 3–0 before 32,250 at Nippert.
May 2019: FC Cincinnati reaches an agreement with displaced West End tenants, including a 99-year-old woman, who had learned a few months before that they needed to move.
July 2019: The final West End Stadium renderings are released.
April 2021: Total Quality Logistics, the Cincinnati region's largest privately-owned business, secures naming rights to the new facility, and TQL Stadium is born.
While we're at it, let's get some TQL Stadium facts out of the way:
Construction costs are estimated at $250 million, with the vast majority of the bill footed privately.
FC Cincinnati has already shown off the exciting capabilities of the stadium's exterior fin lighting, which contains 2.7 miles of LED lights.
Capacity will be limited to 6,000 for at least the first two home matches, but full capacity is 26,000, with the closest seats 15 feet from the field. There are 53 suites located around the stadium along with 4,500 "premium seats" in four club sections.
The Bailey, the club's section for 3,170 of its most vocal supporters, looms over the goal in the stadium's north end at a 34-degree angle.
A 360-degree canopy covers every seat in the house.
The place meets all the present requirements to host CONCACAF and FIFA matches, as FC Cincinnati smartly have their eye on hosting future U.S. men's and women's national team games as well as other eye-catching national and international matches. The city of Cincinnati remains in the running to stage matches for the 2026 men's World Cup—which will be hosted across the U.S., Canada, and Mexico—but the games would be played at Paul Brown Stadium in order to maximize capacity. It's possible, though, that TQL Stadium could host friendly matches between countries in the World Cup lead-up.
Whew, that's a lot of information. Here's where I come out. In practical terms, FC Cincinnati didn't need a new stadium, at least not this quickly. And if you go back and dig through media coverage of the team's early days, as well as the preliminary stadium reports, FCC wanted to stay at Nippert Stadium—at least for the short-term.
In many ways, Nippert is the ideal home for FC Cincinnati. There's plenty of parking in Clifton Heights, along with countless bars and restaurants surrounding all sides of the stadium. Its physical location is accessible for UC students, young professionals, and suburban families alike. Again, though, MLS never would have brought FCC aboard without new stadium plans in the works.
Paul Brown Stadium was never going to be an option either, even if the Concrete Jungle sits vacant with the exception of around 10 NFL games and a few concerts every year. And, in fairness, Nippert does have its downsides for the players (tiny locker rooms and a rough, unwieldy turf surface) and fans (the concourses regularly became bottlenecks before, during, and after games). All of those things and more would need to have been upgraded at some point, and you can't blame FC Cincinnati for declining to invest in a home stadium it doesn't own.
But the entire stadium deal process was grimy, heavy on political misdirection, and ultimately, in my mind, robbed FC Cincinnati of a bit of its innocence. FCC didn't have many legitimate 20-acre plots in Cincinnati on which to build TQL Stadium, but plopping a steel monolith in the middle of a struggling, impoverished neighborhood felt wrong three years ago and still feels wrong today. After persevering through many population shifts and changes over 100-plus years, the West End was never the same after the construction of I-75 displaced nearly 30,000 residents—most of them African Americans—in the late 1950s.
FC Cincinnati took local feedback into account when constructing the stadium. The exterior fin lighting will mostly illuminate the building's east side, which faces commercial buildings in Over-the-Rhine, while most West End residences are to the west. FCC's Foundation is focused on West End initiatives; players from its West End Pride program—which features boys, girls, and co-ed teams from ages 4 through 14—were the first footballers to actually play in the new stadium on May 7.
And I do understand FCC's rush to MLS, even if I don't agree with it. Not only did the franchise have to nail down a stadium deal to enter MLS, but it more or less had to accept entry for the 2019 season or risk tumbling down the expansion pecking order. Controlling owner Carl Lindner III recently commented on this subject: "From a business perspective or…building a really competitive team, that clearly wasn't ideal…. I have mixed feelings about whether we should have waited another year or not. Clearly our supporters were ready but this has been a bullet train and, you know, we did the best that we could with the MLS request to play that first year [in 2019]…. But yeah, maybe we should have waited another year."
Anyone who's watched the on-field product over the past two-plus seasons can tell you FC Cincinnati required more time to build out its soccer operations before entering the league, and now the club faces an uphill climb just to attain MLS mediocrity. Recent expansion sides like LAFC (three years) and Nashville (two years) have found success early on with the benefit of buffer years before jumping into MLS. FC Cincinnati had less than 10 months to cobble together an MLS team after it was granted entry.
Sunday will feature as much pomp and circumstance as the pandemic allows, but the ultimate judgment on TQL Stadium will come from two major issues: If the club continues to struggle on the field, will fans continue to fill the stands? And what will be the real-life outcome of FC Cincinnati's presence in the West End? Only time will tell.
Grant Freking writes FC Cincinnati coverage for Cincinnati Magazine. Off the pitch, he is the managing editor for Signs of the Times magazine. You can follow him on Twitter at @GrantFreking.
Facebook Comments