1430-1440 Haven Hill Dr., Washington Township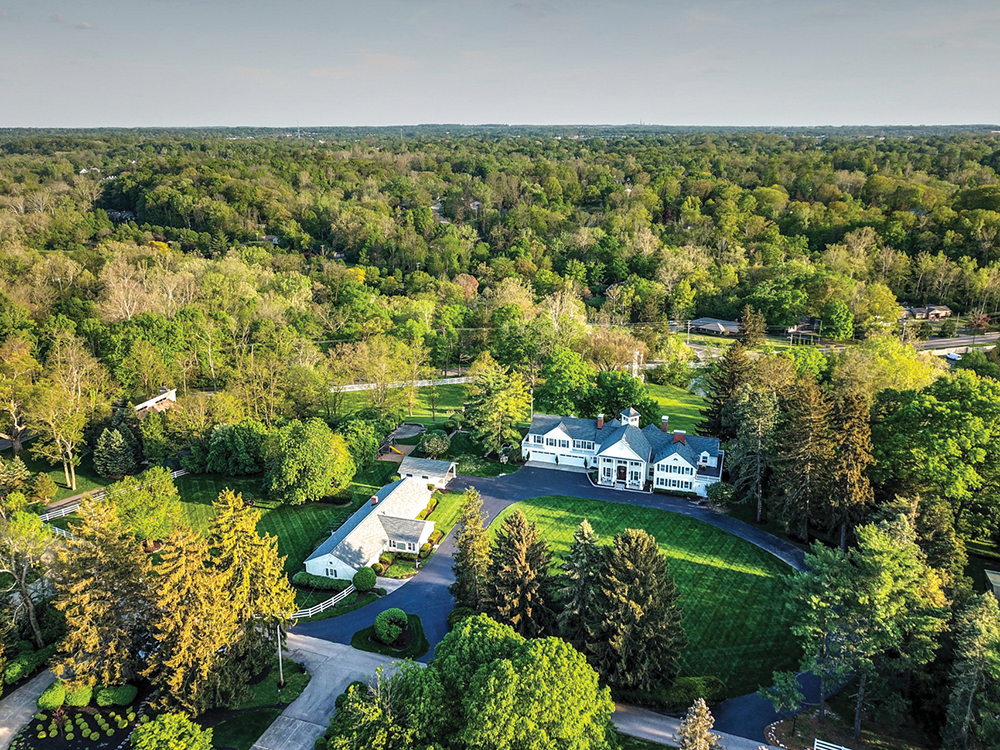 Some homes come with a story, usually one of local personalities who lived out interesting (or scandalous) lives inside their walls. Other homes serve enough jaw-dropping drama to create a story all their own. This Washington Township house is the latter, with six bedrooms and six full baths (many of which are en suite), and more than 5,500 square feet of living space on its three floors. About 20 minutes south of Dayton, the home gives you easy access to that city's amenities and is an hour or less to Hamilton or Cincinnati. "You feel worlds away," says Robinson Sotheby's listing agent Sean Chmura, "but you're a five-minute drive to Dayton Mall." Inside, look for walls of multi-paned windows in the living and dining rooms, crown molding and wainscoting on the Colonial-style ground floor, fireplaces throughout (both upstairs and down), and an office paneled in rare tigerwood.
If it's lush outdoor settings you're after, head around back to the covered veranda, trimmed in an elegant colonnade for views of a sweeping lawn and mature trees that sail over the watchtower roof. Walk down to the one-of-a-kind stone retaining wall filled with countless fossils—itself a time capsule of this land's history. Built in 1930 on six manicured acres, the property contains a large white-painted windmill lighthouse, a local favorite built 60-odd years ago for a family wedding. For a generation now, it has over­looked the large pond (complete with its own dock, rowboat, and fountain). "It's probably one of the more recognizable properties," Chmura says. "It's known for its windmill," he says, which is visible from the road. Upstairs, a balcony overlooks the lake and the lush Great Miami River valley beyond.
And the most dramatic feature of them all: There's a whole extra house on the lot. What­ever you call it—a carriage house, a guest house—it's a fully equipped two-bedroom, 1,200-square-foot house that would be at home on any suburban street. It comes with an attached garage, a greenhouse, and its share of all those dramatic views.
Facebook Comments