Do you ever stop to think about how lucky we are to live in Cincinnati, Ohio? We have a world-renowned zoo and famous First Hippo Family. We have a robust arts scene that rivals any major metropolis. We have pro sports teams for pretty much every kind of fan. We have gorgeous green spaces and picturesque parks. We have the mighty and majestic Ohio River as part of our skyline.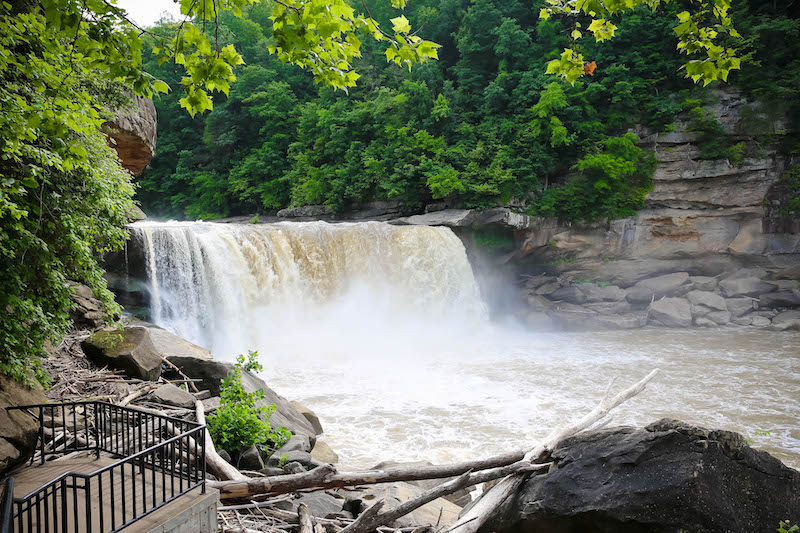 We have Kentucky as our neighbor to the south—and, well, what a wonderful thing that is.
You see, not only does Northern Kentucky basically "count" as part of Greater Cincinnati, but the Bluegrass State as a whole offers a world of wonder to discover. The earth's largest underground cavern system? Kentucky. The best and oldest bourbon bars and distilleries in the world? Kentucky. And the site of one of the rarest regularly occurring natural phenomena on the planet? You get where I'm headed…Kentucky; specifically, Cumberland Falls State Resort Park.
This Kentucky State Park has been on my bucket list for quite some time. Not only is it home to the so-called Niagara of the South, but this waterfall is also the site of a magical event come nightfall.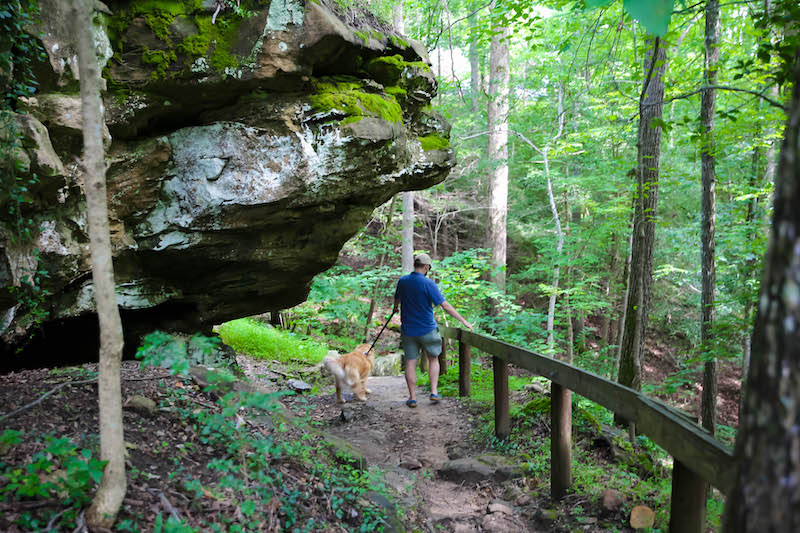 Known as a moonbow, this rare phenomenon is one of Mother Nature's most colorful and incredible spectacles. Cumberland Falls is one of the few places on the planet that regularly produces this prismatic phenomenon, created when light is refracted in the waterfall's spraying water droplets. The moonbow lingers above the falls for up to two days as long as the sky is clear, on either end of the full moon. One of the most accessible waterfalls in the country (the falls is visible from an easy-to-reach viewpoint), the moonbow truly is a bucket list must.
With my in-laws taking the kids to Indiana Beach for an entire week (yes, I did win the in-law lottery), my husband and I decided to book a tiny house and do a bit of waterfall chasing. We were hoping to catch a glimpse of the moonbow, but were equally excited about exploring the acclaimed Kentucky State Park.
The drive to Cumberland Falls from Cincinnati is about three hours, and it's an immensely scenic stretch of road that ventures through Kentucky's acclaimed Horse Country and Appalachia. The last portion of the drive took us into the renowned Daniel Boone National Forest, an area so beautiful, you'll understand why Mr. Boone famously said Heaven must be a Kentucky kind of place.
Cumberland Falls State Resort Park is equally divine. We parked at the iconic DuPont Lodge where, from the parking lot, a variety of markers pointed us toward our desired trail. It had rained earlier that day and the trail we selected—which, although short, had a ton of stepsˆwas slippery and a bit unwieldy, especially with our 90-pound pup "leading" the way. Definitely wear proper hiking shoes and don't be afraid to bust out a hiking pole! Safety over pride, friends.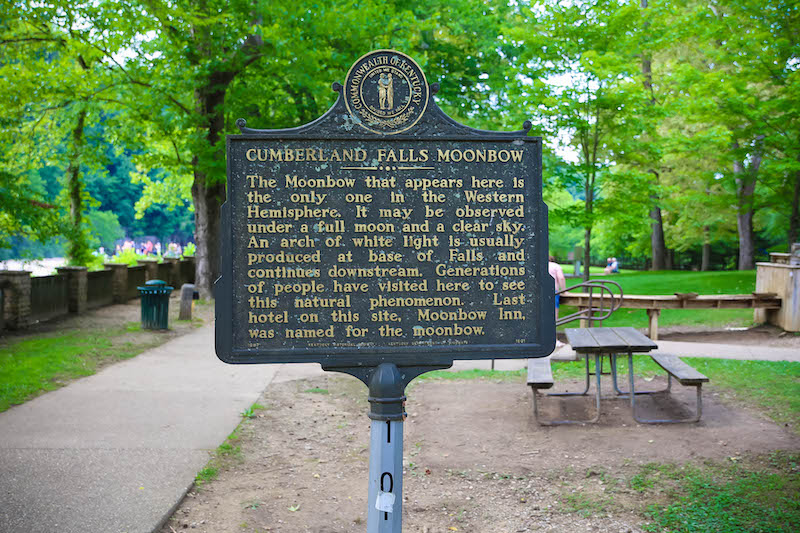 The star of the show at Cumberland Falls State Resort Park is, of course, the eponymous cascade. Happily, many of the trails offer glimpses of this showstopper—and for those who aren't up for a hike, the parking lot for the gift shop is located literally at the top of the falls.
Whatever route you take, you'll hear the falls before you see them. They're loud but symphonically so, and, as you get closer, the scene literally unfolds before your eyes: roaring, rushing water merging into a spectacle of spray and sheer power. It's a magnificent experience you can feel, and you'll likely be at a loss for words.
Unfortunately, the aforementioned rain showers postponed our reason for seeking out Cumberland Falls: the moonbow. For this phenomenon to occur, the stars must, quite literally, align…and alas, cloudy skies prevailed.
But did that make this adventure any less incredible or memorable? Absolutely not. I have no doubt I'll be back to see the moonbow, but even without a cascading prism of color, Cumberland Falls is a place of real-life magic just waiting to be discovered.
Cumberland Falls State Resort Park, 7351 Highway 90, Corbin
Facebook Comments