Twenty-five years ago, Olaf Scheil moved from Germany to Cincinnati for an engineering job. Soon after, someone took him to a local German restaurant. He wasn't impressed. Like most of them, it was a starchy caricature of his native cuisine.
With a few notable exceptions (I haven't forgotten you, Wunderbar), that seemed to be the rule for German cuisine in Cincinnati over the past several decades—oompah eateries serving up nostalgia with a side of lederhosen, a sad semblance of Zinzinnati's German heyday. I'm convinced I'm not alone in this assessment, and that Scheil's complaint is more than just the curse of the ex-pat for whom there's no taste like home.
Convinced because, like most writers, I'm a pathological eavesdropper. At nearly every spot I visited while researching this article, I heard some variation of "This is the German food I've been looking for!"—sometimes in German accents. I should have chimed in and told them about the other places I visited, each opened or expanded within the last couple years. Namely, Tuba Baking Co., in Dayton, Kentucky; Kantine Biergarten Eatery in Camp Washington; Mid City Restaurant, downtown; and Scheil's own operation, The Lübecker in Over-the-Rhine. Well, better late than never.
Scheil left the corporate world a few years ago to start cooking professionally. It had always been his first love—like so many great cooks, he was taught by his mom and grandma—and he had dreamed of opening his own restaurant since he was 16. With the help of his wife Rachel, he made that dream a reality.
After several pop-ups and some time on the festival circuit (his team won an award for most authentic German food at Oktoberfest), Over-the-Rhine bar Queen City Radio approached him about serving German street food in its biergarten. That's where you'll find The Lübecker today. Named for Scheil's hometown in Northern Germany , the eatery takes no shortcuts. The garlic, lemon, and herb aioli for the massive, crispy schnitzel sandwich was made from scratch. Ditto the sauerkraut, and the sauce for the currywurst. This is modern, cosmopolitan German food with an emphasis on freshness.
It's exactly how Scheil wants it. And you certainly won't find him in lederhosen any time soon. Lübeck being a coastal city, the vibe is more "shorts and sandals," as Scheil puts it. That's why you'll find a pair of water skis in front of The Lübecker; an unexpected homage to Scheil's hometown, and one that fits right in with the summery vibes of the bar's patio.
Peter Schuster at Kantine has a similar story. Like Scheil, he moved here for work. Unlike Scheil, he grew up in southern Germany, near the Austrian border. That region is a blend of German, Swiss, and Italian cultures. The menu at Kantine, which Schuster opened on the ground floor of a converted apartment building in summer 2022, reflects these diverse influences.
That's why Schuster serves wurstsalat, a Swiss/German salad of chopped sausage, Swiss cheese, pickles, and onions. It's also why he's firing out pinsa, an airier, focaccia-like Roman style of pizza that has swept Germany. But Kantine's menu goes beyond these regional influences to include nods to the myriad cultures that now call Germany home, like lahmacun, a Turkish flatbread covered with minced lamb, bell peppers, tomatoes, and Mediterranean spices. Nearly everything on Kantine's menu is made from scratch, mostly with supplies from nearby Findlay Market.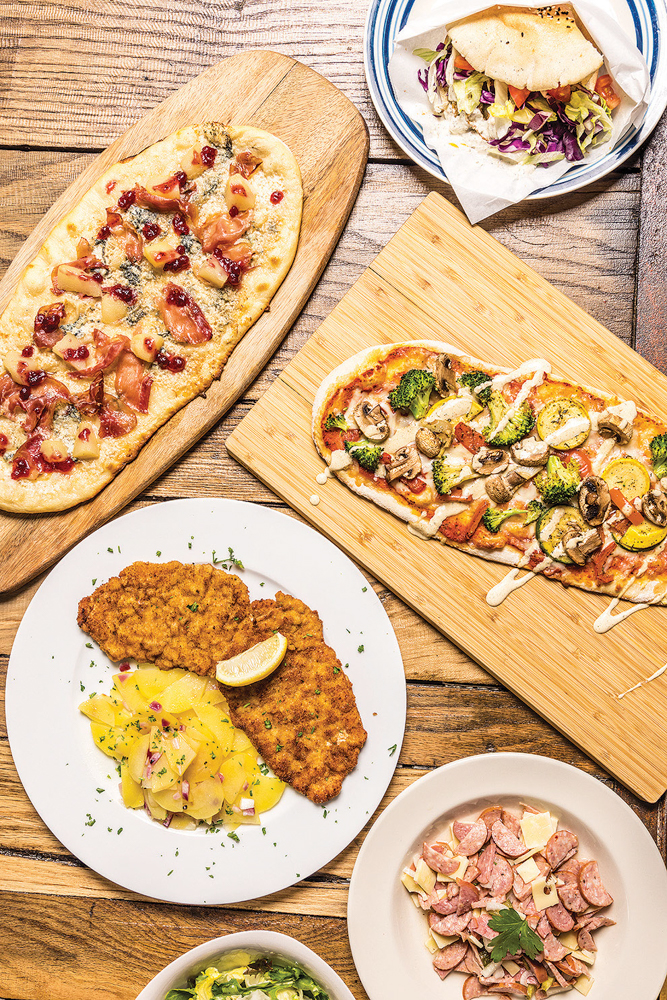 Across the river at Tuba Baking Co., Drew Rath pays culinary homage to the southwestern German region of Swabia, where his ancestors came from. Rath got into cooking by way of genealogy. First, he researched his family's cultural background, then he (extensively) researched the foods that defined that culture. The cozy tavern, with German beer on tap and old jazz music playing over the speakers, feels like it's been around for decades—one of the last holdouts from our bierstube days. It's as warm as the wood-burning oven (you can see the logs stacked up outside) and Rath's artisanal take on German comfort food matches that warmth.
I recommend the käsespätzle, a cheesy, chewy spelt noodle that is my ideal comfort food. The cheese in question is a blend of Swiss and butterkäse (literally, "butter cheese"), a soft German variety that adds creaminess to the dish. Top it off with crispy-but-tender schnitzel and get a side of red cabbage slaw with a good horseradish bite.
Soon you will be able to enjoy all this warm food and cold beer at Tuba's adjoining biergarten, complete with traditional live German music. Perhaps this is another way for Rath to connect to his German ancestors: his family ran a successful biergarten in Price Hill in the late 19th and early 20th centuries.
Mid City Restaurant, just a few blocks away from The Lübecker on Court Street, has a menu that extends far beyond Europe. But the "Mid City Plate" is up there with our city's finest German meals. According to owner Mike Stankovich, it's inspired by an Alsatian dish called choucroute garnie (French for "dressed sauerkraut"—this is from the historically disputed French/German border region, after all). It can be ordered for one, two, or three people, but at minimum, it comes with a bratwurst and frankfurter from Avril Bleh butchers, house-made porchetta, sauerkraut, boiled potatoes, and a sinus-clearing mustard.
Porchetta is an Italian sliced pork roll. Stankovich is part Italian and grew up eating it. It's a throwback to his childhood, while the rest of the dish is a nod to Cincinnati's German heritage. And it does that heritage proud. The sauerkraut is strained and reconstituted with German beer and a pinch of caraway seeds while the addictive au jus that permeates the plate is made from bone stock. That's a lot of work for a $15 plate, but it's indicative of the vigor that has recently infused our city's much-lamented German cuisine.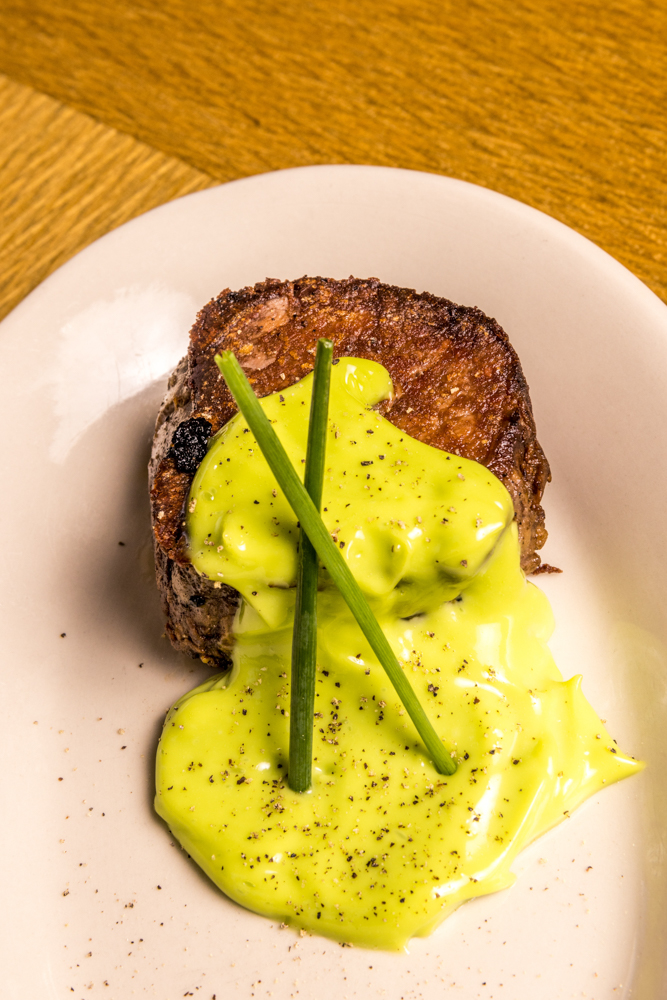 The days of a biergarten on every block may be long gone, but I daresay a new movement is starting to sprout from the gravel—one that unpretentiously explores the full breadth and depth of German cooking with the passion it deserves. It's food that's worth raising a stein to Prost. 
---
Tuba Baking Co., 517 Sixth Ave., Dayton, Kentucky, (859) 835-2171
Kantine Biergarten Eatery, 1220 Harrison Ave., Suite 1c, Camp Washington, (859) 412-0070
Mid City Restaurant, 40 E. Court St., downtown
The Lübecker, (inside Queen City Radio), 222 W. 12th St., Over-the-Rhine, (513) 204-9631
Facebook Comments