Brian Collins, owner of the Cincinnati Dinner Train, likes to joke about "warning" passengers to hold on tight when they're walking around the 1950s-era locomotive: Be careful when going to the restroom. We'll get up to 75 miles an hour.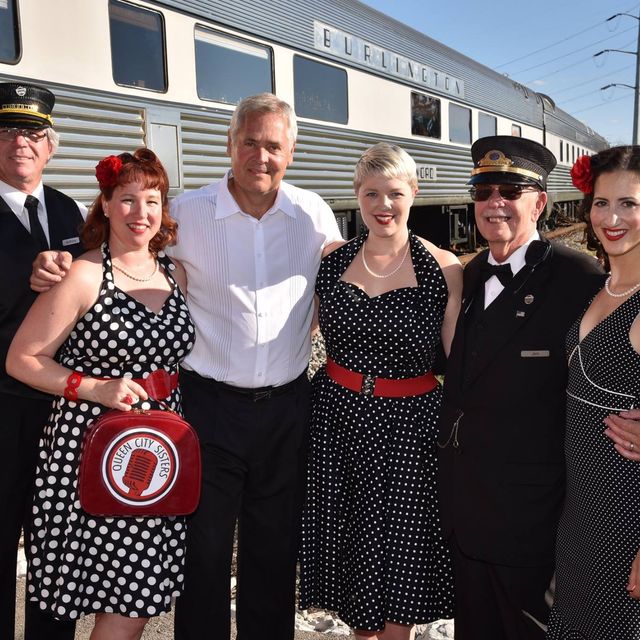 "Their eyes get huge," he says. "Those cars would fall apart at 75 miles an hour. We literally go between five and 10 miles an hour on the way down. On the way back, we get up to 20, 25 miles an hour, which feels like 60 after an hour and a half at five."
Collins and his wife, Vicky, are glad to be back in business this month after a 15-month hiatus because of the pandemic. The train has been in operation for more than 13 years and the Collinses have never spent a dime on advertising. They don't have to. Thanks to word of mouth and social media, 2019 rides required booking four months in advance, with a waitlist. "They were all sold out," Collins says. "Every ride in 2019."
The experience starts even before boarding the train. Guests are encouraged to dress in 1940s garb because it's always 1949 on the dinner train. Harry Truman is president. The year-end Billboard Top 10 tunes include songs by Vic Damone, Perry Como, and The Andrews Sisters. The Emmy Awards are presented and broadcast for the first time, and the Sears & Roebuck catalog now includes televisions.
Guests usually show up dressed to the nines, Collins says, and the Queen City Sisters, an a cappella women's trio who perform on the ride, hand out awards for the best, most authentic 1949-era clothing. Ticket prices are $89.95 per person, ages 12 and above, for the three-hour train ride.
Pre-boarding, guests' photos are taken by Jimmy Olsen, the Daily Planet photographer in Superman. Throughout the ride, Collins says, guests are regaled with historic commentary during their four-course meal. After dinner, they might get to step onto the rear porch of the train to blow the air whistle. It's an open porch, and the track lights up.
Guests park behind Green Sales Company in Bond Hill, and the train's 25-mile route winds through Pleasant Ridge and follows Red Bank Road, curving by Lunken Airport. The track follows the riverfront on Eastern Avenue, stops at Montgomery Inn Boathouse for about 10 minutes, then retraces its route back to Bond Hill.
The cars that make up the Cincinnati Dinner Train date back to 1947 to 1960. Train buffs know that this era of train travel was special because of the quality of the cars. As the interstate highway system and air travel gained popularity, passenger trains became palaces of stainless steel to keep up.
The top capacity for the train is down due to social distancing regulations—just one family per table, which maxes out at 117 riders. But when the train can accommodate a full guest list again, it will be able to serve 180 riders.
"I've missed it so much for 15 months," Collins says. "I really look forward to Saturday night. I have 150 people get off [the train] with these smiling faces come up and shake my hand. 'This was great. I can't wait to tell my friends about it. I can't wait to come back.' The funny ones are guys my age who whisper, 'You're the luckiest son of a bitch I've ever met. You get to play with trains every week.' "
Facebook Comments