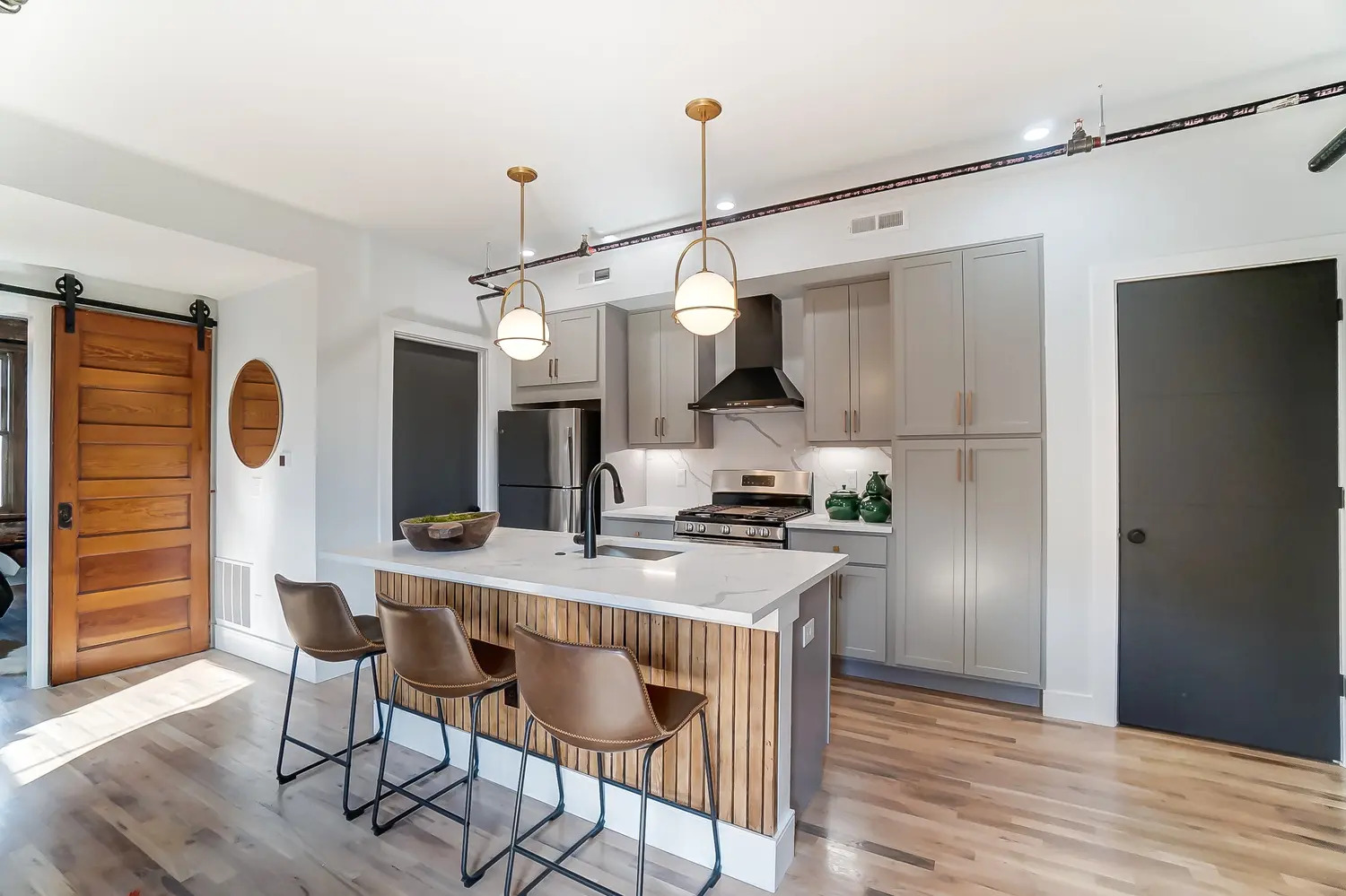 Originally constructed as an apartment building back in 1861, 215 Wade St. has been restored top-to-bottom and re-christened the Vaughn Lofts, an eight-unit building just blocks away from the brand-new FC Cincinnati stadium in the up-and-coming West End.
The building's original tenants included a grocery store owner, a policeman, a cabinetmaker, a wagonmaker, a lithographer, a brewer, and a baker. A salvaged 1887 map shows that, at one point, the third floor in the rear of the building was even used as a cloak factory.
Now, the condos boast all-new everything. "The style…[retains] architectural elements in the original building, brings in reclaimed materials from other Cincinnati historic buildings, and updates with modern [and] clean-line fixtures in the kitchen and baths," says Holly Finn of Finn Team, the listing agents.
"The condos include old mantles salvaged from buildings in Over-the-Rhine, reclaimed pocket doors, reclaimed timber, and other recycled materials," Finn says. And in true OTR fashion, the exterior features a wildflower mural painted by local artist Joy Zitko—an element coordinated by developer Ean Siemer. "He was drawn to this building because of the revitalization going on in the West End, in part because of the new FC Cincinnati Stadium," Finn adds.
The entrance to the building is tucked away in the front, and is also accessible from the parking lot. The lobby and entry feature all-white walls, a light wood staircase, and exposed brick that runs all the way up the building.
While the eight units range in price from $284,900 to $334,900, they all measure under 1,000 square feet and contain similar features like hardwood floors, exposed brick, and wood beams that give off a luxe city-living vibe. The smallest condo features a kitchen-slash-living space that includes gray painted cabinets and mod pendant lights over an eat-in island with quartz countertops. In the living area, large windows bathe the space in natural light while the wooden mantle and exposed brick add extra warmth to the space.
The bedroom, which sits right off the kitchen behind a pair of sliding barn doors, boasts an exposed brick accent wall with rustic wood-trimmed windows. The design elements in the master bath mirror the kitchen with a gray painted vanity, wood floors, and—you guessed it—more exposed brick. Neighboring units come with private patios or balconies and all include private parking spaces.
With modern amenities and a slick, urban design that melds seamlessly with the abundant historic touches, these lofts offer the best of both worlds—and present us with a gorgeous case study in restoration done right.
Facebook Comments