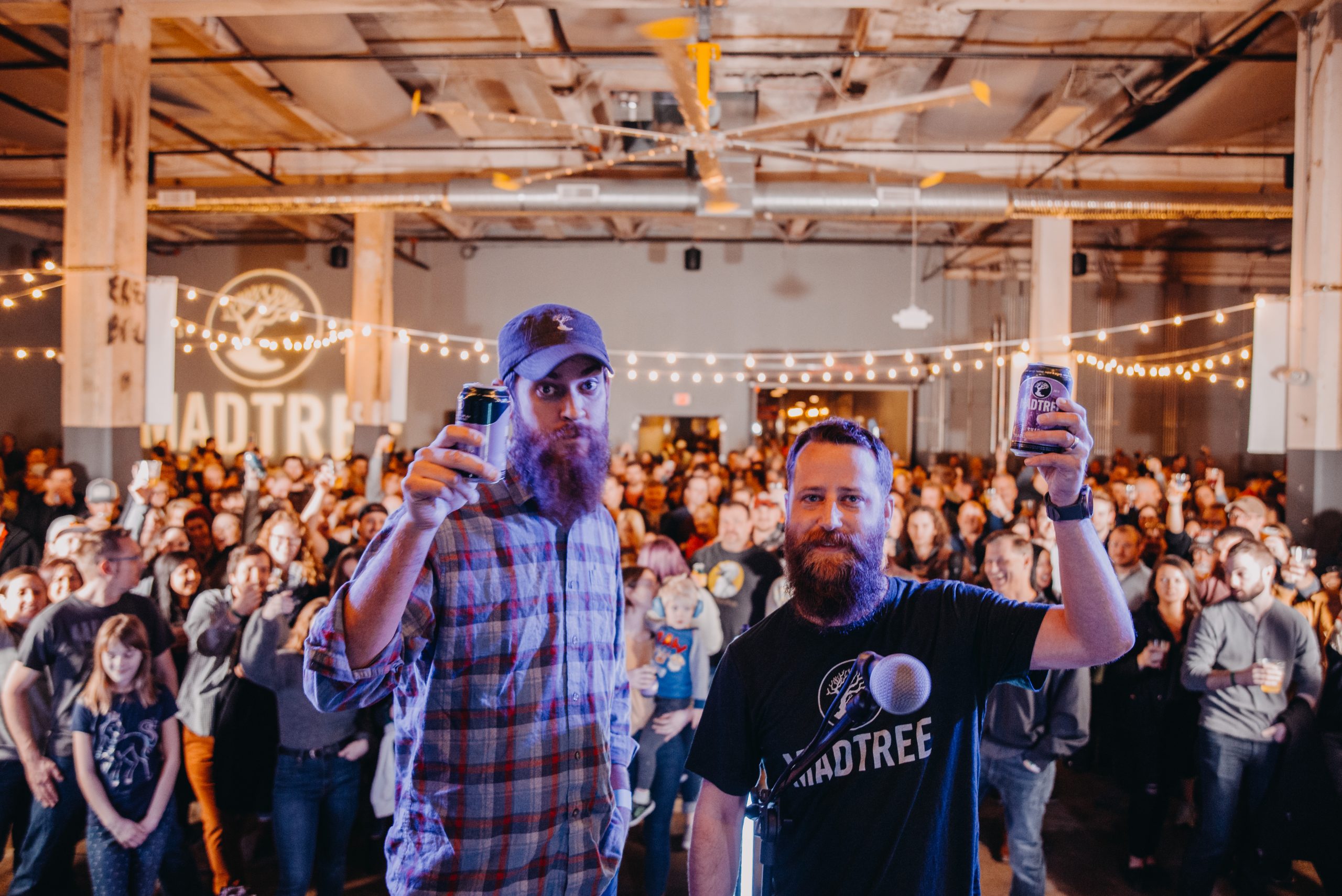 MadTree Brewing Co. is celebrating its 10th birthday this month, a milestone few startup breweries reach. Even fewer claim the kind of success the brand has enjoyed, but it's been a long climb.
In 2013, Kenny McNutt, MadTree's cofounder, was six months into a relationship with his future wife, Abby, and leaving his communications software job at Northrop to begin his new life making beer. Brady Duncan, MadTree's other cofounder, walked away from a business analyst position with Procter & Gamble to launch the startup. They'd both enjoyed successful careers, and both had plenty to lose personally and financially, but they kicked off their brand with a vision and a touch of humor.
"The name MadTree is the mashing of two passions," Duncan says. "The 'Mad' represents the rather methodical and intentional way we would build our recipes and our business, à la a mad scientist, or the scientific method. The 'Tree' is representative of the softer side of the business—the roots in the community, the building of community, and the commitment to taking care of our community through our environmental commitment."
That dedication to greener business practices and community investment has become one of the brand's defining traits. The company donates 1 percent of all sales to local non-profits, which, while impressive, only scratches the surface of its efforts to make better beer in a better way. That commitment begins at the root of its business: grain. Once it's played its part at the brewery, all of the grain is sent to local farms to feed cows. MadTree's brewery and taproom run on wind power, and any single-use dishes, flatware, and napkins used in-house are compostable. It's diverted more than 200,000 pounds of waste out landfills over the past five years, and all this goes without mentioning the 5,000 trees MadTree planted in 2022 alone.
True to its name, MadTree branched out in new and surprising ways the founders embraced.
"We originally built a plan that called for 100% distribution sales," McNutt recalls. "However, within a few months of opening, we realized the real opportunity for us to connect with our consumer was through the taproom. Hospitality is now a major part of our company, contributing more than two thirds of our revenue."
Plans to keep the brand limited to beer also shifted course. The taproom started selling not only beer, but also wine and cocktails. One of MadTree's latest products, Sway, offers a line of vodka sodas that hold up to the cofounders' mad scientist experiments. "They are crisp and refreshing as hell," Duncan says. "They are made by folks you know right here in Oakley using Northside Distilling Vodka."
Customer interaction and new drinks on the menu aren't the only aspects of MadTree that changed from the original design. The small startup became a company with 180 employees, a responsibility the owners don't take lightly.
"When the company was small, all my focus, and Kenny's, was on running the business," Duncan says. "Now our focus is on taking care of the employees, consumers, and communities that run the business."
Those new responsibilities come with fresh rewards, though.
"You get to see a person grow within the organization which means, just maybe, what you've built is working," McNutt says. "You are clear with your vision and direction, and you're putting the resources in the right place."
With the first of hopefully many decades in MadTree's books, the cofounders have more goals to achieve and dreams to chase. McNutt wants to build a company his kids can be proud of. "My biggest fear is disappointing others," he says. "To know that my kid is proud of this company is a true measure of success."
Accountability also remains at the heart of the business.
"We aren't perfect, but we want to get better every day," Duncan says. "We are authentic in the care of our products, our services, our consumers, our employees, our communities, and our earth. And I believe it shows."
The 10 Year Birthday Bash Bonanza kicks off at 10 a.m. on Saturday, Feb. 25, at MadTree's Oakley taproom with brunch bingo. Entertainment includes food trucks, live music, guest breweries, family activities, and a cake baking competition. For more information, visit www.madtreebrewing.com/bonanza.
Facebook Comments