For Matt Boosalis, the story of Boosalis Baking & Café—which recently opened its second Ohio location in Kenwood this March—goes way back to his years as a college kid.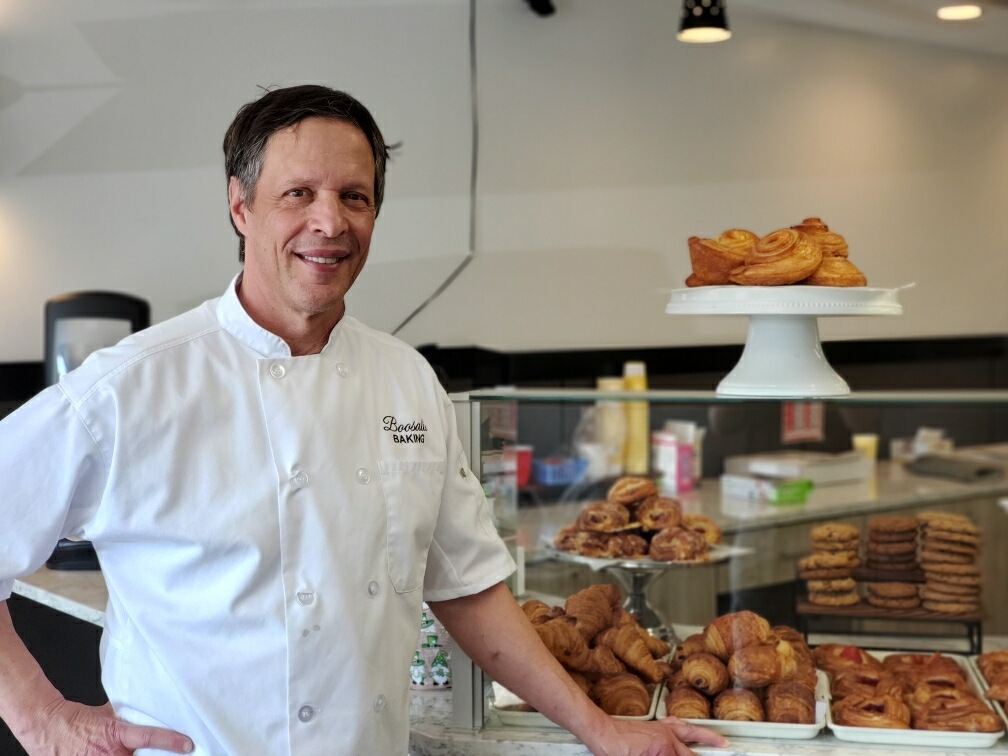 "I had a part-time job working in a bakery and something resonated with me," he says. "Getting up in the morning can be difficult, no denying that. However, the work and ability to focus on something that's very much a joy and not be distracted. It's just something I've always enjoyed."
This love of baking stuck with him throughout his years in finance, too, with Boosalis taking courses at the San Francisco Baking Institute, Chicago's French Pastry School and even a brief sojourn to France.
"Finally, I just got to a time where I said, 'I wanna do this,'" he notes. "It's been hard work, more than I anticipated. However, I've had no regrets."
Boosalis's first location in Centerville, which opened in 2008, quickly earned a place in locals' hearts. From there, its reputation only grew, with a spot on a Yelp list of 30 top bakeries in the country, a 2018 "Best Coffee Shop in Ohio" recognition from USA Today, and, for two years in a row, a designation of "Best Bakery in Ohio" from the website Eat This, Not That. All of which Boosalis takes with a large dose of humility.
"There are so many other bakeries, and sometimes it's just arbitrary where they focus," he says. "However, it does validate that we're committed to absolute quality. We take no shortcuts in our baking. I commonly say we're like a throwback. We're like the Wrigley Field of baking."
What this means inside the bakery doors is that no semi-processed ingredients are ever used—no corn syrups or margarines have a place at Boosalis. And, in addition to what they don't use, the bakery's secret weapon is European butter, which lends a slightly higher (but noticeable) fat content.
The bakery's menu offers up a full range of baked goodies—pastries, scones, cookies, muffins, coffee cake, and macaroons—and, of course, fresh-baked breads. And the cafe serves breakfast offerings and a lunch menu of sandwiches, panini, salads, and more.
But for Boosalis (and many of his loyal customers), the croissants are where it's at. And one, especially, sparks a joyful pride for him. The star of the bakery is a croissant called Kouign-Amann, which has roots in Brittany, France (the name means "buttery cake" in old Breton language).
"At our store in Centerville, we have above our door 'Home of the Amazing Kouign-Amann' because, so many customers, we sample it to them and the first thing they say is 'That's amazing,'" he says. "It's twice the richness of a regular croissant. It's really quite an extraordinary treat."
The amazingness of this special croissant no doubt plays a large part in a trend Boosalis noticed in recent years, as customers shared they'd driven up I-75 from Cincinnati to purchase his baked goods. "I just kind of added things up and thought, 'I think there's a good market down there,'" he explains.
A spot in the Jos. A Bank Centre, adjacent to the Kenwood Towne Center, seemed ideal to Boosalis, not just for its busy location but also its proximity to local neighborhoods such as Deer Park, Sycamore Township, and Madeira. It doesn't hurt that Buskin called the place home for many years, too.
Considering stellar customer service is the second leg of Boosalis' approach to success—the other being the aforementioned dedication to quality—the Kenwood location offers an excellent opportunity to share his pastry passion one customer at a time.
"Our baking, it may lack a little bit of the glamor touch, but it really is meant to promote a customer that comes in every week or more," he says. "We want that relationship. We want to give people, really, a sense of place."
And even as Boosalis and his business partner, Xiaxing Lin, consider future locations, the baker is quick to point out that his move into Cincinnati is one made with humility. He's not here to reinvent Cincinnati baking. He just wants to share his amazing croissants.
"I really respect the baking legacy of Cincinnati," he says. "I know the Buskins and Servattis have a long, rich history, and those families have worked very hard. I'm very grateful to be in a market that appreciates good food, and they helped pioneer the way."
Facebook Comments