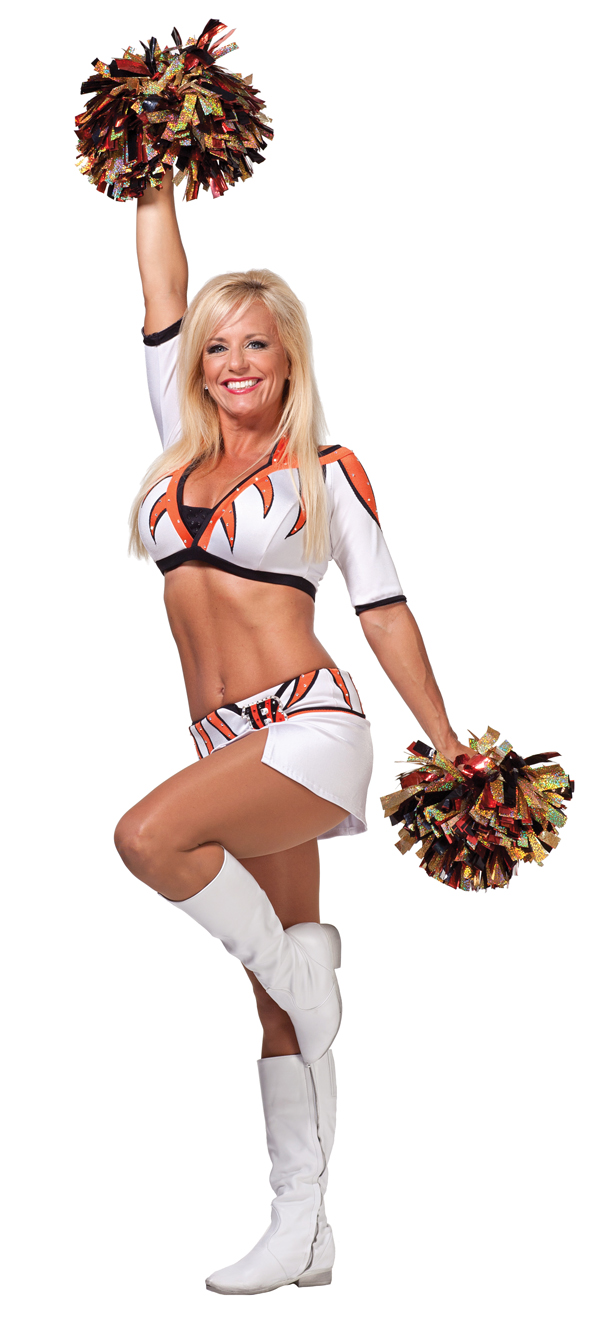 Laura Vikmanis's book title says it all: It's Not About the Pom-Poms. The spirited 44-year-old single mother of teenagers has embraced her role as the oldest cheerleader in the NFL. And she's using her experience to encourage other mid-life dream-chasers.
I first auditioned in 2008. I had just gone  through a divorce. I literally sat on the couch and said, What will make me happy? It was dancing. So I Googled adult dance classes. When you Google "adult dancing," interesting things come up, one of which was pole dancing. I found Pole Kittens on Vine Street, tried it, and loved it. I ran into an ex-Ben-Gal there. She said, "I see the way you dance and you should try out."
Most of the girls are in their early 20s. I'm old enough to be their mother. This year, the Ben-Gals include a chemical engineer, a pharmaceutical rep, teachers, and nurses.
My daughters have never said anything about the uniforms. I compare it to Broadway: They wear costumes. These are our costumes. In the NFL, this is what people want to see.
My goal is to run three to five miles three days a week, and weight train three days a week. With my schedule and my kids' schedules, if I manage three days a week, I'm happy.
Physically, after a workout, I'm fine. But mentally I'm exhausted. My brain is trying to remember the dance.
It's hard to cheer when we're losing. We always go into the game thinking we're going to win. But when you get into the fourth quarter, and maybe the opposite team's fans are the only ones left, it's really hard. But you just have to find those one or two Bengals fans and cheer for them.
I will keep cheerleading as long as my body holds up and as long as they'll have me. If I was 21, I'd be on the squad forever because I love it.
Don't be fearful of making choices. I started out pole-dancing and ended up on the Paul Brown Stadium field.
---
Fueling the Spirit
As a dietician at Bellbrook Medical Center, Vikmanis counsels patients on behavior modification and diet. Her favorite foods: pizza and chocolate. Her motto: Have what you want, but not as much as you want.
Rules of the Game
Ben-Gals earn $80 for each game they cheer. There's no fraternizing with coaches and players. Uniforms must cover tattoos; no piercings on the field or at events. Facebook and Twitter accounts are monitored for inappropriateness.
Weight Training
There's a weigh-in at every practice; if a Ben-Gal is three pounds past her set weight, her performance is monitored and she might be benched.
Golden Age
Ben-Gals must be at least 21; there is no maximum. In her book, Vikmanis urges readers not to be limited by age: "It's about meeting challenges and doing what makes you happy."
Originally published in the November 2012 issue.
Photograph by Jonathan Willis.
Facebook Comments