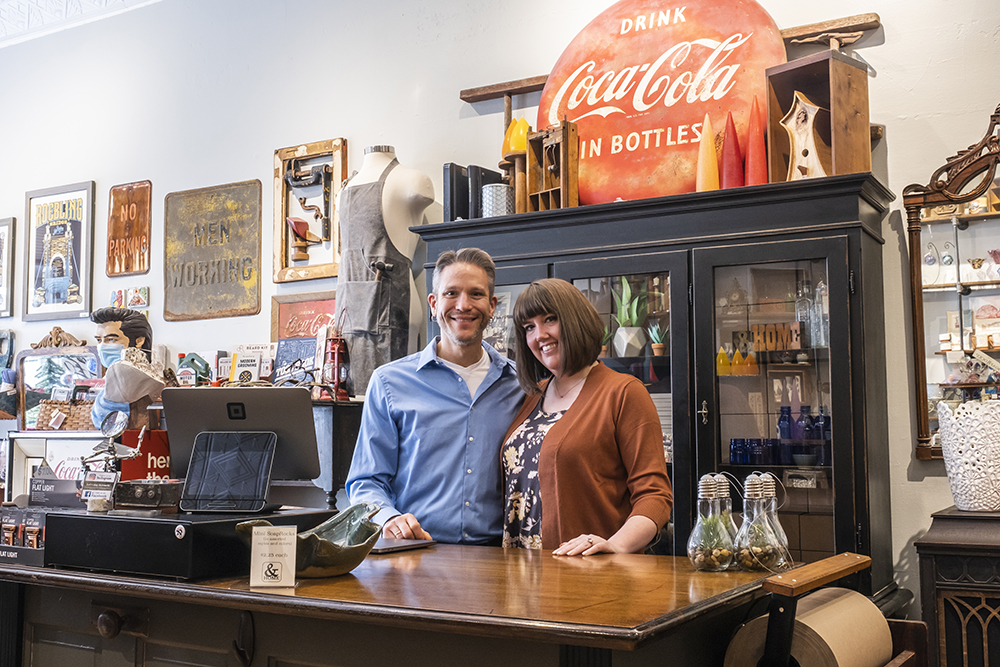 Stepping into the brick storefront of Ampersand Home (& Gallery) on Bellevue's historic Fairfield Avenue is a bit like stepping into a candy shop of things. Look up and find bold handspun ceramic plant hangers from local Amy Boullé of Tryst Studios, before being drawn in at waist level by a rainbow of functional pottery from local ceramicist Sam Hitchman. Then admire the wall of Cincinnati-centric posters designed by local artist James Billiter, and browse the shop's collection of eclectic apparel and handmade herringbone cutting boards that would make perfect gifts for your difficult-to-shop-for friends.
The store is an alluring mash-up of gift shop, home goods retailer, antique boutique, and local art gallery that's equal parts rustic, artsy, and downright Americana. Owner Matthew Litteken, a Northern Kentucky artist and UC DAAP graduate, transformed part of a turn-of-the-century Victorian house on Fairfield Avenue into Ampersand Gallery in 2017. Within a year, he expanded the gallery's offerings, tweaked its name, and moved to his current storefront a few blocks down.
Today, Ampersand Home (& Gallery)'s diverse inventory resembles, as Litteken says, a curated collection from your favorite well-traveled aunt or uncle. "We really try to have a little something for everyone," says Visual Merchandiser Betsy Jones, a fellow Northern Kentucky resident and DAAP grad. Ampersand sources its products from a network of local and regional artists that the fun-spirited and perfectly in-sync duo have met over the years, and from afternoons spent perusing artisan fairs and maker markets. They even repurpose items they find, such as turning an old wooden cabinet into a polished piece of furniture, but always opt for pieces that are unique, tale-filled, and part of a definitive aesthetic. "A customer once came in," Litteken says, "looked around and described the place as handsomely curated." That descriptor has stuck.
Now four years into business and in the grips of an ongoing global pandemic that has sent shoppers increasingly online, the pair says it's more important than ever to provide an outlet for local artists and makers, and to offer a more curated and tactile shopping experience. "We are becoming such a culture of searching online and hitting 'Order now and get it today,' " Jones says. "There are a lot of shops," Litteken says, whose very existences are "subconsciously or consciously a push against that culture."
Ampersand Home (& Gallery), 305 Fairfield Ave., Bellevue, (513) 315-6034
Facebook Comments