For a handful of nights in October during the BLINK Festival, Cincinnati had something like its own Chinatown or Koreatown—those culturally dense neighborhoods in larger cities where Asian populations congregate. The Asianati Night Market lured in locals and tourists alike with a bevy of heavenly smells, glowing lanterns, and family-friendly games. Displays from the Lucky Cat Museum and nearly a dozen food vendors transformed Court Street into a glowing showcase of the city's Asian American businesses, artists, and people.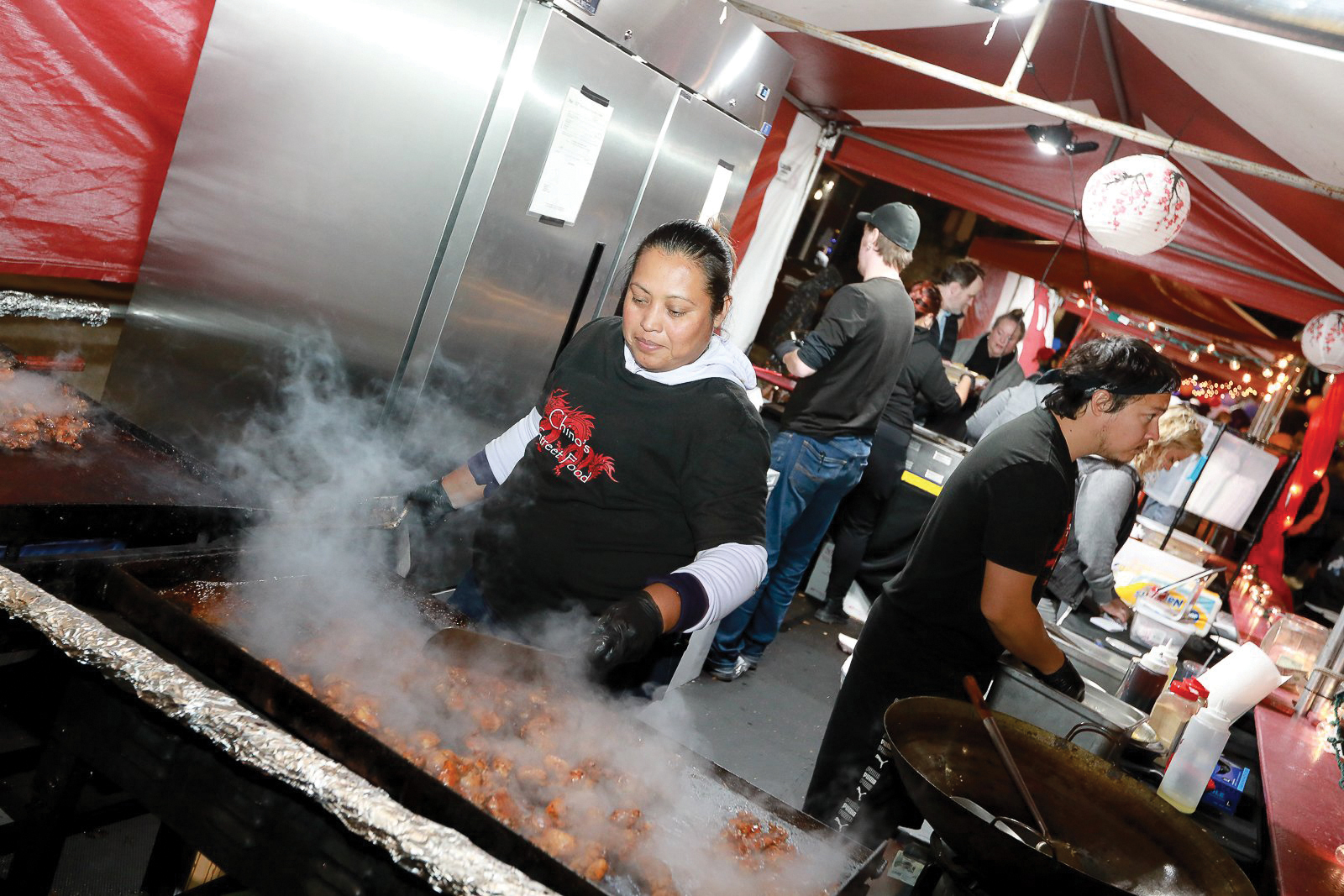 The force behind the event, Asianati, has woven itself into the fabric of Cincinnati's growing Asian American community. Producing a restaurant directory, a blog, and events, the organization is linked to just about every corner of the city, and it's set to grow. "Other cities have Asian towns," says Bao Nguyen, cofounder and developer of Asianati. "Cincinnati, we don't quite have an Asian town, but we have a fair amount of Asians in the area, and Asianati kind of serves as your virtual Asian town."
It all began with a spreadsheet and notes on a napkin. About five years ago, Nguyen met with Koji Sado, a Procter & Gamble executive who had a spreadsheet of all the restaurants where he'd eaten around town.
"He wanted to find a cool way to highlight that, showcasing things people in the area might not know about," Nguyen explains. "I'm a software developer, and we figured between his resources [and] my resources, we could put together some kind of directory. Then, as we brainstormed, more features came about, such as the blog and events."
The restaurant directory remains a key function of the site, and it's a solid basis for the organization's entire premise because, Nguyen says, "everybody loves food."
Of course, Asianati only begins with a great meal. It goes on to fuel community support, engagement, and education.
"Asianati is about celebrating culture and connections," says Sado, the cofounder. "We want to continue to make connections. We want to have people be open to learning about Asian culture and what Greater Cincinnati can offer."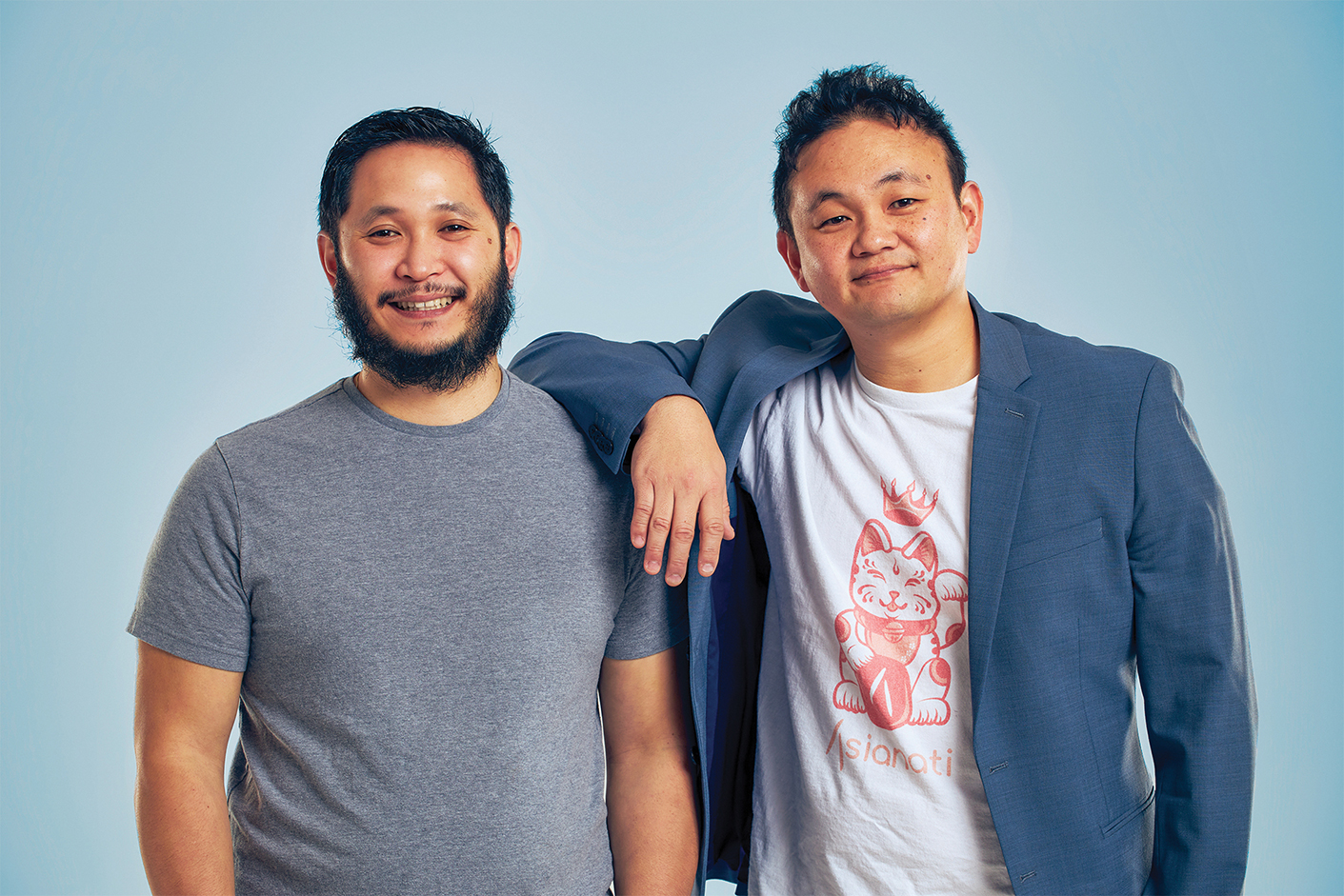 The organization officially launched in fall 2020, during the height of the pandemic, and Sado and Nguyen's efforts made lasting connections, leading to rapid, organic growth. Volunteers quickly appeared, eager to support the evolving organization. A team of approximately 10 volunteers serve as the group's backbone, but events bring in even more hands, expanding the group's reach. (It now offers internships to give local college students real-world experience.) Everything they put into the community has inspired a reciprocal generosity of spirit.
"We knew we wanted to grow through word of mouth because we thought that was going to have the most impact," Sado says.
The Night Market did that on a grand scale. It brought fresh eyes and opportunities to Asianati, putting the team in touch with other Cincinnati-area organizations eager to tap into and share the magic captured at the community event. It was also a dream come true for the organizers.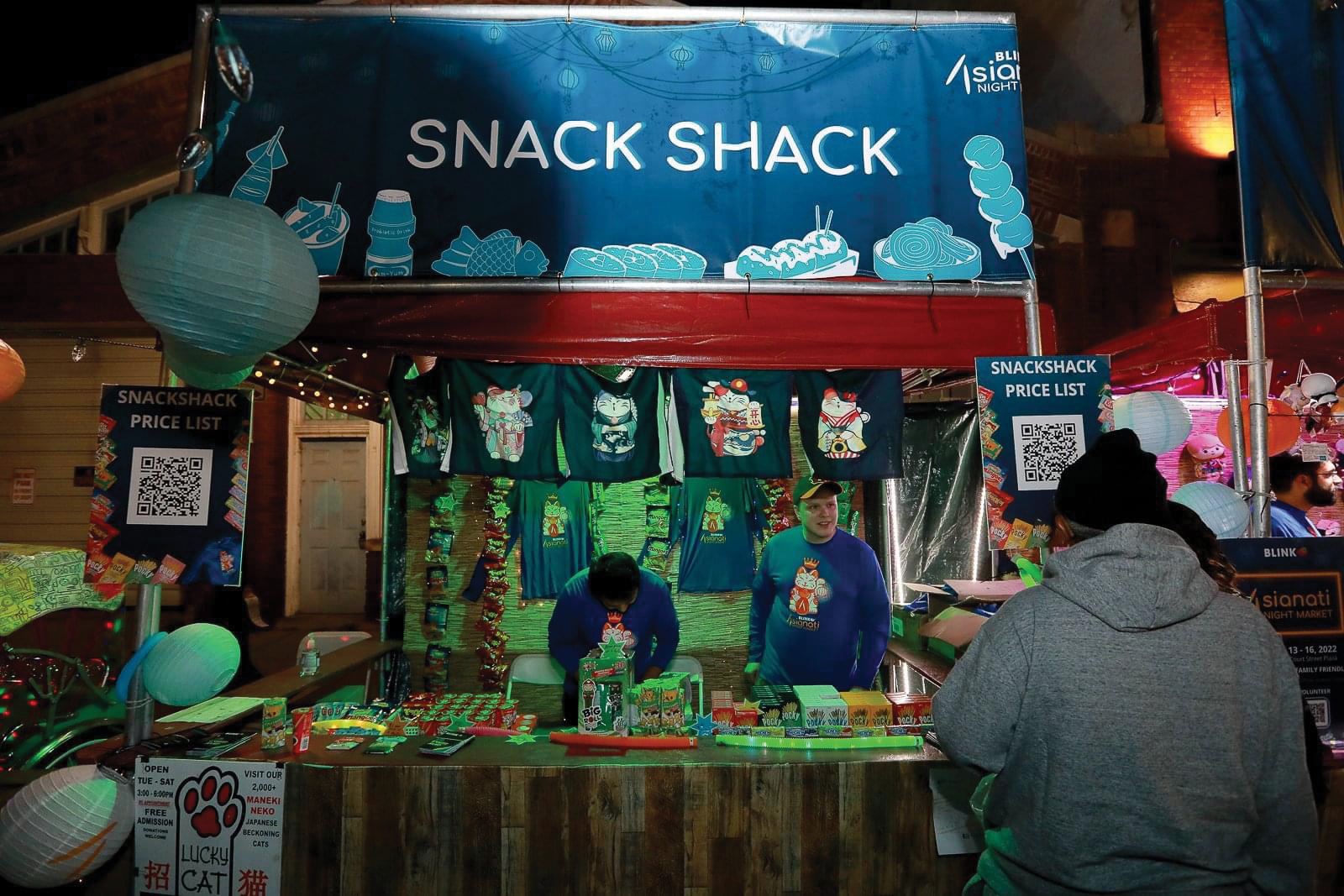 "The Night Market was something we were envisioning from the very beginning, so it was a big milestone for us," Sado says. "Our intent was to offer an immersive experience of an Asian night market. The biggest thing for me was about a week after the market, one of my colleagues came up to me and said, 'Yeah, I went to your Night Market and it was great. My son, when visiting, said "Mommy, are we in China? Are we in Asia?"' That made my day. That's when I felt like, yeah, we made an impact."
While Sado, who's lived and worked all over the world, grew up enjoying night markets, the BLINK event hit Nguyen differently. "I recently had a kid and it was nice to be able to do a family event," Nguyen says. "I grew up in Cincinnati, and I didn't really get a chance to experience [night markets], especially as a mainstream event."
Not a team to rest on its laurels, the Asianati crew is hard at work planning events for this year. Meetups will bring together small groups of people who are interested in learning about Asian culture in a fun, informal setting. Seasonal activities will include the Japanese springtime tradition of hanami, or flower viewing, which encourages participants to picnic under the cherry blossoms in Ault Park.
There's always another event in the works, and the restaurant directory is only growing. However, Sado and Nguyen have some very long-term goals.
"Eventually, it would be nice to have a physical Asian town," Nguyen says, "areas with quite a few, concentrated Asian restaurants and businesses, and an event center where we could host various Asian cultural events."
"That was one of the first reasons Bao and I got together, to create an Asian town," Sado agrees.
They've already influenced significant change in the community, helping Cincinnati keep one of its most valuable resources: people.
"When I was in college, a lot of my Asian friends were trying to move to the bigger cities to take part in communities that had more Asians and more Asian events," Nguyen recalls. "Everyone kept on leaving. Since then, that whole attitude is gone. I know a lot of my friends back then probably would have stayed if they had this."
Upcoming Asianati events include the Asian Food Fest, which returns to Court Street Plaza April 29 & 30 to kick off Asian and Pacific Islander Heritage Month in conjunction with Asian American Cultural Association of Cincinnati. For more information about the organization, visit asianati.com.
Facebook Comments