Cincinnati attorney Louis Sirkin remembers the morning 20 years ago when Jennifer Kinsley, then a young associate with his firm, "walked into my office and said, 'What do we have on the calendar today?' I said, 'Not a whole lot. Why?' And she said, 'Well, I drove downtown and got off on I-71 and saw the police removing all the homeless people who had been using that underpass for housing. I just don't think they should be forced to move like that. I want to file a federal lawsuit.' " Sirkin gave her his blessing. "And she went ahead and did it, and by the end of the day she had gotten a temporary restraining order. That's the kind of person Jennifer is. She cares about people."
"Caring" has not always been a calling card for candidates elected to judgeships in Hamilton County. Hard-nosed? Yes. Conservative? Yes. But Jennifer Kinsley, a law professor at Northern Kentucky University, has spent her life busting stereotypes. In the November election for First District Court of Appeals, she beat out an incumbent with a well-known conservative name, Robert C. Winkler, by 52–48 percent, winning the seat vacated by a retiring Republican judge, Beth Meyer. The First District's coverage area is Hamilton County.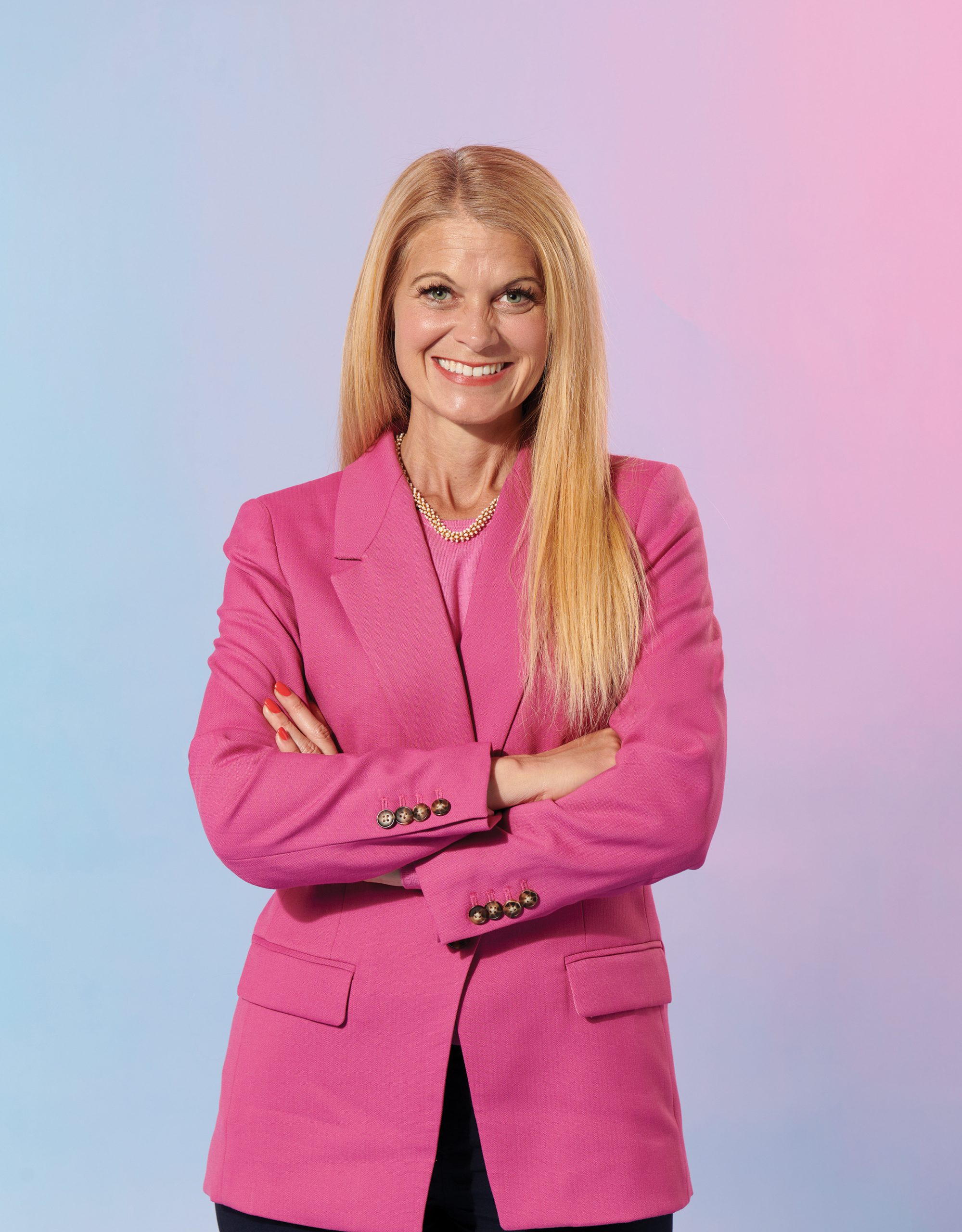 At 47 and undeniably blonde, Kinsley begs comparison with the courtroom success of Elle Woods, the underestimated heroine of the hit comedy film Legally Blonde. "People make all kinds of assumptions about other people based on outward appearances, their gender, their age," she says. "But I've always just tried to show up and do the best I can. People quickly realize that what they assumed about me wasn't fair."
Kinsley garnered enough AP credits at her Jacksonville, Florida, high school to graduate from the University of Florida at age 20. She had planned on being a high school English teacher but decided she was still too young to command the respect of cheeky teenage students, so she applied to the master's program at Columbia University's renowned Teachers College. Almost on a whim, she also applied to Duke's top-tier law school as a backup.
She failed to get into Columbia, but Duke Law accepted. Within a year of graduating in 1999, she joined Lou Sirkin's prestigious Cincinnati law firm and worked on some of the toughest and most controversial constitutional rights cases in the nation.
"I hired her after talking to her for less than 10 minutes," says Sirkin, who has no doubts that Kinsley will succeed as an appellate court judge. She brings to the job "tremendous writing skills, tremendous understanding of the law, and a great capacity to listen to both sides," he says. "She's just oriented to being a person who does the right thing, and that includes the right interpretation of the law."
---
As the oldest of three children, Kinsley says she got her sense of fairness from her father, a United Airlines pilot and active union supporter, and her commitment to social justice from her mother, an early advocate of civil rights in her small Georgia hometown. Her résumé reads like a wish list for the nation's most ambitious and caring legal scholars. Her research on the intersection of psychology and speech criminalization has been published in leading law school reviews, from Emory to Loyola Chicago to Vanderbilt. She successfully represented thousands of clients whose free speech and civil rights were violated by the government, including Black Lives Matter protesters, artists, filmmakers, adult businesses, human trafficking survivors, juveniles sentenced to life in prison, and those facing the death penalty.
She's lectured on matters of free speech law, including in some of the least likely places to respect free speech, such as the Supreme Court of Turkey, and with aspiring civil rights lawyers in Russia. She's won awards for her child advocacy and pro bono work in the Cincinnati area.
Kinsley credits a big part of her success to the mentorship of Sirkin, whom she worked with from 2001 to 2012 before leaving for NKU. In the nation's legal circles, his name is synonymous with defending First Amendment rights of free expression. He's perhaps best known here for successfully defending Dennis Barrie, then director of the Contemporary Arts Center, for exhibiting Robert Mapplethorpe photos in 1990, many of which had themes of gay and sadomasochistic eroticism. The case pitted Barrie and Sirkin against the man dubbed locally as "Mr. Clean," Simon Leis, the hardline Hamilton County prosecutor and later sheriff who made it a personal crusade to cleanse the county of all traces of public sexuality.
Back then, conservatives smeared Sirkin and later Kinsley as "porn lawyers," a term that's fallen away with a broader acceptance of free expression and the right to privacy. Sirkin says he always resented that tag. "We're First Amendment lawyers and constitutional lawyers. And you may not like certain speech, but that speech has a place in our society and has a right to exist."
Kinsley studied the Mapplethorpe case while at Duke Law School and was so impressed by Sirkin's legal arguments and his dedication to the First Amendment that she wrote to him hoping to begin her career with his law firm. She never heard back. But that didn't mean she gave up. She moved to Cincinnati after law school with her then-husband, who had taken a job with Procter & Gamble, and went to work for the Hamilton County Public Defender's Office. A year later, she saw a job posting at Sirkin's firm and, in what she admits was a case of delivery overkill, FedEx-ed her application overnight the two blocks to Sirkin's office. This time she got his attention and an interview.
---
Kinsley has dealt with many of her own challenging and controversial cases, often in tandem with Sirkin. But in nearly every case, she says, she sought to protect the constitutional rights of the victims as well as find a solution that worked for everyone. Kinsley's suit to block the forced displacement of Cincinnati's homeless led to a collaborative effort among prosecutors, police, and social service agencies to stop the revolving door from street to jail and back to street again. A federal suit she filed in 2004 to allow minors in Ohio prisons to obtain legal representation for abuses suffered in custody led to another collaborative effort and major prison system reforms, including the closing of several of the worst-offending institutions.
Her most talked-about case, however, pitted her and a team of attorneys against a Texas statute in 2007 that criminalized the distribution and possession of sexual aids, including sales parties sponsored by Cincinnati-based Pure Romance. Several other conservative states had similar laws on the books then. Kinsley and Sirkin successfully argued their case before a federal appeals court, which ruled that the state of Texas had no right to impose its public morality on intimate private conduct.
Kinsley says her most heartbreaking case was the defense of Thomas Condon, a Cincinnati professional photographer who had posed corpses in the Hamilton County Morgue with props such as seashells, sheet music, keys, and apples. The photos were part of an art project illustrating human life from birth through youth and adulthood to death. "He wanted to demystify death and expose people to it in a gentle and peaceful way as opposed to being tragic and sad," Kinsley says.
Condon claimed he had permission to be in the morgue, but the county coroner said he was authorized only to do research for a training video. A morgue pathologist whom Condon said gave him permission to photograph was convicted along with Condon of abuse of a corpse but later cleared on appeal; Condon spent 18 months in prison. "Our client literally had an unblemished record and was legitimately conducting an artistic endeavor," says Kinsley. "Watching him suffer and feeling so helpless to do more was very hard."
While it's rare in Hamilton County that a defense lawyer is elected to a judgeship, Sirkin says Kinsley is part of an emerging judicial trend, noting that President Biden has appointed a large number of former public defenders as federal judges. Kinsley may have been the person most surprised by her election victory.
"I have a lot of people to thank," she says, adding that she feels the need to pass that devotion forward. "I'm not here for myself. I'm here for a lot of people because I carry a lot of people with me."
Facebook Comments