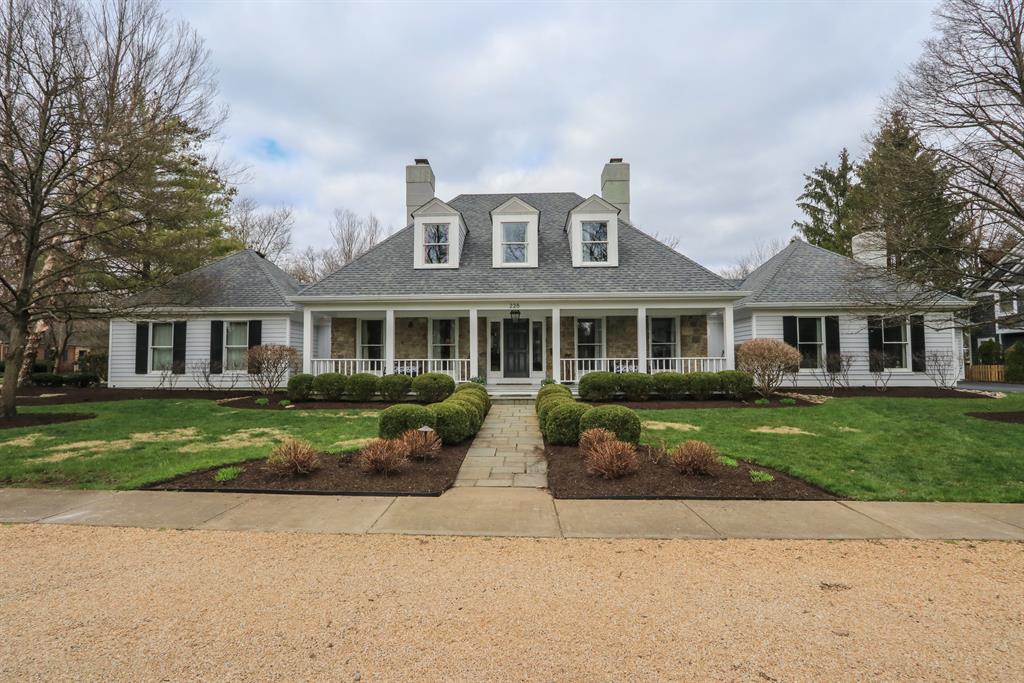 The east side of Cincinnati is home to family friendly neighborhoods and idyllic nature centers and parks—Terrace Park is no exception. About 20 minutes from the city center, you'll find the quaint village a perfect blend of city convenience and natural areas, like Otto Armleder Memorial Park. And smack in the middle, this dreamy four-bedroom, four-bath home.
Built in 1986, it's obvious the home has been taken care of by each owner with continued updates. But current owner and interior designer Melissa Szymanski took it to a whole new level when she got ahold of the keys. "I knew that we would add our own touches to the house," Szymanski says. "We repainted almost every room, added custom drapes, replaced hardware, and redesigned a portion of the backyard to include new landscaping and a fire pit and seating area."
From the outside, the facade is similar to traditional suburban houses—a mix of brick and siding, stamped pavers, and a full-length porch. But when you walk in, you immediately notice elevated details: dark hardwood floors, chic light fixtures, a soothing color palette.
The dining room to the right features a working fireplace, an oversized chandelier, and floor-to-ceiling windows peering out to the front yard. Off the dining area, the gourmet kitchen is one of the sleekest rooms in the home. The all-white space contrasts against the dark and rustic wood floors. Floor-to-ceiling cabinets offer an immense amount of storage space, expansive counters provide plenty of room for food prep, and a built-in hutch serves up storage while displaying pretty dishes and fine glassware. Plus, the kitchen offers an eat-in island, disguised fridge with panels that mimic cabinet doors, and newer appliances. The wet bar links the kitchen and the family room, featuring a beverage fridge, wine cooler, and more storage, making for easy entertaining.
Also worth noting: the master suite includes a comfy sitting area and oversized master bath with marble details and mirrored vanities; three additional bedrooms all have spacious closets; and the large family friendly area downstairs, with shiplap-style walls and vibrant orange carpet. There's plenty of room to host a movie night or have separate gaming spaces, and built-in cabinets and shelves hold tons of organization potential.
But the neighborhood itself is what makes this a homerun. "Kids are all around, all the time," Szymanski says. "Our neighborhood is truly the kind where you ask your neighbors for a cup of sugar, or hang out over a glass of wine on the front porch." You're also in walking distance of The Birch restaurant, the Little Miami Brewing Company, and parks. Plus, the Little Miami Scenic Trail goes through their neighborhood. "We chose this house because it provides multiple spaces for the kids," Szymanski says. "As well as the adults to hang out."
Click through our gallery to view more photos of this home:
Facebook Comments