Tiffany Geiser and Douglas Abram brought unity to their destination wedding in the groom's native Scotland. Merging their two cultures and bringing their friends and families together in a picturesque setting, they married at the beautifully restored 17th century Glencorse Old Kirk outside of Edinburgh on May 11, 2019.
"I wanted my family to see the Scottish culture and the country that I'm marrying into," says Tiffany, who's from West Chester. "It really was a combination of both of our cultures."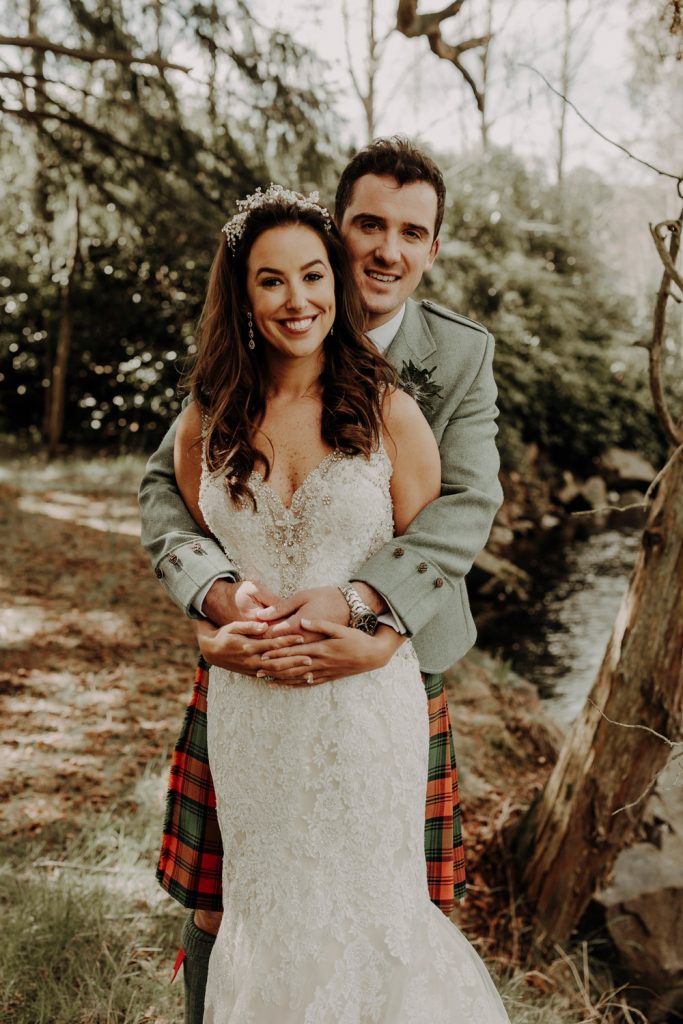 Meeting in New York (over a shared need for a phone charger), Tiffany and Douglas pursued their long-distance relationship by seeing the world together.
They commemorated their travels by naming each dining table after a destination they had visited together. The wedding joined Tiffany's and Douglas's friends and families—many who had never met before, given the distance—so they decided to switch up the seating arrangements. "That made for such a fun wedding," says Tiffany. "Everyone got to know each other."
Blush-colored floral arrangements made the grounds' historic architecture and white wedding marquee look like something out of a fairy tale. The wedding was a mix of traditions, with Scottish country dancing and bagpipe players representing Douglas's heritage, and the traditional father-daughter dance from this side of the pond. But nothing embodied the merge better than the wedding cake, which had a lemon layer, a British tradition, and a layer of American red velvet.
Tiffany incorporated her hometown through details like her mother's wedding cake topper, her locally crafted veil, and her grandmother's Cincinnati-made wedding ring.
Through careful details, timeless traditions, and the gathering of family and friends from both sides, the couple brought together loved ones in a celebration that beautifully epitomized their union. And for those who couldn't attend, like Tiffany's grandfather, the special day was shared through a live-streamed watch party. "That was really important to me," Tiffany says, "because that way my grandpa and my friends from Cincinnati who couldn't make it could be there together and watch it."
Click through our gallery to see more photos from Douglas and Tiffany's wedding:
---
Facebook Comments