For almost a century, the "Coney Island of the West" was the reigning Cincinnati amusement park, despite tough competition from Chester Park in Spring Grove Village and the Lagoon in Ludlow, Kentucky. Now operating as a water park and concert venue, memories of the Old Coney abide.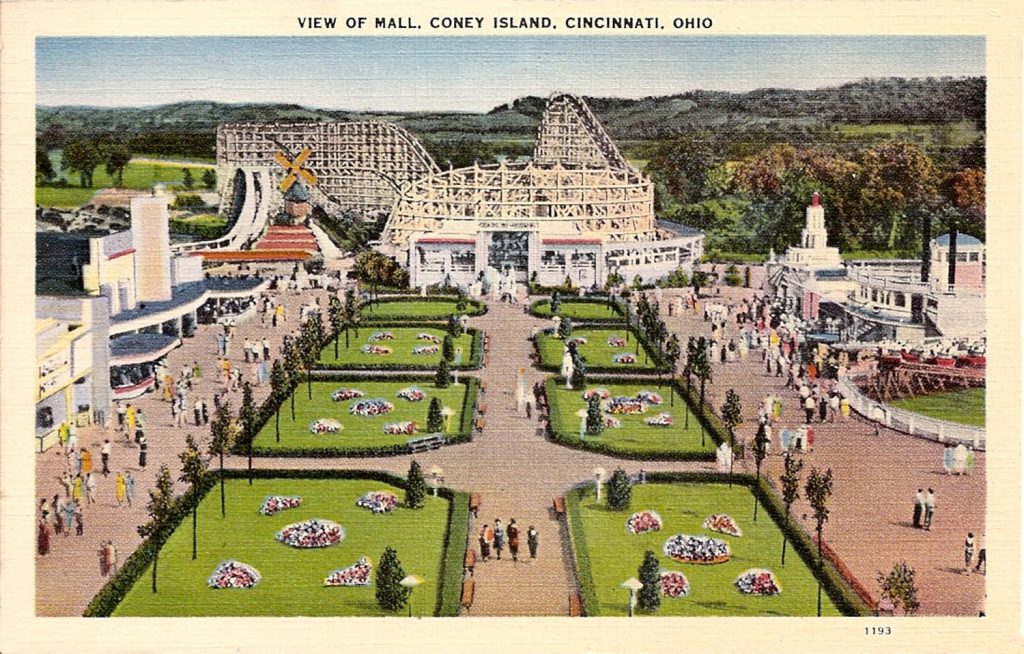 It Started Out As an Apple Orchard
Coney Island got its start as Parker's Grove. In the early 1880s James Parker started to rent out his apple orchard on the banks of the Ohio River as a picnic grove, eventually adding a dining hall, dancing hall, and bowling alley.
For Many Years, 'Coney Island' Was Just a Nickname
In 1886, James Parker sold his apple orchard to a couple of steamboat captains who recognized the opportunity to collect a lot more fares by shipping customers upriver from Cincinnati. The park got a new name: "Ohio Grove." The new owners advertised Ohio Grove as "The Coney Island of the West," after the well-established Coney Island in Brooklyn. It was years later that the resort was officially named "Coney Island." 
Why Didn't the Brooklyn Coney Island Sue?
Didn't Cincinnati's amusement park steal its name from a famous New York resort? You betcha! Then why didn't they sue? The New York Coney Island is not actually an amusement park, it's a neighborhood. At its height, the New York Coney Island was home to three major amusement parks (Luna Park, Dreamland, and Steeplechase Park) along with a plethora of independent amusements, none of them named Coney Island. Cincinnati's Coney Island didn't copy from another amusement park and therefore got away with grand larceny. 
The Coney Island Run Was Bad Luck for Steamboats
Although most people remember only the Island Queen, over the years nearly 20 steamboats made the Coney Island run. The Mary Houston ran only one season before succumbing to the 1893 ice breakup; the Commonwealth rammed a towboat in 1895; the Princess was crushed when the Ohio froze over in 1917; the Morning Star burned with the original Island Queen in 1922; the Island Maid burned at Madison, Indiana, in 1932; and the second, most-remembered Island Queen exploded in Pittsburgh in 1947.
Coney's Pleasures Were Not for Everyone
It took a concerted effort to open Coney Island's gates to Cincinnati's African American residents (thanks Marian Spencer!). The amusement park was totally segregated until 1955, and the Sunlite Pool and Moonlight Gardens did not admit Black people until 1961.
A Narrow Decision on Integration
In 1953, Ethel Fletcher and her three children were denied admission to Coney Island because they were Black. With the assistance of the local chapter of the National Association for the Advancement of Colored People, she sued and won. However, the Hamilton County Court of Common Pleas refused to certify the case as a class action. The decision applied to Mrs. Fletcher alone. Coney Island was required to admit her, the court ruled, but could deny admission to her children, her husband or anyone else.
A Really, Really Big Pool
Sunlite Pool is the world's largest recirculating swimming pool. It covers more than two acres. For many years, Sunlite Pool was filled entirely from artesian wells drilled on the property. Today that well water is supplemented by city water originating in the Ohio River. 
Coney Island Helped Inspire Disneyland
Walt Disney and his brother, Roy, visited Coney Island in June 1953 to gather ideas for the California amusement park they planned. They were impressed by owner Ed Schott, and invited him to advise on their project. At a Cincinnati news conference, Disney said Schott's advice had been "very valuable" in making Disneyland a success. 
Rainy Birth, Rainy Death
It rained torrentially the first day Ohio Grove opened in June 21, 1886, and it rained torrentially the day Coney Island closed on September 6, 1971.
One Explosive Act
Throughout the summer of 1948, one of the attractions on Coney's Mall was Captain Leo Simon, "The Man Who Blows Himself Up." Capt. Simon would seal himself in a box with a lit stick of dynamite and emerge unscathed from a cloud of smoke.
Al Hirt Sets a Moonlite Gardens Record
The one-night attendance record at Moonlite Gardens was set July 18, 1964, when Al Hirt packed in 6,266 dancers. Hirt, riding on the success of his instrumental hit, "Java," broke the previous record of 5,564 set by Ralph Marterie's Orchestra on July 25, 1953.
A 12-Acre Wading Pool
Lake Como was excavated and filled in 1893, offering rides in gondolas. It took so long to fill that it was nicknamed "Colonel Brooks' Duck Pond" by local wags. Most people could walk across Lake Como if they wanted. Completely filled the lake is only three to four feet deep, all the way across. It covers an area of 12 acres.
Ghost of the Roller Coasters
If you've ever felt a sort of swooping motion while enjoying a performance at Riverbend Music Center, there might be a reason. The concert pavilion sits on land that once belonged to Coney Island and was occupied by the Wildcat and the Shooting Star roller coasters.
Flood Preparation
Every autumn, as Coney Island closed for the winter, the hand-carved Grand Carousel horses were dismantled and moved to high-ground storage in the attic of Moonlite Gardens to keep them dry when the Ohio River inevitably flooded. The Grand Carousel was made by the Philadelphia Toboggan Company in 1926 and was moved to King's Island in 1972.
Old Coney Is Haunted
There are multiple reports of a man, sometimes accompanied by a woman, gazing from the balcony at Moonlite Gardens. The man wears old-fashioned clothing. Witnesses, when shown photos of George Schott, Coney Island's one-time owner, agree he is the man they saw. Schott died at the park from a heart attack in 1935.
Davy Crockett Killed Coney Island
In 1968, Fess Parker, the TV actor who portrayed both Davy Crockett and Daniel Boone, announced plans to build a huge "Frontier World" amusement park in Northern Kentucky. The owners of Coney Island, landlocked and unable to expand, realized the competition would be fatal and quickly negotiated a merger with Taft Broadcasting. Plans for the "New Coney Island" at Kings Mills, Ohio, made headlines in 1969. Coney Island closed in 1971, and Kings Island opened the next year. 
A Gigantic RV Park?
Before Taft Broadcasting reopened "Old Coney" in a limited capacity in 1976, the company gained approval from Cincinnati City Planning Commission for a zoning change that would have allowed parking for 300 to 400 recreational vehicles and camper trailers.
Facebook Comments