Test your knowledge about Over-the-Rhine's iconic Findlay Market. Think you know its complete history? Here's the real story behind the market's namesake, antique bell, meat butchers, and Reds parade sponsorship.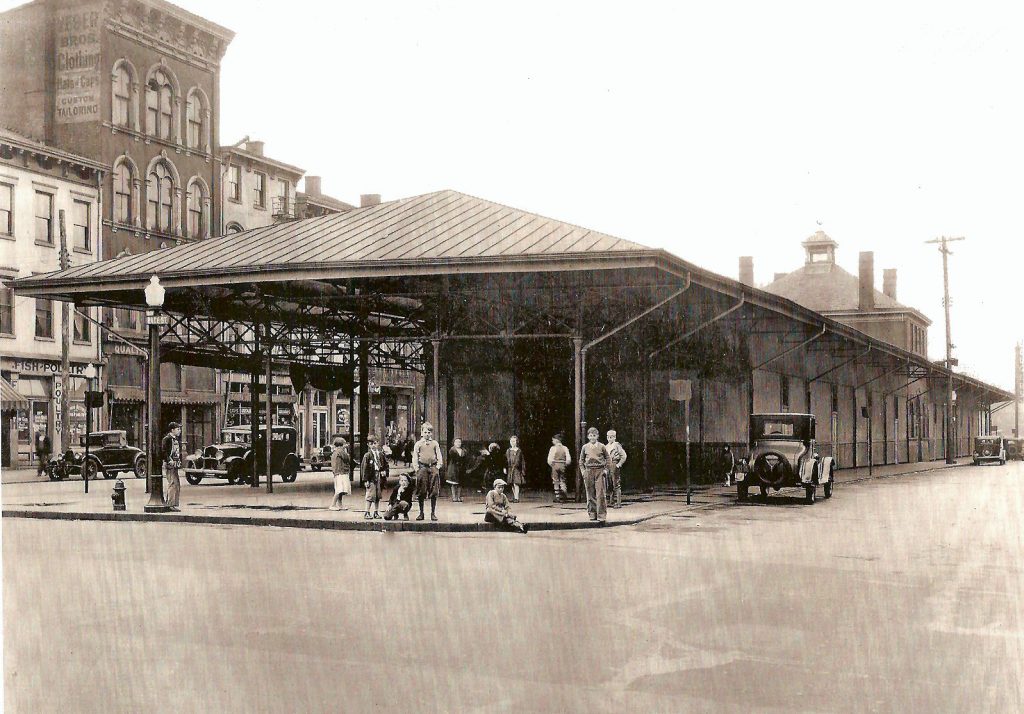 There Can Be Only One
Findlay Market is the last remaining public market in Cincinnati, surviving the demise of eight others on Canal (1829-64), Court (1864-1914), Sixth (1829-1960), Pearl (1804-1934), Wade (1848-98), and Fifth (1829-70) streets, the Jabez Elliott Flower Market (1890-1950), and Farmers Wholesale Market (c.1815-1967). Findlay Market is the oldest continuously operated public market in Ohio.
Hand-Me-Down Bell
When the old Pearl Street Market was razed in 1934, its antique tower bell was salvaged and installed at Findlay Market. The bell is rung on the morning of each market day.
Not Just for Shopping
Cincinnati's public markets offered more than food. They were popular venues for political meetings and served as polling sites during elections and rallying spots for volunteer militia during emergency musters.
City and Market Honor General Findlay
The market is named for James Findlay (1770-1835), who purchased a large plot of land in what was then unincorporated territory north of Cincinnati. Findlay was an early settler, pioneer merchant, two-time mayor, U.S. congressman, and general in the Ohio militia. During his service in the War of 1812, he built a military outpost named Fort Findlay in Hancock County, Ohio, and the city of Findlay grew up around it.
Old Tippecanoe & Findlay
William Henry Harrison campaigned for the U.S. presidency twice, unsuccessfully in 1836 and successfully in 1840. During his campaigns, he established headquarters in Cincinnati at the home of his good friends, James and Jane Findlay, on the east side of Broadway between Third and Fourth streets.
Remember the Ladies
Although Findlay Market also memorializes the general's wife, Jane Irwin Findlay (1769-1851), her biography does not appear on the historic marker at the intersection of Race and West Elder streets. It's likely that she had as much to do with creating Findlay Market as her esteemed husband. Construction on the market began almost immediately after her will was probated in 1852. Mrs. Findlay also had a brief but prominent role in U.S. history. After William Henry Harrison was elected president in 1840, his wife Anna was too ill to travel to Washington, D.C. Her place as acting First Lady was filled by Harrison's daughter-in-law, Jane Irwin Harrison, assisted by her aunt, Mrs. Findlay, who was then 73.
What Street?
Although early references call it the Findlay Street Market, the market is located, and always has been, in the middle of Elder Street. Findlay Street runs a block north of the market.
The Market Has Two Founding Dates
The cornerstone of Findlay Market was installed in October 1852. Construction dragged on for years because of disputes with contractors and difficulties with the new and unfamiliar all-iron design. The market didn't open for business until February 23, 1855.
Innovative Iron
The Findlay Market building was designed by Alfred West Gilbert (1816-1900), a civil engineer who was the city's official surveyor and a member of the Water Works board. Gilbert's open-air pavilion employed a durable but unconventional cast and wrought iron frame, with no walls. It was among the first buildings constructed in the U.S. with this method, and among the few that have survived.
Shop at Your Own Risk
For its first 60 years, Findlay Market was only an open-air shed, with no plumbing or electricity. Meat hung in the breeze, exposed to dust and flies. Market butchers stored meat in nearby brewery tunnels or relied on delivered ice. Renovations in 1902 and 1915 enclosed the structure and introduced water, refrigeration, and lighting.
Boss Cox's Racket
While running Cincinnati as his own private fiefdom, George Barnsdale Cox let no detail escape his clutches. He saw to it that his friends got great deals on Findlay Market stalls, which they could "sublet" to actual vendors at exorbitant rates.
Early Promotions
In connection with renovations in 1915, the Findlay Market Improvement Association ran several promotional events. In one, a brand-new $2 bill was hidden somewhere among market displays as a prize for the first shopper to find it. The Association also sponsored a redhead day at Chester Park.
Findlay Market Was Late to the Parade
Although Findlay Market is synonymous with Opening Day in Cincinnati, Greg Rhodes, team historian for the Reds, has documented that the parade preceded the market's involvement by at least 30 years. The Cincinnati Reds marked their initial home game with a parade between 1890 and 1902. When the team pulled out, booster clubs stepped in to run an annual parade. Findlay Market was not involved until 1920.
Butchers Only
Until the 1930s, only meat vendors were allowed to rent stalls inside the Findlay Market building. Everyone else—including vegetable dealers, purveyors of pickles and spices, the butter and egg men, and the fishmongers—were restricted to outdoor spaces.
Unhappy Centennial
In 1954, just after Findlay Market celebrated its 100th birthday, Cincinnati's City Planning Commission staff recommended demolishing the historic market and replacing it with "a modern shopping center with an adequate parking area in line with modern planning concepts."
An Erstwhile Municipal Utility
In 2004, the city transferred the market's management to the nonprofit Corporation for Findlay Market. For the previous 152 years, Findlay, like all other public markets in town, had been managed as a municipal service by Cincinnati's city government.
Necessary Renovation
Although Findlay Market has been upgraded, repaired, and restored on several occasions, the 1974 makeover was more urgent than some of the others. After the official reopening, marked by Governor John Gilligan cutting a ribbon of sausages, a reporter asked an architect if he had done anything to retain the place's old-fashioned flavor. "I developed some mechanical rats to run across the floor," the architect said, "to make the old folks feel at home."
Facebook Comments