Bold or delicate, alone or in multiples, these sculptural pendants double as functional task lighting and cool contemporary art.
1.Pyramid Scheme
Jessica Wolf creates custom stationery and small event favors, but intricate light fixtures are her other specialty. So is patience: For this piece, she cut, folded, and tied 372 individual paper pyramids to the 48 hanging strands suspended from the hand-constructed base.
2. String Theory
This lightweight sphere, which seems to float around its bulb, began with Dutch designer Bertjan Pot randomly wrapping epoxy-dipped fiberglass around a large balloon.
3. Pop Culture
It took approximately 130 cases of beer to create this folk art chandelier made of pop-top pulls. We'll call that drinking for a cause.
4. Black Magic
A no-nonsense matte-black finish contrasts with the warm golden glow, courtesy of a clever metallic interior.
5. Orange Crush
Color inside the (sleek, modern) lines. These brightly colored glass lights are hand-blown by artists in Poland.
6. Space Jam
The infant stages of space exploration affected earthly enterprise too: 1950s-era designers catered to society's interest in exploring the final frontier with their work.
7. New Age
It would be easy for a 22-sided pierced-metal figure to feel harsh. But some heavy burnishing adds depth and keeps things organic.
8. Mobile Plan
No age limit here. Play with the rotating arms of local designer Andrew Neyer's mobile light—the widths and tiers can be customized to your liking.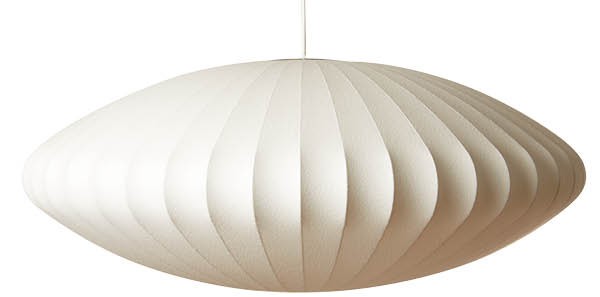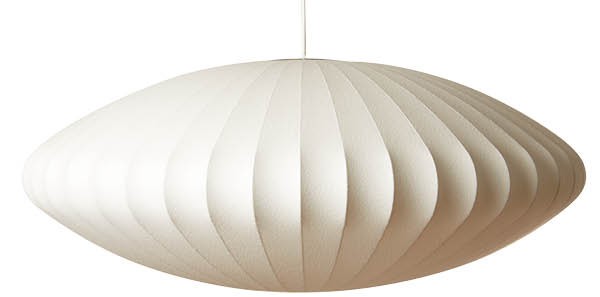 9. Hanging Saucer
Designed in 1947 and part of the Museum of Modern Art's permanent collection, Bubble Lamps are still handcrafted in Michigan using George Nelson's original design.
Originally published in the May 2015 issue.
Facebook Comments