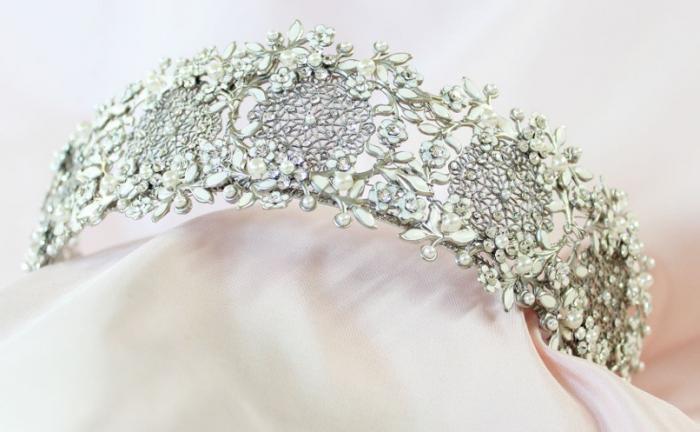 ---
On February 10, The CW will premiere the fourth and final season of Reign, a period drama about the young Mary Queen of Scots. If you're into Reign, and will be sorry to see it come to an end, then you'll be sorrier still to see the last of local designer Debra Moreland's incredible jewelry and hairpiece creations, which have been part of the show's lush costuming since the beginning.
You've probably seen Moreland's distinctive work in the pages of Cincinnati Wedding magazine and for sale at BHLDN—not to mention on plenty of local ladies, as her studio in Reading's Bridal & Formal boutique is a major destination for brides-to-be. If you're looking for a tiara, Moreland is the woman to see.
We spoke with Moreland about how she came to the show, what it's like designing for TV, and how she creates compelling period pieces (antler hair combs, anyone?).
---
Cincinnati Magazine: How did you get hooked up with Reign?
Debra Moreland: The costumer, Meredith Markworth-Pollack [recently nominated for the 2017 Canadian Screen Awards], used us for Hart of Dixie after one of the main actresses, Jamie King discovered our jewelry and really wanted to wear it on the show. When Meredith was working on the pilot for Reign, she brought us in. We've done about 100 pieces.
---
CM: Do you aim for historical accuracy? Or are the designs more about looking right for the show?
DM: I'm a big Game of Thrones person; even though that's a fantasy culture, it does have a lot of basis in historical cultures, like what metals people would have used. I have looked at different types of regalia for different eras, and mixed and matched. Some items are more period, and others are an interpretation. It's emotional. We had a piece in the line that I named "Maleficent" that totally went with the Queen's personality. It was more true to the era—it was an arched diadem piece.
I appreciate this show speaking to their audience, and what they would embrace. Think Mary-Queen-of-Scots-meets-90210.
---
CM: So you're designing for the character types?
DM: I did watch the show quite a bit in the very beginning to get the tenor of the personalities. There are a lot of young women in the show; Mary has a lot of ladies-in-waiting and they're all in various states of being romanced. They've had four weddings, so I've made hair ornaments, tiaras, wreaths, and veils.
The Catherine de' Medici character is not so nice. I made a rather pokey, antler-ey set of combs for her. It was pagan-ey. It went with her personality. That's the fun part, getting into the character and creating for that person.
The 16-episode final fourth season of Reign premieres on Feb 10 at 9 p.m. EST.
Facebook Comments