Photo by Christian Petersen/Getty Images
Cincinnati has a rich history of producing Olympians. Throughout the next two weeks, as athletes compete at the 2016 Olympic Games in Rio de Janeiro, we will be sharing the stories of Olympians from the Queen City.
On the day before 2007 World Outdoor Championships in Osaka, Japan, David Payne went to sleep in his Wyoming, Ohio home believing that he would not be running the 110 meter hurdles. After placing fourth at U.S. Trials, he thought for sure he'd missed his chance. At 3 AM, the phone rang. It was his agent that delivered the news. Finalist Dominique Arnold could no longer compete due to injury, which gave Payne a spot on Team USA. Suddenly, he had a second chance.
"I got out of bed at four, caught a plane at five, traveled 15 hours to Osaka, Japan, ran that day, made it to the finals, and got a medal," he says. "That's how I stepped onto the world track and field scene."
A standout at the University of Cincinnati, Payne left UC one statistics class short of earning his Bachelor of Science in Psychology, focusing instead on training for the Olympics. At the 2008 Olympic Trials in Eugene, Oregon, he advanced to the final round and found himself lined up next to more established hurdlers like Terrence Trammell and David Oliver. "These guys are world class athletes, Olympic medalists, and World medalists," says Payne. "I'm thinking, Man, I'm not gonna make it."
Gunfire.
The runners took off and Payne's negative mentality quickly shifted as he watched a competitor leap too high over the last hurdle and collapse to the ground. "At that point, my eyes get big and I don't even pay attention to anything else. As soon as I come off the last hurdle, I throw both my hands up and take my last five steps over the line like, I made the team."
And just like that, a year after receiving a phone call in the middle of the night to run in an international championship, Payne was headed to Beijing to represent the United States.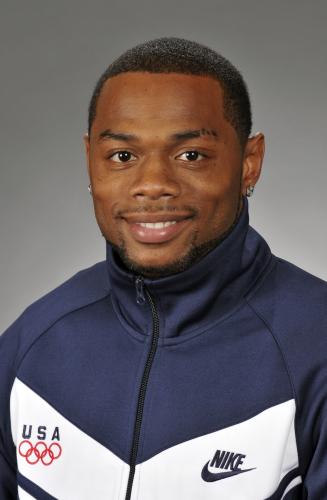 With two bronze medals under his belt and seemingly unaffected by jet lag, Payne was quickly and appropriately tagged as "Payne off the Plane," which gave him the reputation of getting off of airplanes and winning medals. "Now the pressure's on me to prove to the track and field world that the medal that I got last year getting off the plane was not a fluke," he says. "This is really supposed to happen."
The cameras, the people, the jacket embroidered with the Olympic rings and the letters USA—it all painted a surreal picture for Payne. But he refused to let any kind of distraction interfere with his goal. "When that gun went off, I was prepared," he says.
13.17 seconds later, Payne was officially an Olympic silver medalist. The cameras turned to him for his time in the spotlight, and in his post-win craze he ran up to the lens and flashed Cincinnati's area code, 513. "I thought to myself, there's only one real way that I can call out my city," he says. "I could throw up a couple of numbers and let everyone know that I'm thinking about them. Our city is amazing."
"He didn't have the easiest path to become an Olympian," says Payne's coach Brandon Hon, referring to his lack of endorsements and athletic contracts after leaving college. "He just went on, setting high goals and reaching them." That includes fighting back after what should have been a career-ending injury.
In a 2013 Diamond League Race in Lausanne, Switzerland, Payne over-extended his lean into the finish line while his momentum was still catching up with his body. His femur separated from his hip. "I didn't understand what was going on," Payne says as he tries to recall what it felt like to watch his lower half fail beneath him.
"The crowd was extremely loud but I couldn't hear anything," he says. He only remembers feeling crushed as he was rolled away from the track on a stretcher. "At that point, I promised myself that I was going to come back."
About a month later, Payne returned home with a titanium rod in his leg, connecting his right hip to his knee. Not only did the Olympic silver medalist have to relearn to race, he had to learn how to walk again. Walking eventually turned into a jog, which became a run, which eventually led to Payne's first hurdle since his injury. "My form was completely gone," he says. "But I was so happy because I knew at that point that I was going to run again, and nobody could stop me."
Today, the 33-year-old athlete is back in shape with sights set on new goals. He returned to UC to complete his degree and continues to compete in track and field professionally. He has also privately trained many young athletes, encouraging them to follow their dreams. That was the case for North College Hill High School student Jazmin Smith, a pupil of Payne's who won the DII Ohio state championship in the 100-meter hurdles as a junior in 2014. "He made her feel like she could go to the Olympics herself," says Jazmin's mother, Feliz. "He instantly became one of her biggest fans." Jazmin now runs track at Ball State University and still gives Payne a call if she needs some words of wisdom.
"Even though he was my trainer, he became more like an uncle or a brother because he watches over me," says Jazmin.
After failing to qualify for the Olympics in 2012 and 2016, Payne has his heart set on collegiate coaching. He's currently a volunteer coach at UC and hopes to become a permanent staff member in the near future. "I see myself in the sports world somewhere," he says. With his degree in psychology, he's open to any opportunity to work with athletes, possibly as a school counselor for athletes or a head coach. "Anything that helps me pass on my knowledge to the up and coming and get them geared for the next step in life."
Facebook Comments