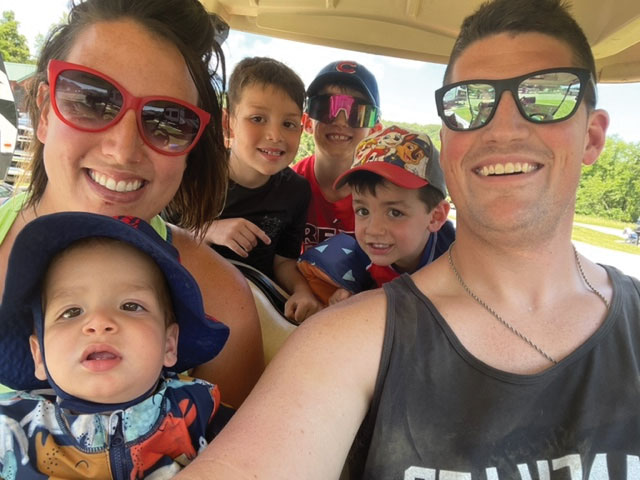 When I first started packing for a camping trip with four sons under age 7 (below), to leave for 48 hours total, it took five days. There were meals to plan, multiple changes of clothes and contingencies for each based on weather, and four sets of rain boots, creeking sandals, various sizes of diapers, and endless other items. It felt like work upon work, just to work some more at the campsite. Then, I watched as I finally landed in a lawn chair a few hours after setting up our camper—the oldest started teaching the toddler how to ride a bike with his legs sticking out, just because. My iPad-obsessed 5-year-old started catching and examining bugs with his microscope. It all became worth it.
From there, five years later, the packing process has been streamlined down to a simple process and the benefits far outweigh the workload. We've learned a few lessons along the way, but each camping trip comes with a few more. Here's what parents need to know before they embark on a camping adventure with their kids.
Figure out what you need, then double it.
At home, on an average weekend, my kids would go through a gallon of milk, two full changes of clothes, and probably lose a baseball in the gutter. Something about moving everything to the great outdoors makes for thirstier, messier, more forgetful kids. Now, I'm literally packing double what I used to think they'd need. Then, when the 1-year-old who hasn't yet figured out walking wants to crawl around the campsite in any conditions, I just change him, throw the muddy stuff in a bag for washing later, and move on. This means that a two-day trip necessitates four pairs of pants, four shorts, four socks, times four kids. Some major laundry happens when we're back.
Prepare for the big questions.
Trail walks and starry nights bring out the inspiration for kids as much as they do for adults. Get ready for the big conversations to happen—"How do people-moms lay eggs?"—as we pass a bird's nest near the camp store. "Why don't stars fall to the ground," during campfires and smores. And the most classic to date, "Why can't we just live in the camper forever?" will all keep any parent on their toes between grilling burgers and bandaging skinned knees. But those conversations are a product of the different environment, and offer a welcome opportunity for connecting with and learning about nature.
Involve them in the workload.
Camping is no easy feat, and part of the learning happens when tent-camping kids realize they have to walk a quarter-mile to wash a dish, or to actually build a fire even if it just rained. Our first inclination was to do the work for them so they could have an enjoyable time, but it became quickly obvious that not only is that unsustainable, but that the best lessons are in sometimes tedious or job-like tasks, such as taking care of your campsite, as you'd take care of the Earth.
Asking kids questions like, "Well, what should we pack for our hike in the woods?" inspires their creativity and involves them in the process, and that buy-in creates serious interest in the activity. It also makes it totally not my fault when they brought the wrong mid-hike snack.
Stay close and don't be above Friday takeout.
When you finish up a long Friday workday just to begin packing up to camp for only two days, some things have to fall below the line. So, to make quick camping trips sustainable, we've developed two rules—stay within a 2-hour radius for two-day trips, and Friday takeout. Yes, that means on Friday we roll into a new campground with our favorite Thai food or a pile of Chick-fil-A nuggets rather than trying to watch four kids in a new setting, get the camper set up, and make bunk beds with hungry kids.
These hacks make parenting and camping much more enjoyable, and hopefully are becoming traditions our kids will want to continue well into their teens, and maybe with their own kids one day.
Facebook Comments