Photographs courtesy Chris Farr, The First Showing, LLC
574 Burch Ave., Hyde Park, $695,000
The neighbors have dubbed it "Ivy Manor," and it's easy to see why. According to Coldwell Banker agent Kathie Currier, the owner adored the vine covered Victorians he saw in England so much, he encouraged ivy to ramble up his own 145-year-old brick home in Hyde Park.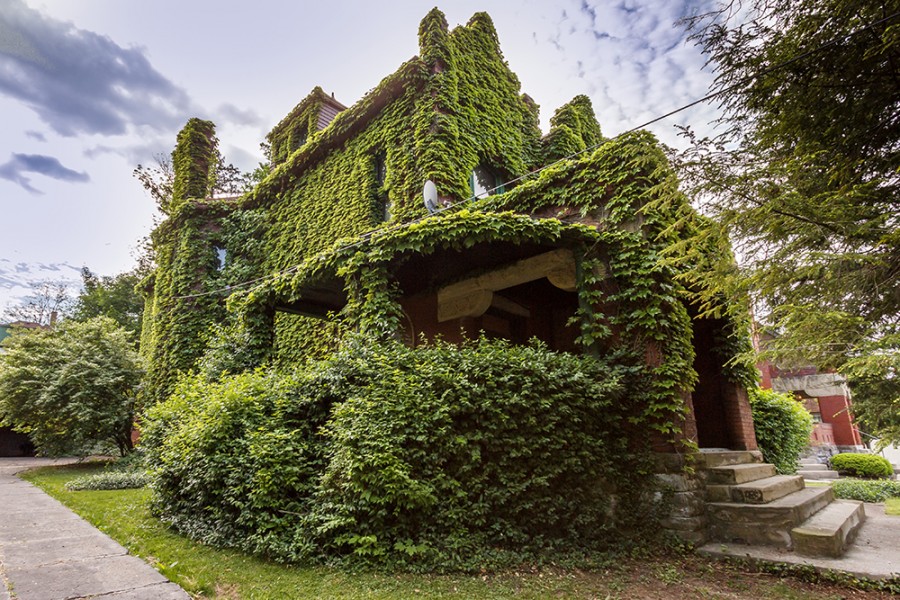 Inside, Anglophiles will appreciate the Lincrusta wall covering—a heavily embossed wallpaper manufactured in Manchester, England—that can be found in the entrance hall, living room, stairway, and loft. "It gets tougher over time as it dries," says Currier, who notes that it has also been used at Buckingham Palace and the White House.
Wallpaper manufacturer William Voight built the house, located near the corner of Madison Road, in 1870. He also built its mirror image next door at 3570 Burch, for his sisters-in-law. "We've imagined the sisters talking to each other from their front porches," says Carol Schoellkopf, who with her husband, Robert, is selling the home they've owned for 45 years. They've added a dining room chandelier rescued from the Alms Hotel before its demolition (the living room's chandelier is original to the home), a tooled leather ceiling in the dining room, and a stained glass ceiling from the former Girls Town convent in Finneytown.
The Schellkopfs, who have twelve original blueprints of the home, are only the fourth owners in 145 years. The second owners, Wilfred and Grace Rush added their own historical footnote when Grace launched her eponymous fruitcake company in the house's basement, before moving it to the building that now houses the Duck Creek Antique Mall. Lincrusta can be painted and fabric wall coverings taken down, but the provenance of 3574 Burch will always be embedded in its glass. Says Currier, "The stained glass transom in the living room contains a portrait of Voight's daughter."
Facebook Comments