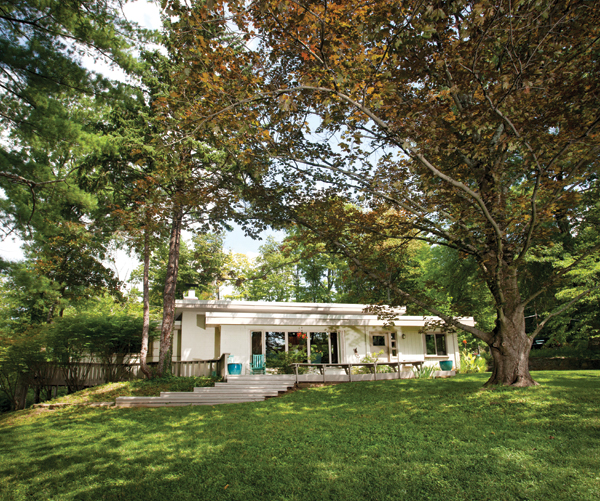 Photograph by Aaron M. Conway
When it comes to being green, Kermit the Frog has nothing on Cincinnati Zoo Director Thayne Maynard and his wife, Kathleen. Their mod cabin-style home, built in 1953 and located on a 230-acre hunting-lodge-turned-nature-preserve called the Hermitage Club, was the couple's first official "empty nest," purchased in 2007 when the youngest Maynard child graduated from high school.
After moving in, the Maynards discovered that the home was far from energy efficient; heating bills were upwards of $350 per month most winters. At first, "I thought, What could one person do?" says Kathleen. But when the couple's oil furnace died, they switched to propane—and their heating bills lowered considerably.
Encouraged, the Maynards then added insulation to the home's roof and replaced every window. They also switched to a tankless water heater, and ditched the air conditioning unit for an electric heat pump. "This year," says Kathleen, "I spent $330 on propane on October 12th. It's July and I still have 30 percent of that first tank left."
Savings are nice, admits Kathleen, but she and her husband set out to lessen their home's energy usage to "make an intentional effort to honor and sustain our resources. I want everybody to know that the zoo director lives the way he works."
In fact, green living has proved so satisfying the Maynards have decided to take it one step further; at press time the sale of their home, listed at $250,000, was pending, and the couple was in search of new digs, preferably within biking distance to the Zoo. Kathleen's already planning:  This time, she says with a twinkle in her eye, "I want geothermal and solar."
Originally published in the October 2013 issue
Facebook Comments