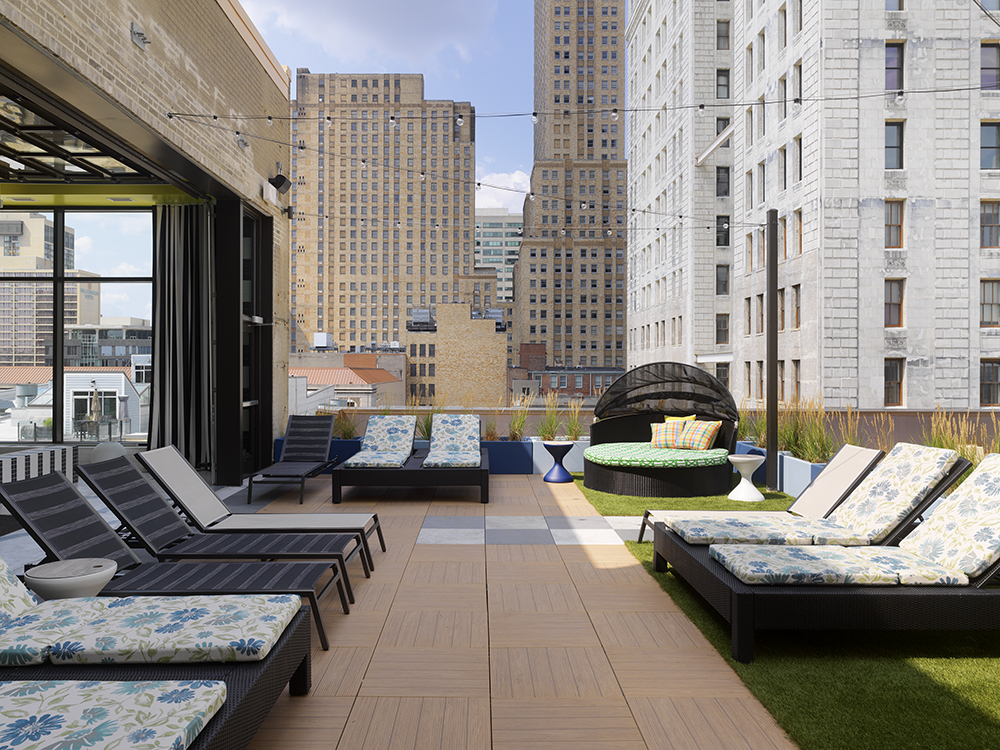 Greater Cincinnati's real estate options might be tight right now, but as apartments downtown go, it's a renter's market—and there are more condos in the CBD than ever before. Property managers are building shock-and-awe amenities packages like private theaters, electric car plug-ins, and on-site "dog parks." The rents and list prices themselves are on the high end downtown, but standard—or even low—for most markets of our size. And here's the greatest leap for apartments and condos in the last decade or so: Former bonuses like terraces, parking, WiFi lounges, 24-hour fitness rooms and in-unit washers, dryers, and dishwashers? All that stuff is now part of the basic package of living in one of downtown's new high-rises. Whether we have Over-the-Rhine to thank or not (spoiler alert: we probably do), Cincinnati's CBD has traded up in a big way, and it's the residents who win.
Eight One Three
813 Broadway St.| eightonethreecondos.com | Condos | $255,000–$445,000
This Italianate building has the distinctive look of Over-the-Rhine without the weekend crowds. And because it is a refurbished former factory, each of the 16 units has its own unique layout and personality—but they all have the historic features that characterize OTR, such as exposed brick, tall, arched windows, and very high ceilings. Located in downtown's northeastern corner, the four-story property has a direct view of the gloriously gilded, Samuel Hannaford & Sons–designed Cincinnati Times-Star building, which has urban Art Deco features straight out of Gotham City.
That building now functions as the Hamilton County Court of Domestic Relations, a.k.a. domestic violence court, et al. That isn't an ideal neighbor, but at least it has curb appeal. Ready for occupancy starting mid-2018, Eight One Three was a real estate upgrade (with a 10-year tax abatement, no less) for the relatively quiet block, which also includes the soon-to-be-completed Crane Factory Flats across the street and a cluster of design agencies. As for convenience, Eight One Three has a fenced lot with deeded parking—that is, you own your parking spot as part of your property. And if you're really into your car, you can buy the single unit with an attached garage space and separate entrance. Call it a Bat Cave.
Encore Urban Living
716 Sycamore St.| naproperties.com | Apartments | $1,595–$3,695
You know this building, or maybe you've puzzled over it from the sidewalk. It's the one with the siding that shifts color with the changing light, from gold to brown to green to yellow and back again (it's called KolorShift, an iridescent metal coating). That might seem gimmicky at first, but it catches your attention, and it's memorable. It hints at big thinking, and the good news is that the inside is worth the hype. The first thing you'll notice about these apartments is the natural light, which floods the entire space through floor-to-ceiling windows. Then you'll gape at the view, which—thanks to the 17-story building's 360-degree prospect—could look out over the downtown basin to the west, the uptown hills to the north, Mt. Adams to the east, or the city skyline to the south.
The interior design is minimalist, with exposed concrete corner pillars, contemporary fixtures, and lots of white. Built in 2017, ENCORE is part of the St. Xavier Park group of buildings that hug the eastern corners of Sycamore and Seventh Streets. Its top amenity is a sixth-floor outdoor heated saltwater pool with its own panoramic views. In short, downtown just looks better with ENCORE, inside and out.
The Gramercy On Garfield
135 Garfield Pl. | gramercyongarfield.com | Apartments | $876–$1,973
This Garfield Place apartment building is by no means new—in fact, The Gramercy and its red brick, teal-awning twin The Greenwich have been holding court over Garfield Place since the mid-1990s. But the management team at DownTowne Living (the CBD arm of Towne Properties) has big plans. Over the next two years or so, expect a top-to-bottom renovation of the buildings' interiors, bringing them up to speed with the rest of our market's impressive offerings. When they were built, The Gramercy and Greenwich represented a new standard of downtown rentals and the current management is keen to keep the reputation intact and not be left behind by our crop of fancy new high-rises. To wit: The plan is to overhaul most of the company's downtown holdings, including The Lofts at Shillito Place. With their shared color schemes, it's easy to confuse Gramercy with Greenwich; an important difference is that The Gramercy has a beautiful pool and a third-floor outdoor courtyard, which are available to all residents in the three aforementioned buildings. And at least for now (that is, pre-renovation), Gramercy is also one of the CBD's better values, as a rare property with monthly rental options under $1,000.
City Club
1309 Vine St. | cityclubapartments.com | Apartments | $1,100–$3,200
These rentals are not for the faint of heart—or the minimalist of taste. In fact, this is likely the most designed apartment building in the city. Housed in the opulent former Union Central Life Insurance Company building on the site of the historic Burnet House hotel (Lincoln gave a speech from its balcony in 1861), the entryway has a gilded vibe—gold coffered ceilings, big ol' mirrors, etc.—to which City Club house designers added an Anthropologie-style filter that is equal parts whimsical and glam.
Look for butterfly-printed glass partitions, assertively patterned furniture, and a very fabulous indoor-outdoor spa with a black-and-white striped pool. The amenities list goes on: a 10th-floor "Sky Club" with bar, fire pit, and ballpark views; an 11th-floor "Sky Park" with gourmet kitchen, grills, and lounge seating; a private movie theater; 24/7 concierge service; and "sexy" bathrooms (with rain-shower heads and extra-large bathtubs). Apartments range from a three-bedroom spread down to a 400-square-foot "nano" unit, with a built-in Murphy bed and chaise—the kind of place you'd rent if you planned on shuttling between work and the pool. And there's more: A planned 10th floor restaurant with rooftop seating, ground-level café and wine bar, market, and dry cleaner, all of which will be open to the public. Whether or not quirky luxury is your personal style, City Club raises this city's apartment game.
AT580
580 Walnut St. | cincinnati580.com | Apartments | $1,525–$4,495
If it's a central location you're after, you can't get much more in the mix than with this building, which is across the street from the Aronoff Center for the Arts, kitty-corner to the Contemporary Arts Center, smack between the northbound and southbound streetcar routes, and steps away from most of downtown's major office buildings. Set up in a glass-plated high-rise directly above mixed-use commercial space and its own parking garage, AT580 opened 179 luxury apartments in 2016 in the former Great American Insurance offices after that company decamped for its showpiece headquarters building in 2013. And it is comfy: With a terrace, 24-hour fitness facility, rooftop dog park, electric car plug-ins, private elevators, and even a daily breakfast bar, AT580 feels more like a high-end hotel than a residence. There's also a full catering kitchen in the clubhouse, where you could host a very excellent party. But our favorite perk is the rentable guest suite for out-of-towners. At $125 a night for a one-bedroom, one-bath unit within earshot of local destinations like Boca and 21c Museum Hotel (hello free 24-hour contemporary art museum), it's a better value than any AirBnB—and your mother-in-law will thank you.
Seven at Broadway
345 E. Seventh St. | sevenatbroadway.com | Apartments | $1,395–$4,145
This modular glass-enclosed building on the eastern edge of downtown is part of the St. Xavier Park apartments (see also: downtown's Sycamore Place Lofts and East 8 Lofts), and predates ENCORE by about three years. You may have noticed its construction from I-71, its northeastern corner slowly rising, block by off-center block. At 111 units, it's slightly smaller compared to ENCORE's 133.
Inside you'll find many of the same features and amenities as its color-changing sister building: wall-sized windows, clean interior design, spectacular city views, 24-hour fitness facilities—plus a sprawling rooftop terrace. Seven at Broadway residents can also use ENCORE's pool, and vice-versa with the terrace, as management continues to combine its separate structures into one amenity-filled campus. Coming soon is a private, tenant-only park between ENCORE and St. Xavier Park headquarters on Sycamore Street. Thanks to immediate proximity to the interstate, the St. Xavier Park buildings are particularly attractive to reverse-commuters: folks who don't work in the CBD, but still want to set up house there—a major reversal in Cincinnati's downtown living trends. Since the buildings are so similar and share so many features, we'd find it impossible to choose. No matter, though: We'd simply split time between the pool and the roof.
The Derby on Plum
411 Plum St. | thederbyonplum.com | Condos | $348,740–$797,940
This tidy corner building has remained an inconspicuous gem in downtown's southwestern quarter since its construction in 1863. Designed by local architect Samuel Hannaford (of Music Hall and City Hall fame) as the M.H. Derby Building, The Derby on Plum condo project will complete renovations in late 2018 or early 2019 (possibly ready for hard-hat tours this fall), with six flats in the Derby building itself and three attached townhomes. The project includes the one-story building immediately to the north, which will be connected to the Derby by a small courtyard and a secure, covered walkway, and adds a parking garage and townhome-style condos with street-level entrances (a unique residential setup downtown). Bonus: The flats are Silver LEED Certified and the townhomes are Gold LEED Certified, with 10- and 15-year tax abatements, respectively. The property sits quietly in the shadow of the Duke Energy Convention Center's salvaged Albee Theater archway—a large-scale reminder that Cincinnati likes to save and show off its history whenever possible. The Derby on Plum is a perfect example of this: The conversion of two disused buildings into high-end condos for downtown residents looking for a place with character and staying power.
The Dominion
808 Elm St. | facebook.com/DominionCondos | Condos | $300,000–$450,000
Despite its imposing name, this simple two-story white building hiding in plain sight on the 800 block of Elm Street has just six one- and two-bedroom condos on offer, making it the smallest property on our list. The interior styling should be pretty familiar by now: Hardwood flooring; exposed brick walls, wooden beams, and utilities; and large windows. Some units also have built-in shelves, walk-in showers, patios, and 14-foot ceilings. The powers-that-be at Titan Real Estate Group, which handled the 1880 building's development and 2017 construction (and current management) are courting buyers with perks like 10-year tax abatements and a year of pre-paid parking. But maybe the best part about this residence is how comparatively quiet its location is. Downtown has developed its own little "neighborhoods," each characterized by a destination or two. City Hall is Dominion's closest big-deal neighbor, but even that is a few blocks off and has a tame 9–5 vibe. Mostly, Dominion is just a snazzy urban home on a leafy street. There's plenty of construction in other areas of the CBD, leaving the blocks surrounding these condos relatively quiet—and in this case at least, that's probably a good thing.
Crane Factory Flats
824 Broadway St. | cranefactoryflats.com | Apartments | $1,185–$3,170
If you've been in this building before, congrats: You've done your civic duty. The Hamilton County Board of Elections occupied the large space until its recent move to downtown Norwood. Built in 1914, the former Crane Hawley factory (which made plumbing parts) was developed as 69 rental units, with construction scheduled to be complete this month. And as far as style and personality go, this is the apartment building the CBD has been waiting for. Choose from lofts, one- or two- bedrooms, or townhouses (two-story living in an apartment with "flats" in the name is a fun surprise). Promised amenities include the requisite rooftop terrace with 360-degree city views, plus upgraded perks like on-site parking, a bike storage room, a pet washing station, and a communal space with a living green wall from Urban Blooms. In designing the interior, owner Rookwood Properties sought to blend the building's industrial history with contemporary elements. The exterior they left mostly intact, save for cosmetic improvements and new windows. They also use salvaged artifacts like old factory gears and signs as art pieces throughout, just in case you forgot you were living in a special place with a history all its own.
The Renaissance at the Power Building
224 E. Eighth St. | renaissancecinci.com | Apartments | $1,200–$2,700
Another Towne properties facility is The Renaissance at the Power Building. But this one is across town on East Eighth Street and has its own distinct personality (plus a few commercial tenants like the excellent Silverglades Deli, which operates right downstairs). Housed in an abandoned former textile factory that was constructed in 1903, the building was gutted and fully renovated in 2002, with Towne Properties taking over management in 2016. The interiors of the Renaissance's 117 rental units are more current than those of Shillito, Gramercy, and Greenwich, but it will get a nice makeover in the coming years as part of that grand reno plan—mostly cosmetic changes like subbing roller shades for vertical blinds (the tall windows are a huge selling point) and upgrading finishes and fixtures. The amenities package is standard stuff for a building of this caliber (24-hour fitness room, clubhouse with WiFi, business center, walk-in closets), but it's the rooftop courtyard that caught our eye, with its 360-degree view and a perfect look at the southern skyline. You're not on top of the world like some other buildings—the Power Building is 10 stories—but you're right in the middle of your city.
The Reserve at Fourth and Race
105 W. Fourth St. | thereservecincinnati.com | Apartments | $1,250–$3,000
Even though it has only operated as an apartment building since 2012, The Reserve feels like classic Cincinnati. Maybe that's because of the elegant setting: Built in 1927, it shares living space with Stockyards Bank, probably the world's classiest-looking bank branch, with its wood-paneled walls, sky-high windows, ornate coffered ceilings, and 1930 Herman Wessel murals. There's also the fact that, until 1977, the building served as the Federal Reserve. Finally, those oversized exterior sconces hanging over practically a whole block of Fourth Street are landmarks themselves.
Covington-based Hub + Weber Architects handled the renovation, design, and conversion into 88 residential units, adding an impressive rooftop terrace with an in-your-face view of Carew Tower, and preserving as many of the historic features as possible, including the metal grates, wood doors and paneling (featured inside some units, too; see above), stone hallways, plaster ceiling details, elevators, and light fixtures. And they did right by the building, winning the 2013 Rehab Award from the Cincinnati Preservation Association. Its front yard view will change significantly once 3CDC completes construction on a planned apartment building (to replace the demolished Pogue's parking garage: see page 45). But The Reserve—and those impressive porch lights—will hopefully be permanent downtown fixtures.
Radius at the Banks
44 West Freedom Way | radiuscincy.com | Apartments | $1,399–$2,994
Radius is both of the city and outside of it. For example, you have unique view options: If you want to see downtown's photogenic south side, you need to live at The Banks or in Kentucky. But Radius also offers Ohio River views, from the Licking River and the Roebling Suspension Bridge, across to the distant Kentucky hills and over past Paul Brown Stadium (there are courtyard pool views, too). Sandwiched between Ft. Washington Way and Smale Riverfront Park to the north and south and the GE Corporate building and Paul Brown to the east and west, Radius is a 292-unit horseshoe-shaped oasis in one of downtown's busiest districts. Speaking of, don't worry about parking during Bengals games: Radius has its own lot and reserved spaces in the public lots, too. Nashville-based Nicol Investment controls The Banks, including Current At The Banks and the large parking lot just south of Radius (destiny unknown). Nicol also partners with tenant businesses to offer discounts that keep resident happy hours on the right side of the highway. And that guest suite perk we love so much? Radius has five on offer, from $125 to $175 a night, including parking.
Facebook Comments