Richard Schilling and his brothers built themselves up from door-to-door egg salesmen into larger-than-life restaurant and nightclub magnates (among other establishments, the family owned the Beverly Hills Supper Club in Southgate). Schilling's former Villa Hills home is larger-than-life, too. "He never built anything small," says his son, Scott, who notes that his parents, now deceased, built this 16,000-square-foot home when they were 70 years old. Scott's mother, Marie Theresa, had been in charge of decorating Schilling's restaurants and nightclubs. "My mother wanted a home and my father wanted a new restaurant, so she said he built a home as big as a restaurant," he says. The white pillared manse with black awnings is on the market today for $975,000.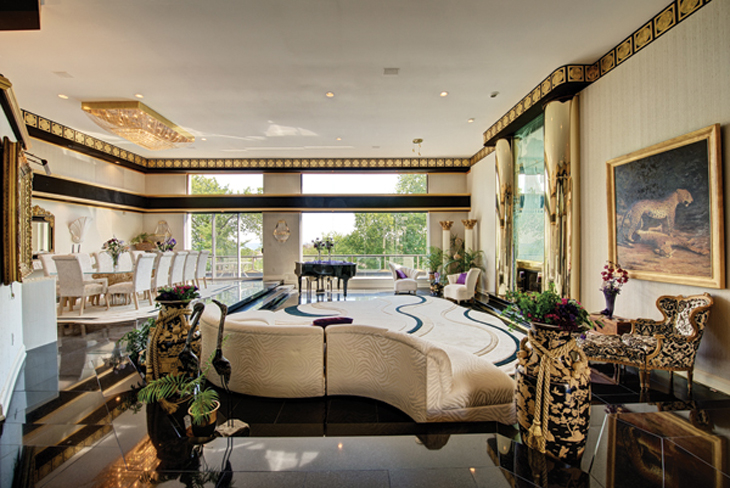 Tucked back in the otherwise unassuming Ria Vista Estates subdivision, the house is decorated in trademark Schilling style: a huge sunken living room offers spectacular views of the river and Western Hills; a king-sized bed sits on a stage-like pedestal in the master suite ("My father always put my mother on a pedestal," says Scott); and—the piece de resistance—an 18-karat-gold-overlay powder room sink steals the show with its matching swan-head faucet.
Successful entrepreneurs never let much go to waste; Schilling, who came of age during the Great Depression, was no exception. The brick on the driveway and the basement carpet were both left over from restaurant projects, and the marble panels surrounding the courtyard pool were salvaged from Cincinnati's convention center. "My father was there during the 1990s [renovations]," Scott says. "Guys were taking sledgehammers to it. My father said: 'I'll show you how to remove it without breaking it.' " Schilling later bought over a hundred pieces of that marble for $5 each. Just one more successful deal for this businessman.
Facebook Comments