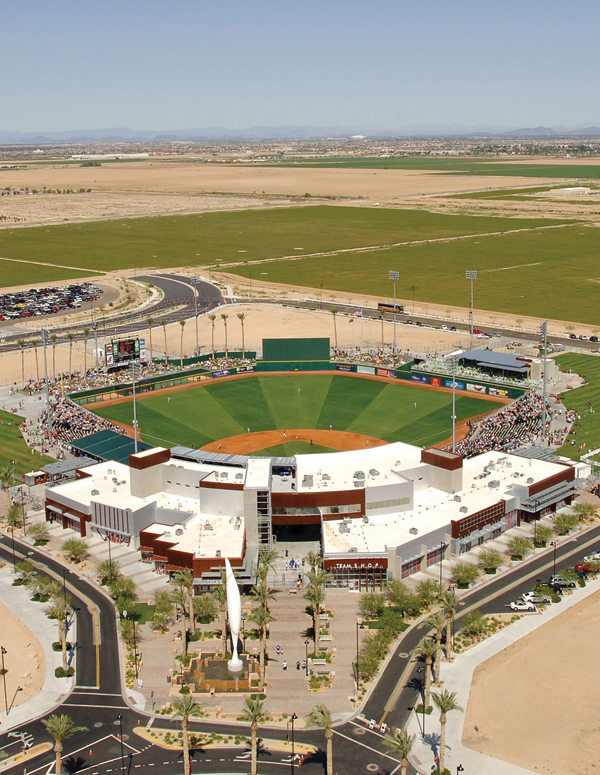 Photograph courtesy Goodyear Ballpark
When the Reds packed up the bats and Gapper's giant jersey for the move to a new spring training facility in Goodyear, Arizona, back in 2010, some fans cried foul: "It's too far away!" Others shrugged: "Baseball in the desert? Meh." And a dedicated few had a different gripe: "But my grandma lives in Sarasota! Where will I stay for free?"
Three years later, there are still some holdouts who can't fathom the preseason without the sandy beaches and gulf breezes of Central Florida. But as a former 'Zonie and proud Cincinnatian, I can confidently say that the beautiful surroundings and warm, dry weather (average March rainfall for nearby Phoenix is a solitary inch) are only the beginning of what's great about Goodyear. To anyone left who is still pining for the old days, let me tell you: Spring baseball in the Grand Canyon State is a wonderful thing.
Where to Stay
Situated in suburbia (imagine West Chester retiring from its hustle and bustle and becoming an active adult community), Goodyear is about 25 minutes west of downtown Phoenix. Want to stay close to the ballpark? Choose from any of a number of affordable chain motels or splurge on The Wigwam ($300 per night), a historic resort in nearby Litchfield Park. The 80-year-old property has a real Southwestern feel, with its adobe and timber casitas and landscaping that features both palm trees and cacti.
If you don't mind a half-hour drive to the games each day, the Clarendon Hotel downtown (under $200 per night) offers chic lodging—we love the pool's colorful tiles—that's close to nightlife options and walking distance to Phoenix's Valley Metro light rail lines. Traffic can be a little gnarly on the freeways, so factor in a little extra time to get from A to B.
The Games
Goodyear Ballpark is shared by the Reds and Cleveland Indians. There's a lot to see and eat at the 10,000-seat park—including a Skyline Chili stand—so show up early. (Don't forget the sunscreen and bottled water. It really is a dry heat!)
With beautiful mountain views, you may get distracted from what's happening on the field, but you will see stars like Brandon Phillips, Jay Bruce, and Bronson Arroyo play at least a few innings.
Goodyear juxtaposes major league talent in a minor league setting: there's not a bad seat in the entire place, but you can still catch a fly ball off Joey Votto's bat.
There are 15 teams in the Cactus League, and all of them are based in the Phoenix metro area. That makes it easy to see other ball clubs, including the Chicago Cubs, Milwaukee Brewers, and San Francisco Giants. You can catch the Redlegs in Goodyear or follow them to away games in Mesa, Scottsdale, Tempe, and downtown Phoenix. The Cactus League website has a trip planner that you can use to create your itinerary.
Eat & Drink
Nothing beats a ballpark hot dog, but for those with an appetite for something a little less tube-shaped, The Parlor Pizzeria has outstanding wood-fired pizzas topped with house-made sausage and cheeses. In case you doubt, Food Network Magazine dubbed this the best pizza in Arizona in 2011.  Go classic (the pepperoni, mozzarella, and basil is to die for) or off the beaten path (the Yukon Gold sports potatoes, pancetta, leeks, and gorgonzola), and wash it all down with a cool craft cocktail or draft microbrew.
For breakfast, skip the trendy spots with hour-long waits and head to The Good Egg. With 15 locations in the Phoenix area, there's sure to be one nearby. Plus, their omelettes and pancakes are just as good without the hipster hype.
A visit to Arizona wouldn't be complete without a stop for some great Mexican food. It's hard to go wrong—a good taco can be found just about anywhere —but Macayo's, a family-owned chain of restaurants with several locations throughout greater Phoenix, is a good bet.
Stuff to Do
When you're not rooting on the Reds, lace up your hiking shoes and hit the trails: South Mountain Park has great views and is only about 10 minutes away from the airport. The Kiwanis Trail will give you an introduction to desert mountain hiking.
If the kids need to burn off some energy before heading to the game, Avondale Friendship Park is located just a few minutes from the ballpark and has playgrounds, picnic areas, walking paths, and tennis courts—and a Japanese garden, for a little quiet time. Phoenix is known as a golfer's paradise, and there are plenty of courses to play in the area, including TPC Scottsdale, home of the Waste Management Phoenix Open. (That's the tournament where the 16th hole is called "The Coliseum," and the spectators hoot and holler like it's a football game.)
Have an extra day on your hands? Head an hour and a half down I-10 to Tucson. Take an afternoon to hike Sabino Canyon, in the eastern foothills of the Santa Catalina Mountain range. Exercise your shopping muscles at La Encantada, where you can find everything from Crate & Barrel to Victoria's Secret, then rest your legs with a margarita and a dinner of carne seca—Angus beef that's been dried, marinated, and grilled—at El Charro, which has been serving up this specialty since 1922.
Before you head out on the last plane to Cincinnati, breathe in the desert air and take a mental picture of the mountains dotted with Saguaro cactus. It's not Sarasota, but you might like it that way.
Cleveland transplant and current Phoenician Heather Hudson contributed to this story.
Originally published in the February 2013 issue
Facebook Comments