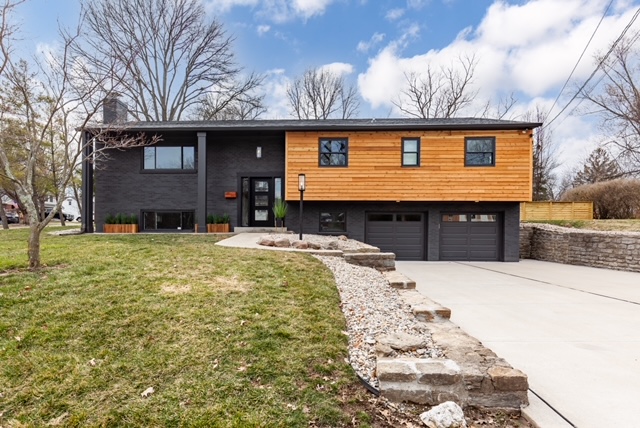 We've all perused real estate listings that look like this Meadowdale Circle house did in a previous life. But how many have we seen with a glow up this good? Current owner Melissa Acklen and her husband Johnny moved from L.A. and started their company, Oakmoss Property Group, last fall. "I am from Los Angeles and have always had a love of architecture, real estate, and interior design," says Melissa. "I remember going to open houses with my mom as a little girl and talking about all the improvements I'd do to make it my 'dream home.' "
We talked to Melissa to learn more about this modern makeover and how the duo brought their talents from L.A. to the Queen City.
Tell me about the Meadowdale Circle project.
Our Meadowdale project was really exciting for us because we were able to take a very, very dated house and turn it into a gorgeous, updated home that has all the amenities for modern living. It was a huge before-and-after transformation. We didn't leave a stone unturned. Open floor plan, two huge living spaces, a mud-slash-laundry room, home office, [and] refinished original flooring all make for the perfect home for living in 2021.
These are such bold design choices and exterior choices for the suburbs. How did you decide to go for it?
As someone who grew up in a big city, I always felt that the suburbs didn't need to be "boring" and lose that pizzazz that city homes are designed with. I've seen a huge shift in friends and family's mindsets over the past year in moving to the suburbs to gain more outdoor space [and] a home office, and I don't think you should have to sacrifice design and excitement in your home by moving away from the city. The suburbs can be just as exciting—or more—as the city!
What is your favorite room in the home?
My favorite room is the kitchen, dining, and living space. We took down a wall that enclosed a cramped, dated kitchen. [That] created a beautiful open living space. It's perfect for entertaining and is flooded with gorgeous natural sunlight. Custom cabinetry, quartz countertops, and Bosch appliances make this a dream kitchen for anyone.
Where do you pull inspiration from?
I am definitely a Pinterest fiend and find so much inspiration there. I have also curated a list of incredible interior designers I follow on Instagram who give me ideas and challenge my creativity with spaces. I wanted the design to be bold and exciting for this property, but I also wanted to do it in a delicate manner so we could appeal to the greatest [number] of buyers.
Click through our gallery to view more photos (by Brenna Smith) of this home:
Facebook Comments