3631 Russell Ave., Mt. Lookout
When you imagine a quintessential Mt. Lookout home, a three-story with a set of garage doors and a lengthy staircase probably comes to mind. But this version takes the cake. Full of charming details, from window boxes fluffed with flowers to the third-floor balcony and adorable front porch, the home is perfectly welcoming.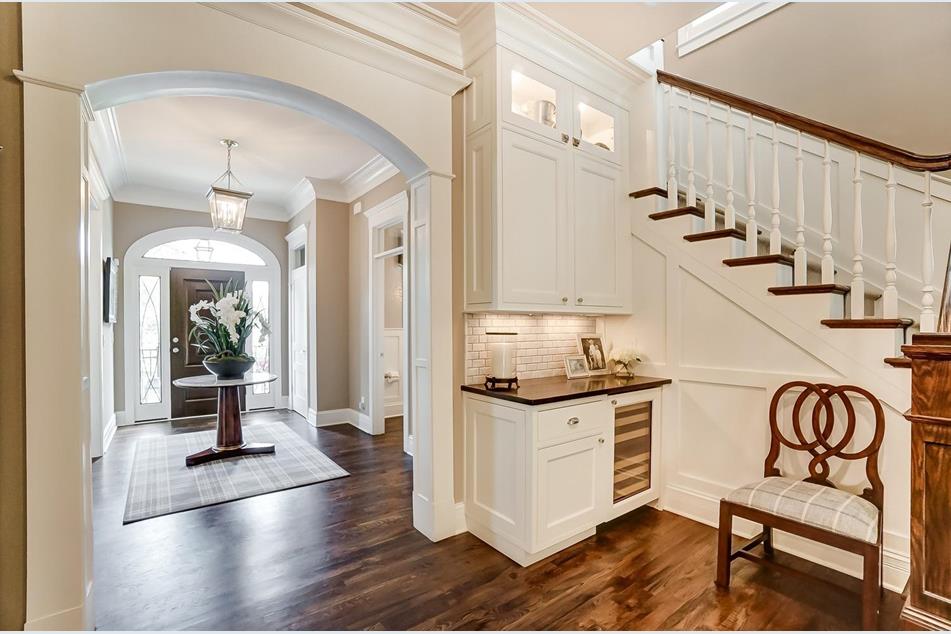 Though the cherry red front door, visitors are greeted with a luxe foyer that features dark hardwood floors, gorgeous wood detailing, and a large pendant light that mirrors the one on the porch.
In the spacious kitchen, a large island acts as a divider, leaving more than enough room for four barstools. The timeless, shaker-style cabinets compliment the dark countertops and each appliance has been fitted with panels to disguise as cabinets. Just behind the range, you'll find a hidden home office space, perfect for sticking close to the action while getting some work done. In the dining area, there's window seating along the wall and built-in cabinets on either side for storing fine dishes and glassware.
Next to the kitchen and dining space, you'll find the living room—a large, open area with loads of natural light and a coffered ceiling that adds dimension to the room. A working fireplace anchors the room and a set of shelves are on either side. Behind a glass sliding door, a formal office with library-style shelving along with drawers and cabinets that offer space for storage.
Upstairs, the main bedroom is our favorite room in the home. A curved ceiling with a massive fan and hardwood floors are unique elements to an owner's suite. And the bathroom? Also perfect. The double vanity makes the room a dreamy space to get ready in—especially with its massive shower.
An elevator takes you to each floor from the garage-level so you can avoid the climb up the stairs in the front. But don't sleep on the ground-floor entertainment space—it's even better than having an elevator to take you there! There's a large bar area and plenty of room to situate furniture in front of a TV.
But the best space for entertaining in the home might just be outdoors. A spiral staircase leads you down from the main porch to a patio with an outdoor fireplace and spot to hang a TV. The covered hangout space is perfect for outdoor lounging to watch the game, have a family movie night, or invite friends over for cocktails. There's also a built-in bar and hot tub. Summers in Mt. Lookout never looked so good!
Facebook Comments