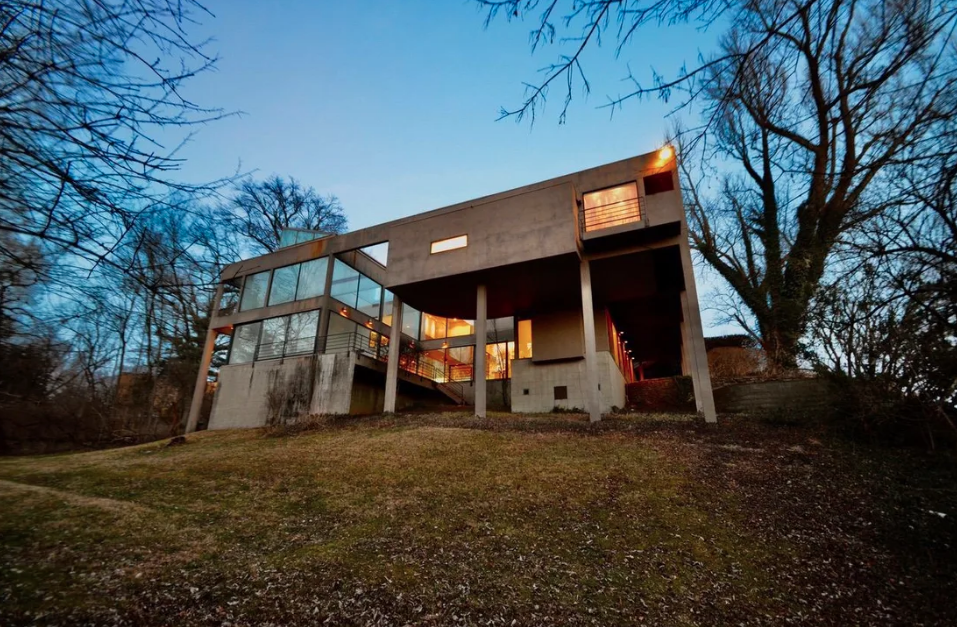 It's not often a house and its owners seem kindred spirits, but that really was the case for this structure and the couple who commissioned it in 1984—Harris and Alice Weston. He was an attorney and she, a photographer; together they were well known in this city as art collectors, arts patrons, and generous supporters of the Jewish community.
Set on a one-acre lot with sweeping Ohio River views, the contemporary home served as both a refuge and a place to entertain for the empty nesters, who worked and spent extensive time at arts and nonprofit organizations and events downtown. It was also the final project by Mid-Century-Modern icons Carl Strauss and Ray Roush as partners, and served as a home gallery for the Westons' renowned art collections, with works by Dine, Kandinsky, and De Kooning (among countless others). Alice's own photos of the home, and an informative essay about the place by Walter Langsam, have been immortalized in their book, Great Homes of the Queen City.
Harris passed away in 2009, and Alice in 2019, at the age of 93. Some of their art collection was given to family. Much of it has been donated to the Cincinnati Art Museum. Today, the home has also been officially listed for sale. "It wasn't a flashy house like some could be," says daughter Barbara Sasser, but it remains a striking, if reserved, structure with unique features: a "spectacular" moveable wall on the lower level, says daughter Carol Roberts; a retractable glass roof over the indoor pool; a hideaway poolside kitchenette; and a sculptural spiral wood staircase with metal "string" balusters.
I first visited the house in 2003, while filming a documentary about Strauss and Roush. Riding in the wildly colorful elevator with Alice was an experience I won't soon forget; ditto for the hours spent camped out in the backyard with stellar Director of Photography (and pedal steel player and bassist… and gone too soon) John Erhardt, while he waited for just the right shot of that awe-inspiring structure against the summer sky. Only Strauss and Roush could have created something so seemingly small and unassuming up front that somehow grew, from the hillside, into a graceful giant.
"It is one in a million," says Roberts, of the home—and a testament to the passion and creative vision that the Westons, Carl Strauss, and Ray Roush all shared so abundantly with this city. "We can only hope somebody comes along who really appreciates the architecture and the amenities that the house had designed into it," adds Roberts, "and appreciates and loves it enough to have their own 30 years to enjoy it." Just the way her parents did.
Click through our gallery to view more photos (courtesy of Keller Williams Advisors Realty, David Smith) of this home:
Facebook Comments