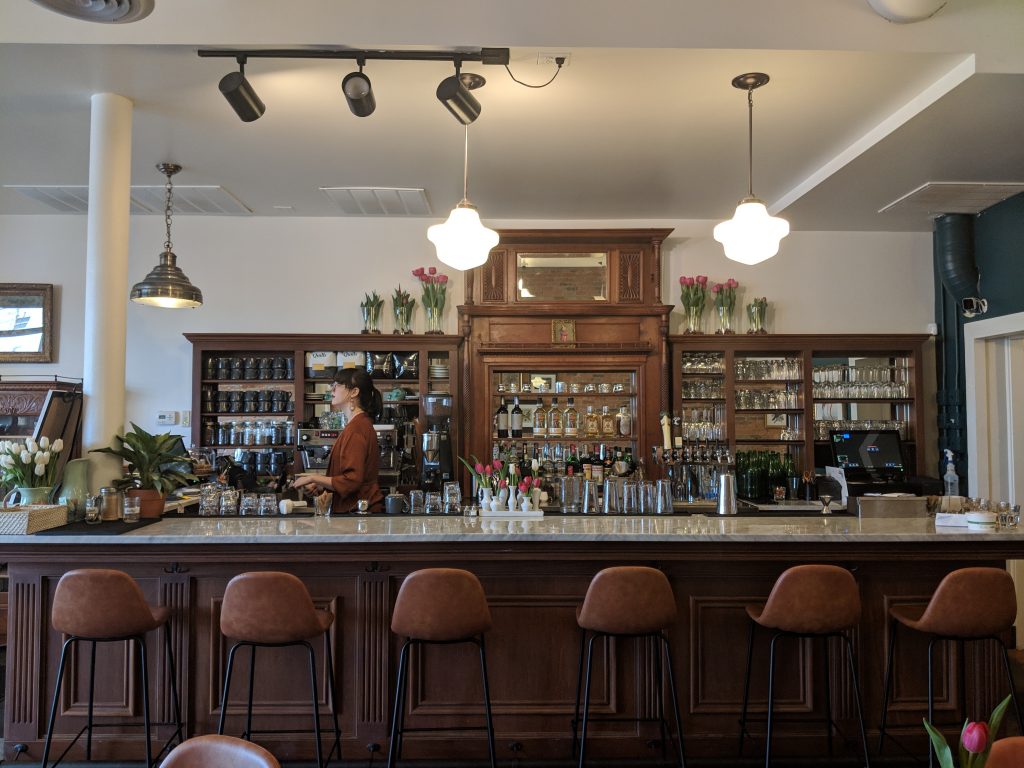 The Baker's Table offers modern Kentucky hospitality and amped up comfort food like your granny made, but with picture-perfect presentation, a stacked bar, and a kickass playlist. At their farm-to-table brunch spot, husband-and-wife duo Dave Willocks and Wendy Braun bring sustainable sourcing and seasonal menus to Newport.
The restaurant's name pays homage to the seedling that started this business. On the back wall of the restaurant sits a rustic community table, a baker's table that used to take up far too much space in Dave's and Wendy's living room. They hosted dinners in their home for friends centered on the very table where the staff at The Baker's Table sits down to break bread after a morning and afternoon of service.
Breakfast is available all day; lunch starts at 11 a.m.; and the coffee never runs out if you order a $5 cup of bottomless drip. Saturday and Sunday brunch starts at 10 a.m., combining the best of the breakfast and lunch menus (fried chicken sammies, cornmeal pancakes, and polenta with braised pork and a poached egg) each well deserving of a mimosa made with freshly squeezed orange or grapefruit juice.
Dave sources his ingredients as locally as possible, which he does through his partnership with Dark Wood Farms, to bring fresh, local, seasonal produce to the table. Bread is made in-house, the coffee bar features Midwestern roasters Quill's and Madcap, and the walls are lined with Audubon-inspired portraits of North American birds.
Wendy is responsible for the design of the restaurant. She scoured antique shops and flea markets to find all the Instagram-worthy pieces that adorn the shop. "I wanted the story, the heart, and the comfort to come together in a classy way," she says. "I also didn't want it to look like a TGI Friday's." Wendy juggles her role as resident designer, her day job as a copywriter for a pharmaceutical company, and motherhood duties for their baby girl, Willow. Dave previously worked at Allez Bakery and was a cook at Salazar before opening The Baker's Table.
Coming up with the concept for the restaurant, Dave says he asked himself, "How can we do this in a way that takes care of our people as well as the people we serve?" He decided they would purposely skip dinner service to serve the community the best they could without overworking their staff. The restaurant is closed Mondays and Tuesdays to recoup from five days of breakfast, brunch, and lunch service and to prepare for a week of serving fresh Kentucky comfort food that feels like home.
The Baker's Table, 1004 Monmouth St., Newport, (859) 261-1941, bakerstablenewport.com
Facebook Comments