---
Breakfast Sandwiches Worth Waking Up For
Even if they are quite a handful.
Croque Monsieur at French Crust Café
A refined iteration of what is typically a deep-fried ham and cheese. Here, the ham and Gruyère come between two thick slices of toasty bread, topped with a fried egg. C'est magnifique!
MOTR Muncher at MOTR Pub
A perfectly toasted everything bagel holds a dripping-with-chipotle-mayo slab of scrambled eggs, crispy bacon, romaine, tomato, and melted cheddar. We give it an *Italian Chef Kiss.*
Yukon Pick & Shovel Sandwich at Boomtown Biscuit Bar
The real treasure at this Gold Rush–themed eatery is the Yukon: a buttermilk biscuit piled high with fried chicken, bacon, smoked cheddar, a fried egg, and sawmill gravy.
Goetta, Pimento Cheese, and Egg at Commonwealth Bistro
Go down-home with this regional flavor mashup that ties crispy goetta and rich, slightly sharp pimento cheese together with greens and a fried egg.
---
Brunch All Day, Every Day
Because sometimes 10 a.m. on Saturday is still too early.
Sleepy Bee Café 
Three bees serve breakfast and lunch using local, pesticide-free, non-GMO ingredients. And the gluten-free Bee Cakes aren't bad, either. Downtown, Oakley, and Blue Ash; sleepybeecafe.com

Sugar n' Spice
For nearly 80 years this Bond Hill institution has had you covered, whether you need wispy-thin pancakes on Wednesday or a gyro omelette on Thursday. 4381 Reading Rd., Bond Hill, (513) 242-3521, sugar-n-spice-restaurant.com

Hangover Easy
With 40 taps, a full bar, and a menu that includes "Tachos"—tater tots topped with chorizo, queso, and all the trimmings—your pounding head and howling belly will both be satisfied. 13 W. Charlton St., Clifton Heights, (513) 221-5400, hangovereasycincinnati.com

The Echo
In true diner style, breakfast is served anytime. A rotating seasonal menu offers changing favorites—sweet potato waffle, anyone? 3510 Edwards Rd., Hyde Park, (513) 321-2816, echo-hydepark.com
---
All Hail The Bloody Mary
Would this bizarre beverage have had the same longevity without the toppings, stir-ins, and spin-offs galore that can be found here in our very own backyard? We think not.
MEAL IN A GLASS: Critics say brunch is only an excuse to day drink. Hush those naysayers! You're getting at least four of the five food groups in Northside Yacht Club's bloody. Newport's Crazy Fox Saloon hauls the groceries, too. Both house-made blends are stacked high with finger foods so substantial the drink becomes the meal.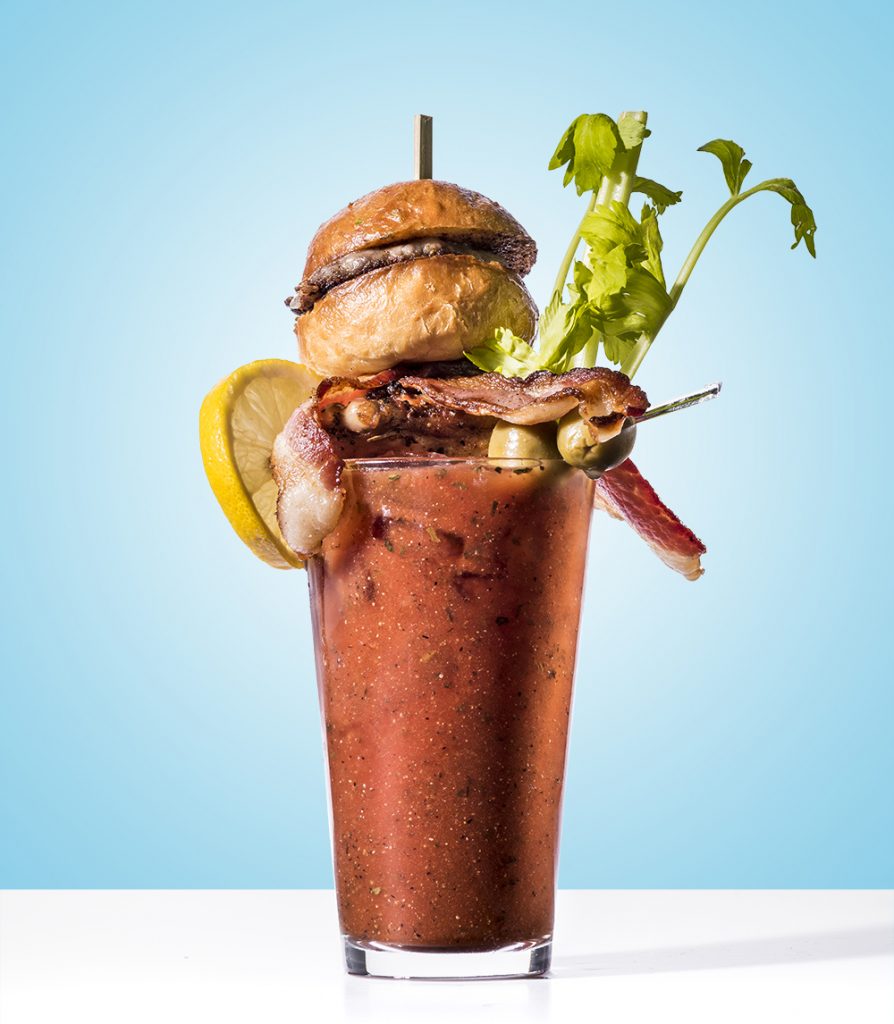 ---
THE CLASSICS: There's nothing wrong with sticking with what you know. Keep it simple at Senate, which delivers just a hint of spice and a bonus mini-beer, or The Hi-Mark, which leans briny with a touch of lemon-lime. Both go easy on the toppings.
SPICE-LOVERS: Some of us simply can't resist a mouth-scorch when given the option. Sartre and Quan Hapa must share those feelings. The former brings the heat with complex notes of miso and cucumber, and the latter incorporates tangy, sweet kimchi.
UNIQUE MIXES: Wander from the beaten path and you'll find some gems, like The Gruff's smoky housemade mix with milk stout and horseradish or Maplewood's verde—yes, green!—blend with roasted tomatillos and its antioxidant-packed Super Green juice, made with spinach, celery, and kale.
DIY: The folks over at Coppin's and Red Feather know bloody marys aren't always one-size-fits-all. Customize to your heart's content at these two establishments' build-your-own bars. Celery, bacon, and pickled veggies are standard fare, but hard-boiled eggs and Funyuns? We're in!
---
Brunch Buffets Are The Greatest Thing Since French Toast
If you've been tasked with the impossible—making everyone at brunch happy—these buffets will help you get the job done.
Grand Finale
Looking for a classy spot to roll into after Sunday services? Try Grand Finale on East Sharon Road. (A three-minute walk from St. Gabriel Church and Christ Church Glendale.) Book in advance; we're glad we did. A line formed outside five minutes before their 10:30 open. By 11, the place was packed, and rightfully so. The main dining room's tin ceiling, peacock wallpaper, and hanging plants give it an elegant feel. The buffet doesn't disappoint either. The crepe and quiche samples, bread pudding, and multigrain blueberry pancakes steal the show, and the homemade dessert samples—apple cinnamon cheesecake, hello!—live up to the restaurant's name. Sun 10:30–2:30, 3 E. Sharon Rd., Glendale, (513) 771-5925, grandfinale.info
Greyhound Tavern
You go to the Greyhound for the fried chicken, right? That's why we chose to visit during Sunday's brunch buffet. On Saturdays, brunch comes off the menu, with chicken and waffles and eggs benedict, but we wanted more. And Greyhound delivered. In addition to breakfast fare—homemade biscuits and gravy, eggs, goetta, bacon, sausage, home fries, pastries—there was roast beef, fried chicken, green beans, mashed potatoes, gravy, mac and cheese, salad, German slaw, and cabbage rolls. Yes, really. The juicy little bundles of ground beef had just enough bright, tomato-y sauce, and the cabbage leaves were soft, not mushy. The bread pudding with white chocolate sauce was outstanding, but we wanted seconds of the cabbage rolls. Sat 9–2, Sun 10–2, 2500 Dixie Hwy., Ft. Mitchell, (859) 331-3767, greyhoundtavern.com
---
Matt the Miller's Tavern
There's something for everyone at Matt the Miller's Tavern's Sunday buffet. They offer cooked-to-perfection breakfast classics like eggs benedict, Belgian waffles (conveniently located next to a pan of fried chicken), and gooey, softball-sized cinnamon rolls. Lean more lunch than breakfast? Choose from flatbreads, pasta, salad, and assorted desserts. Plus, there's a mini-buffet for the kiddos featuring cut-up chicken tenders, mac and cheese, and tater tots. The ultimate bloody mary bar (and all its garnishes) is the icing on the cake. But our favorite part is that the Columbus-based chain has two locations: West Chester and Kenwood. Sun 10–2:30; 5901 E. Galbraith Rd., #212, Kenwood, (513) 914-4903; 9558 Civic Centre Blvd., West Chester, (513) 298-4050, mtmtavern.com
---
Don't Judge Us, But We'll Be At Boozy Brunch
Wake up, bottoms up.
Northside Yacht Club
Kick your hangover to next Tuesday with a meal so meaty you'll question whether or not last night even happened. Northside Yacht Club has a cure for what ails you: The signature bloody is made with a peppery base (secret recipe!) with a heap of ground peppercorns and celery seeds. A skewer juts from the glass, hoisting a smoked chicken wing, a sausage slider, and a slice of bacon. Go overboard and get the breakfast sandwich, with an inch-thick, sweet-spicy sausage patty, covered with gooey American cheese, a sunny-side-up egg, and a bundle of arugula to cut the richness. What hangover? Sun 11–3, 4231 Spring Grove Ave., Northside, (513) 541-0528, northsideyachtclub.com
---
MOTR Pub
A cheap, no-wait boozy brunch joint can be hard to find in Over-the-Rhine on a warm Sunday morning. MOTR Pub on Main Street makes it easy. Plus, there's no pressure to dress in your Sunday best. Roll out of bed and into one of MOTR's cozy booths, seat-yourself style. The relaxed, dimly lit pub can cure hangovers ($2 bottomless coffee!) or get them started, with mimosas and bloodies available after 11. The breakfast tacos—loaded with chorizo, scrambled eggs, cheddar, diced tomato, bean and potato ranchero, avocado slices, and chipotle-chili sour cream—please brunchers young and old. The same goes for the egg- and potato-based Truckers Breakfast Casserole. Order both at the bar and a friendly waiter will bring them to your table. Sat & Sun 10–2, 1345 Main St., Over-the-Rhine, (513) 381-6687, motrpub.com
Nation Kitchen & Bar
If you're looking to cure today's hangover by starting tomorrow's, Nation is your place. The bottomless mimosa and bloody mary (here, they're called bloody Carries, after the infamous hatchet-wielding anti-alcohol crusader) party starts at 10 a.m. The music is loud. The drinks are plenty. The food is comforting enough to keep you drinking till you get all $28 worth—including one brunch item—by the time the bill comes at 2 p.m. It only makes sense to try the Hangover Burger (Nation's known for its burgers), a beef patty stacked high with goetta, ham, and cheddar, then topped with a fried egg and layered on an English muffin. The Brunch Wrap Supreme and tots—loaded with cheese, sausage gravy, and fried egg—are also not to be missed. Just be sure to bring some Tylenol (and maybe some Tums). Sat & Sun 10–2, 1200 Broadway, Over-the-Rhine, (513) 381-3794, nationkitchenandbar.com
Fifty West Brewing Co.
Brunch takes the scenic route just a hop and a skip from the river's edge, where Fifty West's farmhouse-style taproom will recharge your batteries with all-American eats, signature craft brew pints, and a hearty side of classic rock jams in a family-friendly atmosphere. The Kitchen Sink is a must-try: buttery biscuits and crispy home fries are smothered in a beer-infused sausage gravy—creamy, savory, and a touch malty-sweet—topped with two over-easy eggs, a sprinkling of cheddar, and a peppering of house-pickled jalapeños. For simpler tastes, the Brewmaster's Breakfast—two eggs, bacon or sausage, house fries, and a pancake—is right on the money. Sun 10–2, 7668 Wooster Pike, Plainville, (513) 834-8789, fiftywestbrew.com
---
Nothing Says "Casual Brunch" Like Breakfast Nachos.
If you like to think of brunch as a vacation—where you can be comfy, relax, and someone else does the dishes—these are the places for you.
CWC
With this crunchy, creamy goodness piled high on a plate, CWC has nailed the morning entrée of your teenage dreams with their breakfast nachos. Visit this neighborhood joint any given Sunday, and you'll see all the adults devouring them (with hands at first, then fork and knife when they get tender). Every chip is tossed in charred tomato salsa before they're served dripping with homemade queso, crumbled goetta, an oozing fried egg, and fresh cilantro. A hit since CWC's food truck days in 2016, this shareable (or not) grown-up snack isn't going anywhere, like ever. Sun 9–2, 1517 Springfield Pike, Wyoming, (513) 407-3947, cwctherestaurant.com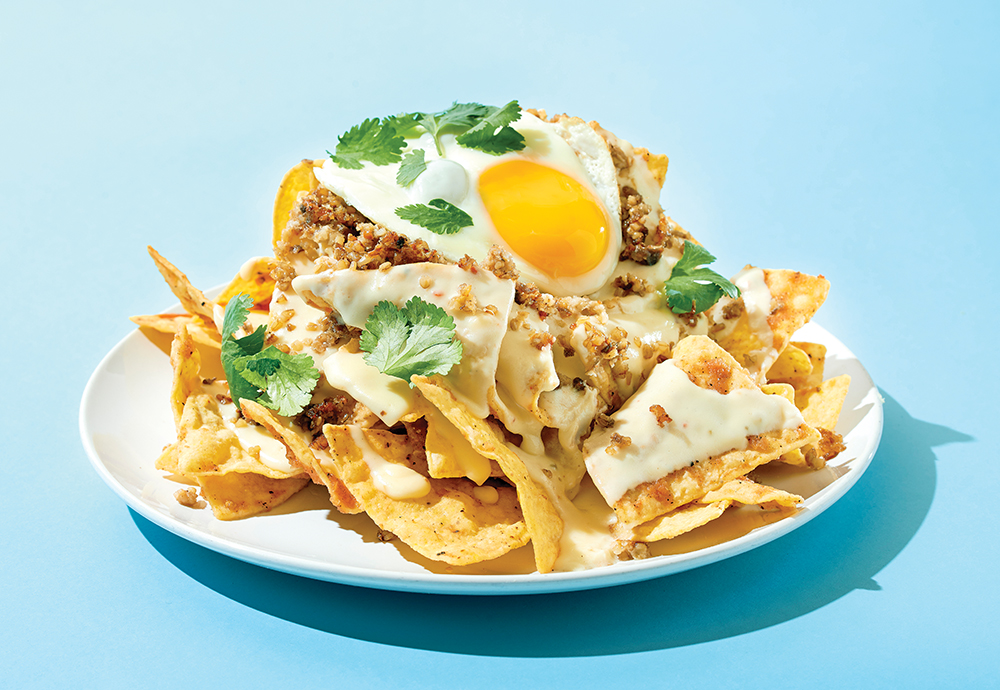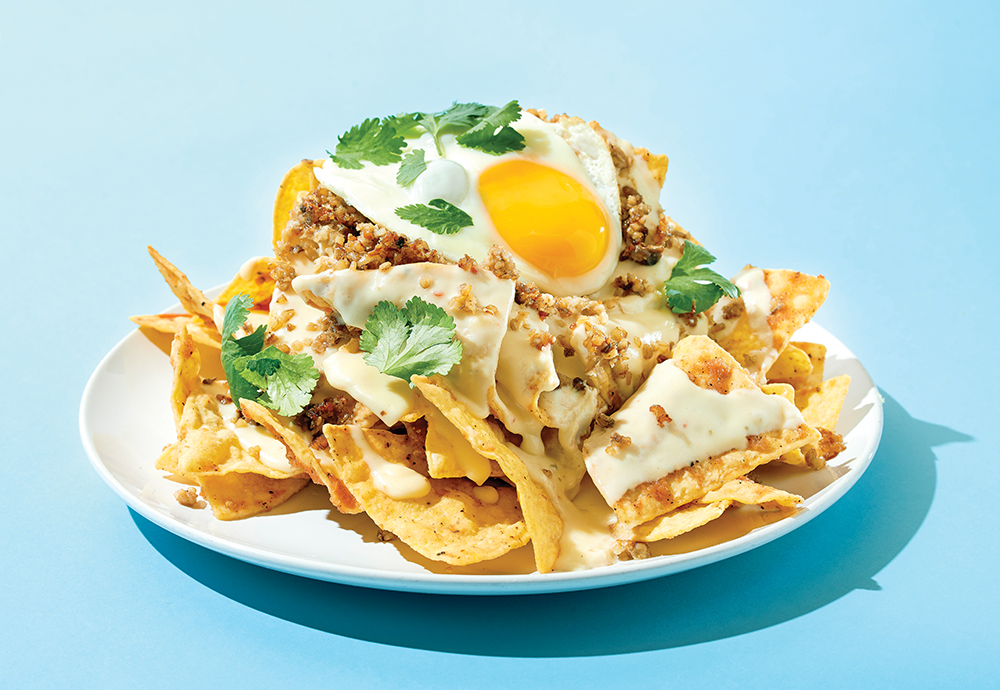 Otto's
Calling all bloody-Mary-Averse diners: Otto's could flip your script. Our reviewer had never found a bloody mary enjoyable enough to drink entirely in one sitting. At Otto's, he had two. Assembled with jalapeño-garlic infused vodka, a house-made mix, and garnished with a block of cheese and olives, the drink took on a seemingly naturally balanced light-and-spicy yet hearty tomato taste. It paired perfectly with the crab hash: a plump, poached egg atop a whopping portion of tender crabmeat and just soft enough seasoned grilled potatoes, all doused with a spicy sour cream. Late morning seafood not your thing? The classy but down-to-earth Southern eatery offers up another signature dish—a twist on a classic eggs benedict, served country style with ham and hollandaise over fried grit cakes that righteously hold their own in lieu of an English muffin. Sat & Sun 10–2, 521 Main St., Covington, (859) 491-6678, ottosonmain.com
---
The Littlefield
You wouldn't think there would be many people in Northside awake and functioning before noon on Sunday, but The Littlefield does a brisk day-of-rest business. Being primarily a bar, you'll get an excellent bloody mary here, along with pitchers of mimosas and everything bourbon-related. Good meal choices include the omelette (stuffed with roasted mushrooms, spinach, and ricotta cheese); shrimp and grits infused with bacon and smoked jalapeños; and both a GLT and VGLT (featuring house-made vegan goetta). Sun 11–3, 3934 Spring Grove Ave., Northside, (513) 386-7570, littlefieldns.com
Nick & Tom's
West-siders know it, but perhaps you don't yet: Nick & Tom's is decidedly old school. What it lacks in frills or modern decor it makes up for in its wholesomely good grub and friendly, attentive service. The bloody mary bar doesn't overthink the concept, and the classics are represented: bacon (or ham) and eggs, anyone? The shining star, however, is the waffle selection. A Belgian-style waffle arrives topped with fresh sliced strawberries, candied slivered almonds, a strawberry glaze, and whipped cream. On the heartier side, opt for a waffle adorned with a beer-battered chicken breast, cinnamon-honey butter, and maple syrup. Sat & Sun 11–2, 5774 Bridgetown Rd., Cheviot, (513) 574-4242, nickandtoms.com
---
Bring the Kiddos To These Family-Friendly Brunch Spots
Taste of Belgium
Taste of Belgium is definitive proof that waffles are the universal love language of brunch, spanning all ages and genders and levels of hanger. We are not here to suggest that brunch out with the kids is the relaxing, meandering, one-more-cup-of-coffee experience that defined your mid-20s, but it doesn't have to be fodder for a network sitcom either. Stop by ToB's location at The Banks, order some waffles and crepes for the kiddos, a sweet-and-savory Brunch Burger or rib-sticking goetta hash for yourself, and a mimosa or three (the ruby fruit is a crowd-pleaser). Then get a coffee (and more waffles) to-go before you hop a ride on Carol Ann's Carousel and stroll through Smale Riverfront Park. It'll be enough to put the whole family down for an afternoon nap. Sat & Sun 8–3, 16 W. Freedom Way, downtown, (513) 396-5800, authenticwaffle.com
The Gruff
You'd expect a place that takes its name from a Norwegian fairy tale to welcome little ones. But you might not expect the surprisingly adult menu choices, including the creamy red pepper and Parmesan polenta with prosciutto and a sunny-side-up egg. Littles can nosh on sides (toast, bacon, sausage) if they're picky; bigger kids might try the banana bread French toast with caramel sauce. There's a generous bookshelf/toy corner, a stack of high chairs at the ready, and a spacious patio for burning off energy when the weather's nice. Plus, mom and dad can indulge in the $5 bloody mary with its smoky housemade mix. Everybody wins. Sat & Sun 10–3, 129 E. Second St., Covington, (859) 581-0040, atthegruff.com
Senate Blue Ash
Those trips to Summit Park with the kids are best scheduled on Sunday. Before you chase them all over the park's bright, futuristic playscape (one of the best in town), fuel up at Senate Blue Ash. Dan Wright's suburban location has a kids' menu, unlike the OTR outpost, but the brunch specialties were created just for the grown-ups. We devoured the eggs benedict, served on a Blue Oven Bakery English muffin with crispy, delicious breakfast potatoes. Also worth a try are the pineapple upside-down pancakes and the Goetta Superstar breakfast sandwich. If you want, sneak a mimosa or a bloody mary, served with a Miller High Life—we won't tell. Sun 10–3, 1100 Summit Place Dr., Blue Ash, (513) 769-0099, senateblueash.com
---
Brunch Around the World—In Cincinnati
Amma's Kitchen
This unassuming spot is packed on weekends with everyone from families to gaggles of teenagers diving into the southern Indian vegetarian buffet. Savory favorites include mulligatawny soup and a half-dozen fresh vegetable and tofu curries and paneers. Sweet seekers will enjoy Gulab Jamun, a deep-fried cheese ball drenched in cinnamon syrup, and fudge-like Mysore Pak. Don't forget to request an order (or three) of plain or spicy dosa, a thin rice crepe that can be used as a wrap or dipped by itself in numerous sauces. Sat & Sun 11:30–3, 7633 Reading Rd., Roselawn, (513) 821-2021, cincinnati.ammaskitchen.com 
Quan Hapa
The rice porridge known as congee might be a popular breakfast in East Asia, but it's not a staple here. That's a shame. Quan Hapa dishes it up in big, steaming bowls of brothy comfort. Vegan and chicken versions are standard, or you can build your own. The chicken's meatballs add a nice spice; we juiced the vegan version with smoky, well-crusted short rib. The also-spicy Hapa Mary will clear your sinuses (just take it slow), and its kimchi garnish adds a sweetly briny kick. Look for new treats to try: As this issue went to press, QH debuted a new brunch menu. Sat & Sun 11–3, 1331 Vine St., Over-the-Rhine, (513) 421-7826, quanhapa.com
Grand Oriental
Just north of I-275, tucked into a dense pocket of suburban shops and restaurants, is a brunch that boasts more exotic fare than your standard eggs benny and mimosa. At Grand Oriental's dim sum brunch, servers push metal carts around the large, ornately decorated dining room, offering up—as soon as you're seated—an array of small Cantonese dishes to the table. Our favorites were the pork bun and the sticky rice—the former soft and savory on the inside, yet with a sweet doughy exterior, the latter wrapped in a large lotus leaf and filled with a savory, meaty rice mixture. Wash that down with a pot of piping hot green tea for the table. If you're feeling extra adventurous, opt for the chicken feet, boiled and marinated. And don't forget about the dessert cart. Sat & Sun 10–2:30, 4800 Fields Ertel Rd., Deerfield Twp., (513) 677-3388, grandorientalonline.com
---
Check Out These Six Fancy Brunches—With One Flashy Surprise
Red Feather
On Sundays, Red Feather serves up a dining experience worth traveling for. The rustic yet elegant main dining room is as comforting as its carefully prepared-from-scratch cuisine. The Hash Mess in particular is a generous mountain of goodness: Fried breakfast potatoes are layered with seared bell peppers and spinach, sliced avocado, melted cheddar, ranch, and tender pork belly pieces, before being topped with a sunny-side-up egg and pico de gallo. Sit at the chef's table to watch the magic happen. Owner and head chef Brad Bernstein calls out orders as his team puts it all together. Plus, everyone receives complimentary melt-in-your-mouth beignets. Can your Sunday get any better? Sun 11–3, 3200 Madison Rd., Oakley, (513) 407-3631, redfeatherkitchen.com
Symphony Hotel
If "brunch in a mansion" is the vibe you're looking for, the Symphony Hotel should be your first stop. The dining room of this boutique hotel across from Music Hall is finely appointed, the staff quietly doting. Try one of two omelettes, the Schubert (smoked salmon, cream cheese, scallion, and caper garnish) or Mozart (button mushrooms in a red wine, garlic, and shallot sauté), or dig into the Washington Park Strada, an egg, goetta, and bacon casserole with tomato, green chilies, purple Peruvian potatoes, and sharp cheddar cheese. A tea bar features more than a dozen loose-leaf French press teas. Sun 9:30–2, 210 W. 14th St., Over-the-Rhine, (513) 721-3353, symphonyhotel.com
Salazar
There's no doubt: José Salazar—a 2016, 2017, and 2018 James Beard Award nominee—has made his mark on the city's lunch and dinner scene with both Salazar and Mita's. His recent move to take up brunch at his cozy namesake bistro may have been his best decision yet. With a mix of the lunch and dinner menu offerings we have grown to love are new, brunch-only items. One of the former, the small-but-mighty-in-flavor fried oyster sandwich with kimchi, radish sprouts, and garlic mayo, makes for a delightful mid-morning bite. Or try the heartier croque madame, a sandwich made with challah bread, slow-roasted turkey, and Swiss mornay, all topped with an egg and maple syrup. Don't forget to share the packed-with-flavor fried Brussels sprouts or home fries. Wash it all down with a morning cocktail: the Sunset Key tastes like a distant cousin of the mimosa, made with tequila, blood orange juice, Fresno chile, and prosecco. Sat & Sun 10:30–2, 1401 Republic St., Over-the-Rhine, (513) 621-7000, salazarcincinnati.com
Metropole Drag Brunch
Honey, this isn't about the food—though it's Metropole, so you won't be disappointed. We had a Tuscan kale strata with Blue Oven bread and hash brown casserole, served family-style—homey favorites leveled up with fresh ingredients and perfect technique. Drag brunch happens every other month, February through October, and it's all about fabulousness. Amaya Sexton serves as mistress of ceremonies, overseeing a cast of six other queens through dance-filled, lip-synced (or not-so-synced) routines that take them around the dining room. Pro tips: Bring singles for tipping, and fellas, look alive—these ladies are going to be after you. Sun 11:30–2, June, Aug, and Oct; 609 Walnut St., downtown, (513) 578-6660, metropoleonwalnut.com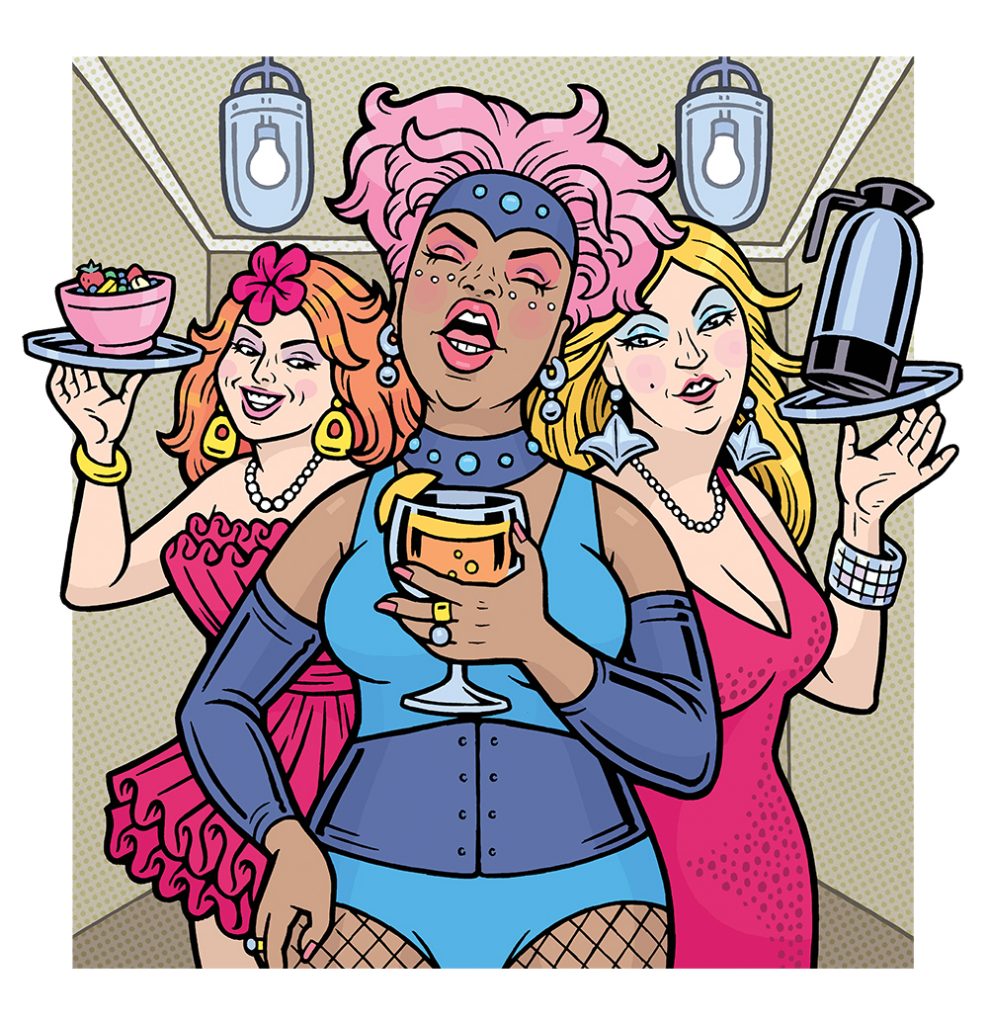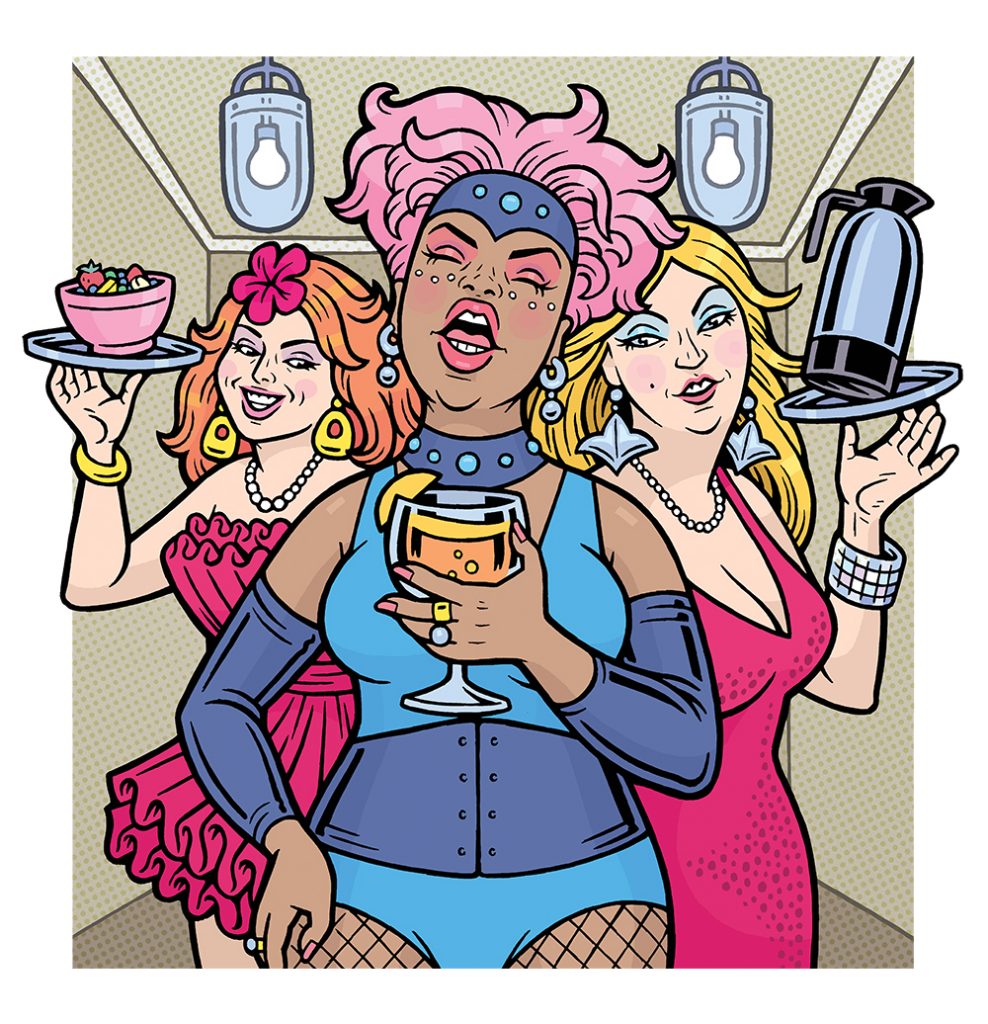 The Grille at Palm Court
The Grille at Palm Court, Orchids' casual cousin, ranks pretty high on our roster of classy brunch joints, even if it does include a buffet. To be clear, this is the choosy person's smorgasbord: Its lengthy island bar is cleared and surrounded by a spread of high-quality dishes spanning the breakfast-lunch genres, including the obligatory egg-and-bacon go-tos as well as less expected fixings like crab claws and Southern fried chicken. Wherever you land on that spectrum is your call, but clear your plans after this one; you may just need to lie down until the impending food coma subsides. Sun 10:30–1:30, 35 W. Fifth St., downtown, (513) 421-9100, orchidsatpalmcourt.com
Sartre
One of the best new restaurants in town is now taking its talents to brunch. Start off with a selection of local pastries or the housemade sweet potato beignets with smoked maple syrup. These are more substantial doughnut holes than sweetened puffs, and they'll disappear from the table quickly. We ventured beyond the avocado toast and The Usual (two eggs, bacon, toast) to try the buckwheat crepe, spread on the inside with herbed mascarpone and topped with smoked salmon, frisee in a lemony dressing, and a crunchy housemade vegan furikake, inspired by the Japanese seasoning that most typically accompanies fish. That's next-level. Sun 10–2, 1910 Elm St., Over-the-Rhine, (513) 579-1910, sartreotr.com
---
Sunday Funday
Where To? Covington!
Start with brunch at: Coppin's
The Hotel Covington's bright, airy restaurant is ground zero in the city's newly energetic Pike and Madison district, and there's no better way to get acclimated than the DIY bloody mary bar, where you can really load up your eye-opener.
The signature Roebling Benedict includes a slice of goetta under wilted spinach and poached egg on a house-made English muffin, and a host of small plates (including corn fritters, a breakfast corn dog, and doughnut bread pudding) are perfect for sharing. hotelcovington.com/dining/brunch
Then go to: The Carnegie's art gallery
On Saturdays starting May 11 (noon–5), check out Swap Meet, which features local artists seeking other artists to complete their unfinished work, and Kids That Rock, with student work from education and outreach programs. thecarnegie.com
And finish with: A MainStrasse stroll
Visit MainStrasse Village to work off brunch calories at Goebel Park's clock tower and playground, then put them back on with 60-plus soft serve flavors at Piper's. mainstrasse.org, piperscafe.biz
Where To? Oakley!
Start With Brunch At: Red Feather
On Sundays, Red Feather serves up a dining experience worth traveling for. The rustic yet elegant main dining room is as comforting as its carefully prepared-from-scratch cuisine. The Hash Mess in particular is a generous mountain of goodness: Fried breakfast potatoes are layered with seared bell peppers and spinach, sliced avocado, melted cheddar, ranch, and tender pork belly pieces, before being topped with a sunny-side-up egg and pico de gallo. Sit at the chef's table to watch the magic happen. Owner and head chef Brad Bernstein calls out orders as his team puts it all together. Plus, everyone receives complimentary melt-in-your-mouth beignets. Can your Sunday get any better?  Sun 11–3, 3200 Madison Rd., Oakley, (513) 407-3631, redfeatherkitchen.com
Then go to: Blue Manatee Children's Bookstore
Browsing Blue Manatee's new storefront is the perfect reward for a well-behaved brunch, and Saturdays include 10 a.m. story time. bluemanateebooks.com
And finish with: Quince & Quinn
The little ones can find an open chair or corner where they can page through their new books while you convince your content (and slightly buzzed?) mother-in-law to buy you that pricey coffee table you've had your eye on. qandqhome.com
Where To? East Price Hill!
Start with brunch at: Incline Public House
When it's beautiful outside, grab a table on the expansive deck (get there
before it's packed, which happens), gaze at the killer city views, and kick off an amazing Sunday with pitchers of sangria or mimosa. Brunch calls for a benedict with lump crab or smoked salmon or shrimp and grits. If you love a bloody mary, they're over-the-top here, finished off with bacon, shrimp, a cherry tomato, and even crispy onions. Sun 10–2, 2601 W. Eighth St., Price Hill, (513) 251-3000, inclinepublichouse.com
Then go to: Warsaw Federal Incline Theater
Catch a Sunday matinee, literally steps away, at Warsaw Federal Incline Theater. In May the high-energy, 1960s-era Bye Bye Birdie is playing, and Once On This Island opens in June. cincinnatilandmarkproductions.com/incline
And finish with: A stroll through Mt. Echo Park
After the show, soak up more beautiful skyline views at Mt. Echo Park. Explore the overlook and 1920s Italian Renaissance–style pavilion (a popular event venue). If you have the energy, wander the trails to catch every photo op. cincinnatiparks.com
Facebook Comments